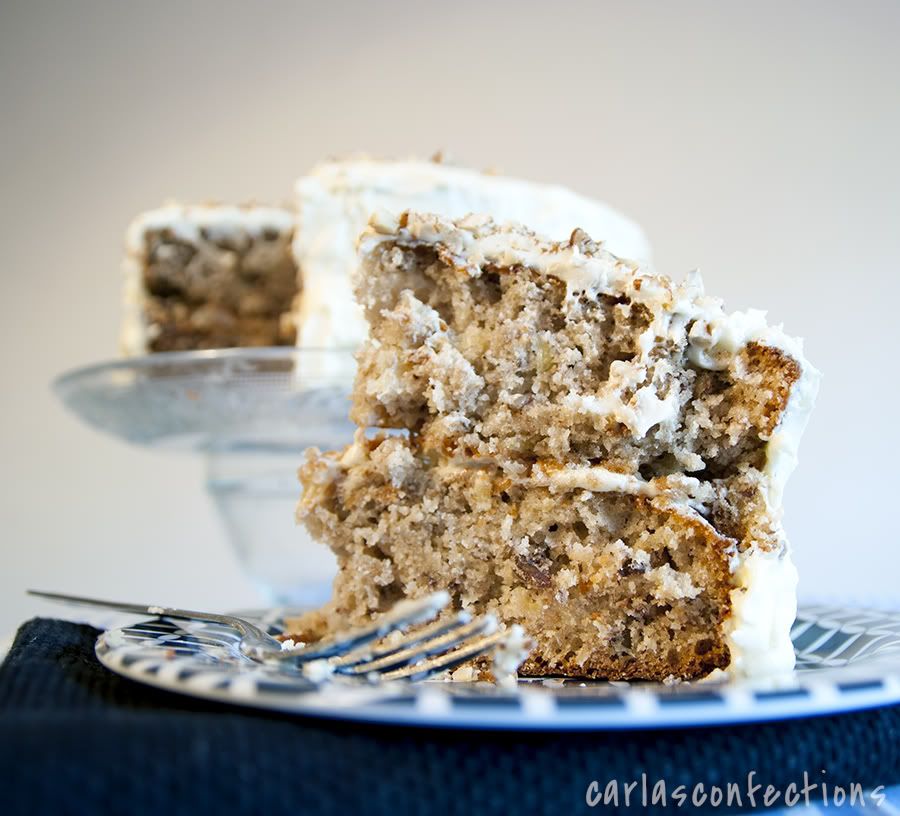 I am still learning all about food composition and taking pictures of the food to make it look delicious. Amazingly, it is a lot harder than I thought. I don't know why I ever thought it was easy, but I did. Looking back on the past pictures I have done, and what I can do now, I get very excited to see what I have learned and thinking about how much I still have to learn. I also get sad seeing my old pictures, but I must just focus on the future right? I hope you guys enjoy my photography and food composition journey as much as I do, and please don't hesitate to give me pointers and critiques on my pictures. I really appreciate all that I can learn!
I was excited to learn some new camera techniques, and I was in the mood for a light, yet filling cake, so I made a Hummingbird Cake. This was my second time making this cake, and I must say, I liked it much better the second time around. I am amazed at the things I have learned in the short time that I have been baking.
It is also a very large cake. I suggest that you make it for a large group of people or half the recipe. Up to you, but we were eating it for days, and sadly, still had to let some go. It is a sad day to see baked goods go down the trash, especially ones as good as this, but they just don't last forever, and, well, I just couldn't eat it all! I promise I wont make that mistake again!
Ok, now onto the cake. I will tell you once, I will tell you twice! This cake is so darn easy! This cake is so darn easy!
Now that's out of my system! This is a one bowl cake peeps! It cant get much easier than that! But it does, because you don't even need a mixer. Just a wooden spoon! Can it get easier than that?!? I haven't figured that one out yet.
The characters that you will see playing a role in this cake: self raising flour (oh yes it does get easier!), sugar, sunflower oil, eggs, cinnamon, chopped walnuts and pecans, two smashed ripened bananas, vanilla, and an 8oz can of crushed pineapple, with its juices. Drop them all into a bowl,
and stir until just combined. Don't over mix. Now here is where you can get creative! Pour into two cake pans, three cake pans, or make a bunch of tiny cakes! I went with two cake pans because I only have two cake pans, and I didn't want to wait around for the third one to bake. I was getting antsy about the cake. I mean look at that batter. Wouldn't you too??? Just remember, when you adjust the baking method, you must also adjust the baking time!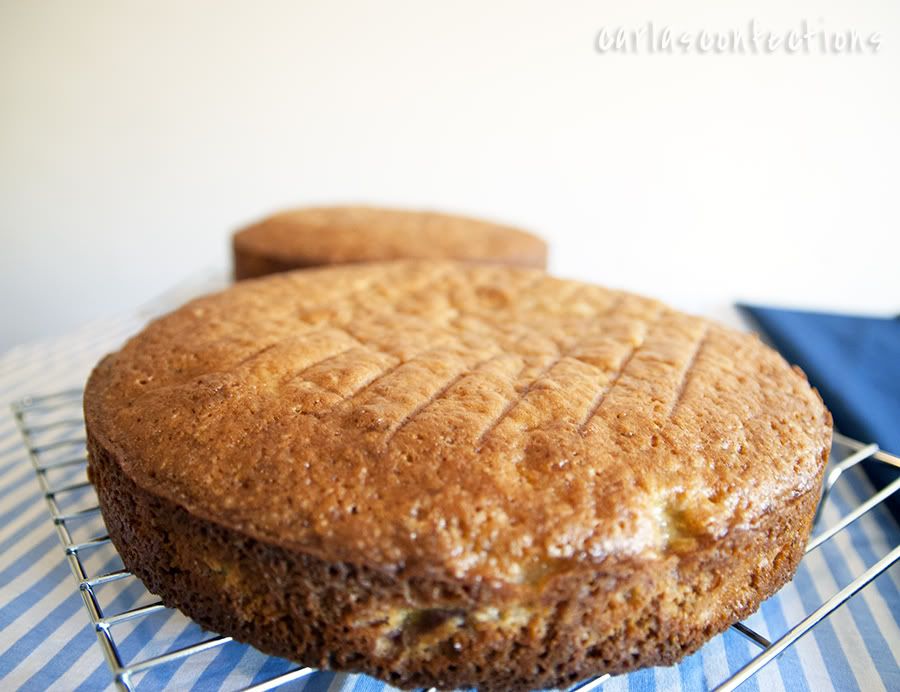 Look at how thick these puppies are!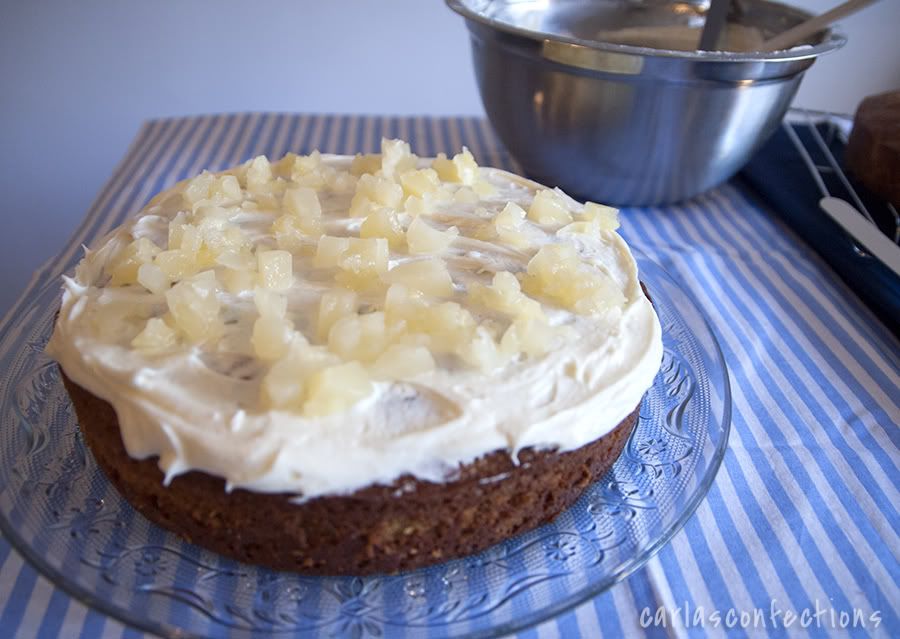 To make the frosting, you need: cream cheese, butter, vanilla and icing/powdered sugar. To add the little extra oomph, I used a bit more of the crushed pineapple to put in between the layers of cake.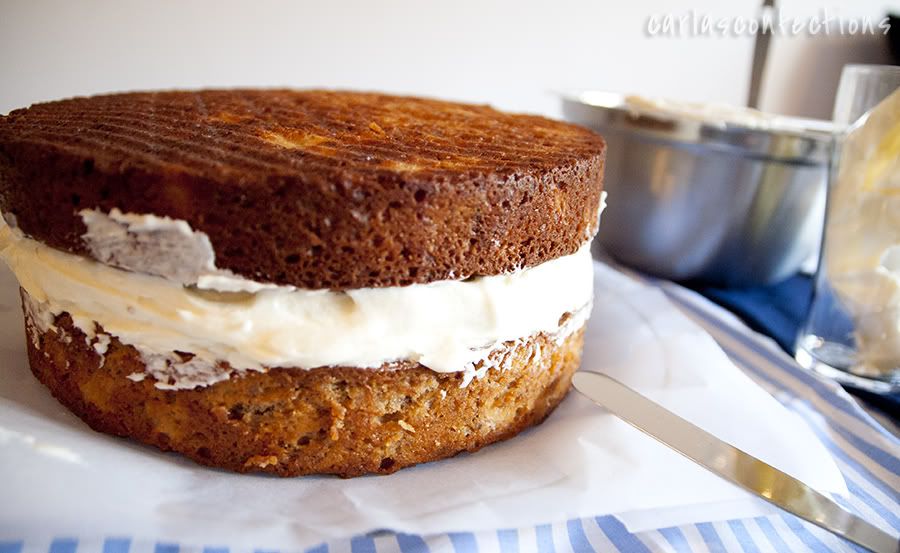 A little tip for layering cake. You can level them out if you can using a knife or a cake leveler. OR, you can turn the cakes upside down on each other, so the top is completely level, and then pipe in some frosting in the open spots in between the cakes to fill the holes in and keep it level. Just make sure to make it flush with the cake when you start to frost the rest of the cake.
Another good tip... put some baking/parchment paper under the cake while you are frosting it, then the frosting can fall on there and your serving plate will be perfectly clean!
Clean serving plate! And a beautifully, huge cake. And I topped the cake with more chopped walnuts and pecans.
for the cake:
-3 cups self raising flour
-2 cups sugar
-3/4 cup sunflower oil
-1/3-1/2 cup chopped walnuts and pecans, plus extra for top of cake
-one 8oz can crushed pineapple (I used a 15 oz/430g can and used the extra pineapple for in between the two layers of cake)
-2 smashed ripened bananas
-1 tsp vanilla extract or essence
-1 tsp ground cinnamon
-4 large eggs, beaten
for the frosting:
-9 oz/250 g cream cheese, softened
-6 Tbsp butter, softened
-1 tsp vanilla extract or essence
-dash of milk
-24 oz/700 g icing/powdered sugar
directions
:
Preheat oven to 180C/350F. Grease and flour two 9 inch cake pans. Place all ingredients for the cake into one large bowl, in no particular order. Stir with a wooden spoon, until just combined. Separate the batter between the two cake pans and cook for about 45 minutes, or until a skewer inserted in the center comes out clean. Remove from cake pans and allow to cool completely on a cooling rack.
For the frosting, cream the softened butter and cream cheese using a stand mixer or hand mixer, until soft and fluffy, around five minutes. Add vanilla and a splash of milk. Add the icing/powdered sugar in small batches, until the desired consistency is reached and fully combined.
To assemble, place a small dollop of icing on serving plate, to keep the cake in place. place some baking/parchment paper under the sides of the cake, to keep the plate underneath clean. place a thin layer of frosting on top of the bottom layer of the cake. If desired, place some extra pineapple on top of this. Add the second layer of the cake, top side down, to give a flat surface on the top. Place some frosting in a piping bag, and pipe in the gaps with frosting. Ice/frost the entire cake, top and sides, using the remaining frosting, and finishing with a layer of chopped nuts on the top of the cake, or also the sides if desired.
Slightly adapted from
Martha Stewart
Have you ever eaten Hummingbird Cake? Feel free to share your variations here!