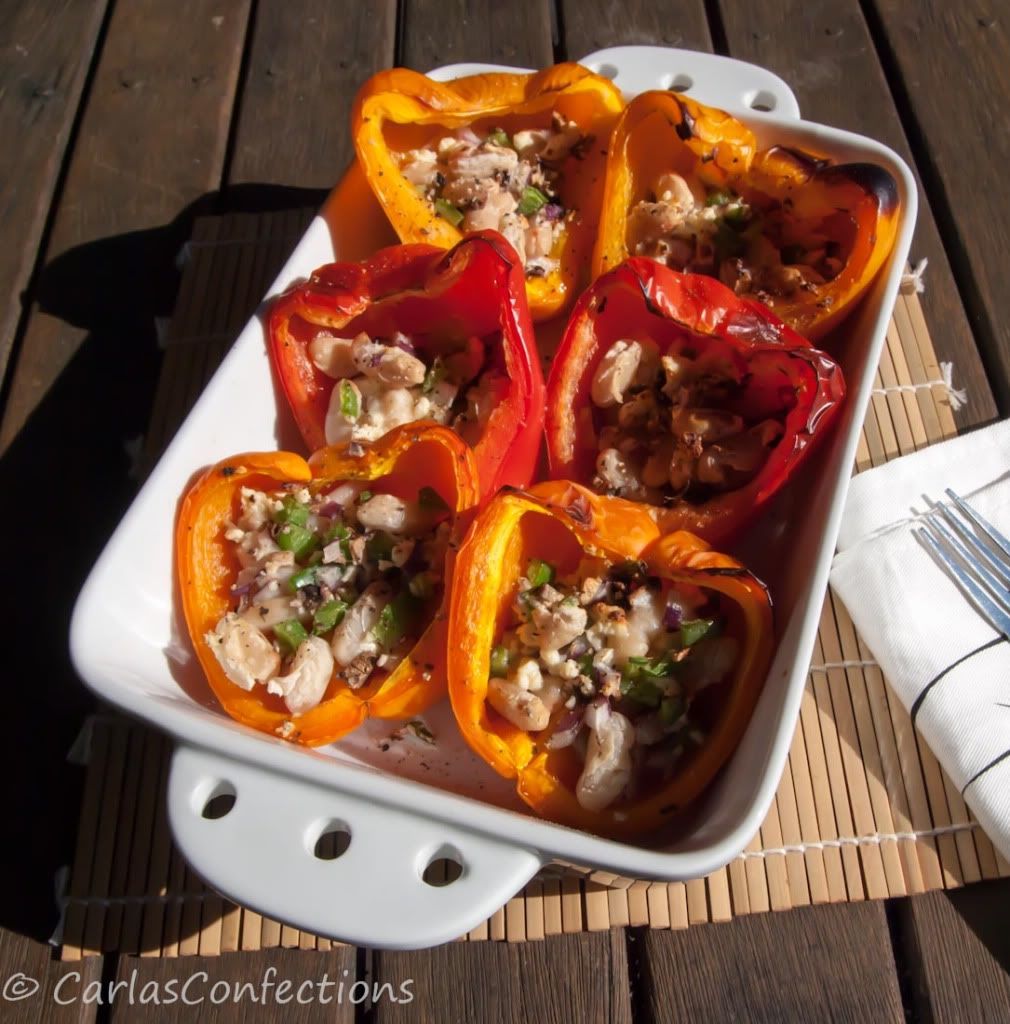 This week has been an insane one to say the least! We have been packing up our stuff, shipping out boxes, cleaning the apartment, spending time with friends here for the last times, and somehow, I'm trying to still find the time to cook and stay on top of the blog. Lord help me! I just cannot wait to be back in the US of A, and done worrying about all of this moving countries business. It sure isn't easy!
Somehow I was able to find the time to cook for Fresh Friday, but it did have to be done at Matt's work. I must say, I didn't mind the deck table! It sure gave a nice photo set up (albeit a little bit of harsh lighting). Why didn't I think to be taking pictures here all along!?!? The things we learn along the way...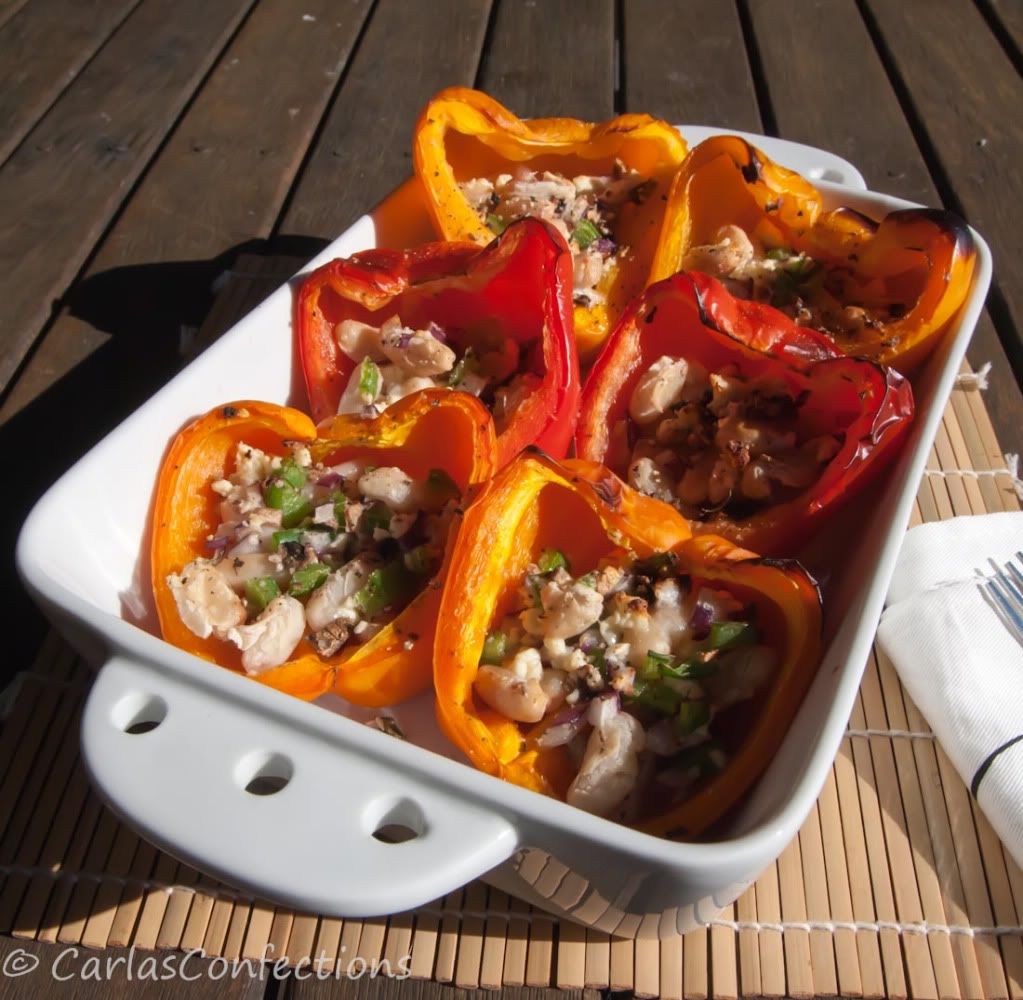 I have been wanting to make some sort of stuffed peppers since I saw
this post
from
Julie at Table for Two
. I really loved what she did, but I wanted to go a little bit of a different direction, except the pictures do look very similar. Thanks for the ideas Julie! I like your pictures better ;). I wanted to use as many fresh ingredients as I could, and I didn't want meat in there, although feel free to add some! Shredded chicken would compliment this really well I think.
I also should have made A LOT more filling for these. They would be a lot better overstuffed than how they are here. They were great, but I think it would have tasted better with more. I will put the amount I should have done in the recipe. Make sure to over-stuff them! It will be better :)
Here is a look at the previous Fresh Friday posts if you've missed them: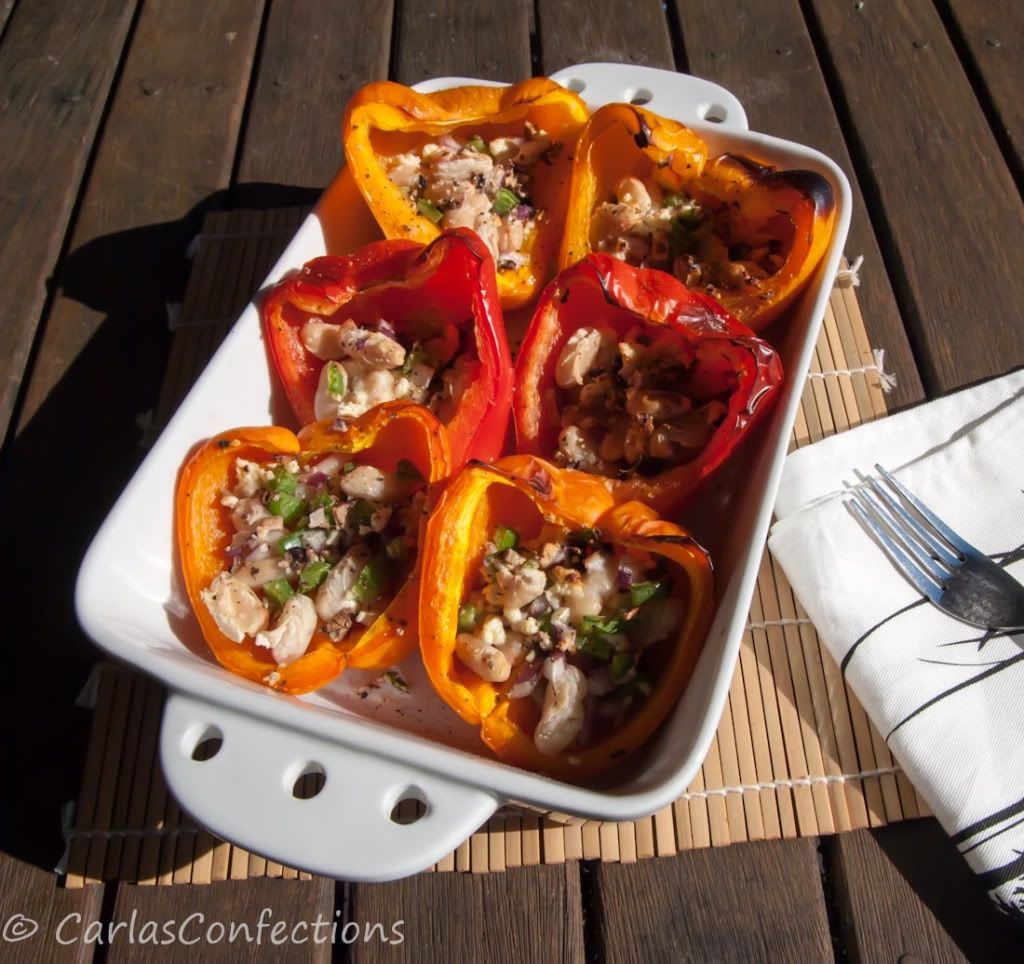 Feta Stuffed Bell Peppers
|
Printable Recipe
makes 3 whole bell peppers
ingredients
:
3 whole bell peppers (color of choice), halved and seeds and pith removed
1/2 cup diced button mushrooms
1/2 cup crumbled feta cheese
1/2 red onion (or more to taste) diced
1/2 cup diced green bell pepper (for color pop), if desired
1 whole can cannelloni beans, drained and rinsed
Shredded chicken, if desired (I didn't use)
Salt, pepper and a little garlic salt, as desired
olive oil, for drizzling
directions
:
Preheat oven to 190C/375F
Combine all diced ingredients in a bowl
Lay bell peppers in a casserole dish, cut side up
Spoon the mixture into the peppers, making sure to over-stuff
Sprinkle over salt, pepper, garlic salt and olive oil as desired
Bake for 25-30 minutes, until the peppers are really soft, and starting to blacken
Serve immediately (also good left over)
Inspired by
Table for Two
(if you're looking for a great Mexican version, these look fabulous!)