Firstly, I want to really apologize for my inconsistent posting recently. As you may know, we made the big move from New Zealand back to the States a couple weeks back. Since coming back, we have managed to be in three states. We were home in Reno for less than a week, then went to Graeagle, CA to have a mini vacation at a cabin Matt's parents own. Then back to Reno for a day before heading back out on Monday to Portland, OR. My brother and sister-in-law moved up here, and we have been helping them move into their new house, and have also been looking for a job and house of our own. While we have been helping, it has of course been a bit hectic, but they also don't have Internet at their place yet, so I haven't been able to post. I am at the moment sitting at Starbucks using the wifi here to get a couple posts done.
Now that that's done, lets talk macarons! That's what were all here for anyway right?! Okay, so did you know that macarons are actually pronounced the way they look, as in macarONS, not macarOONS? I know! I had been pronouncing them wrong this whole time! But if you Google Macaron vs Macaroon, you will see! The things we learn everyday right?
Living down under meant that I was watching Masterchef Australia and Masterchef New Zealand instead of Masterchef USA (side note: I
highly
recommend watching the Aussie version - SOOO much more positive than USA), which meant I was able to see all the celebrity chefs from down under on the show. One of them was
Adriano Zumbo
,
a pastry chef living in Sydney, Australia
. He is famous for his intricate desserts, including his huge selection of macarons and his V8 cake.
When we decided to take the trip to Sydney, I was told by some friends that his Patissier was super close to where we were going to be staying, and I knew there wasn't any way I was missing out on his famous macarons! And let me tell you! These are by far the best macarons I have EVER had!
Everyone else seemed to think so too! It was very busy for a Wednesday afternoon!
I took some pictures of a few of his dessert creations. I can't remember the name of these, but I think they may have been S'mores. Don't quote me on that one though :)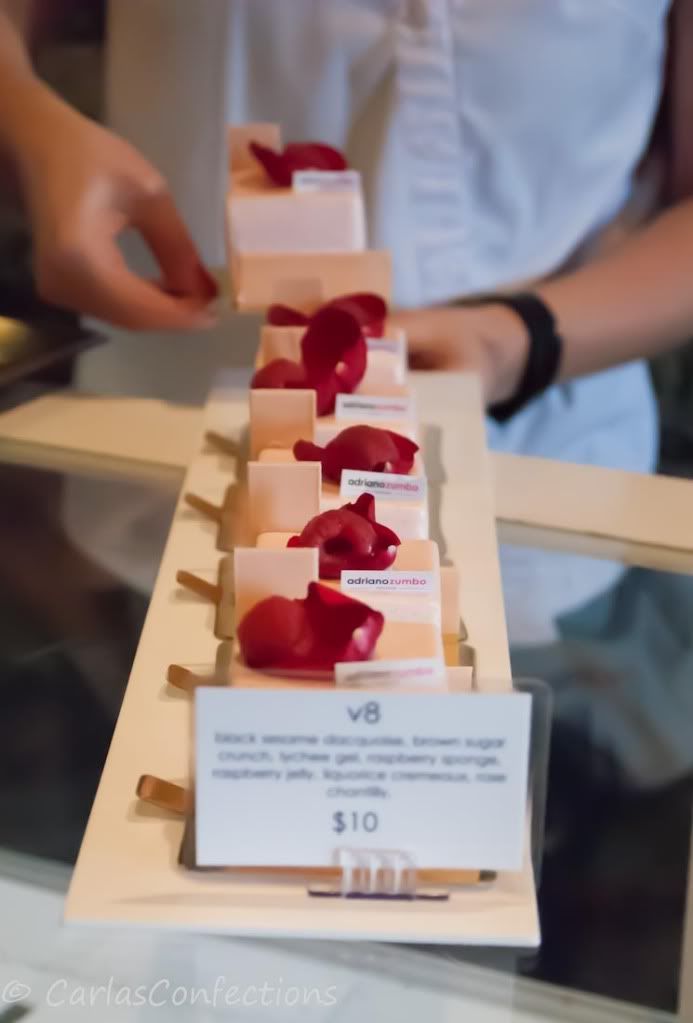 The famous V8 cake, made of eight different layers of vanilla ingredients. He also has a V8 Diesel, which is his chocolate version of the same cake.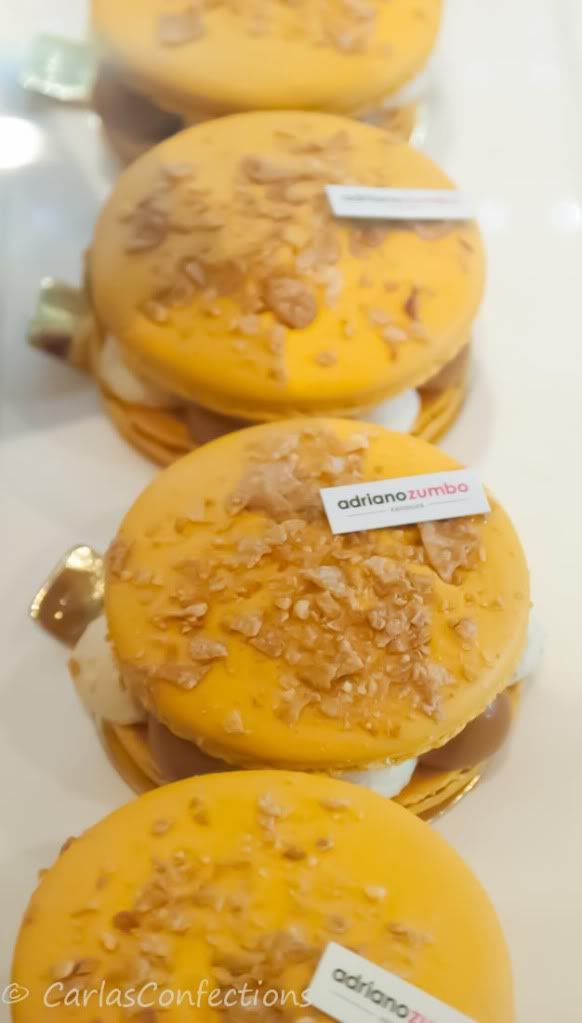 And the Giant Macaron. Looking back on all of these desserts, I really wish I would have grabbed one of each, but there was one reason we were there. And we did it good!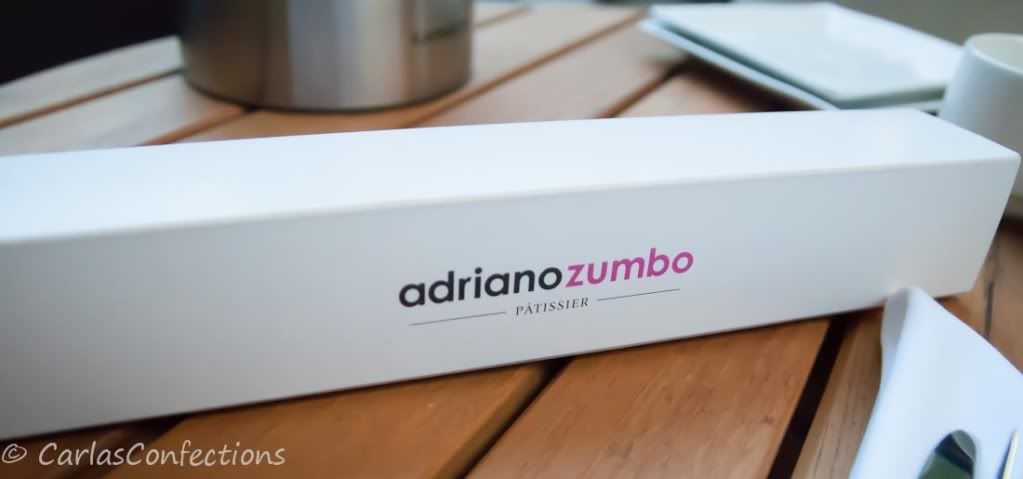 The bakers dozen of Zumbarons, as he calls them. We actually just asked for one of every flavor, which there was 11, but we left with 13. They decided to give us a couple extra. Super nice of them!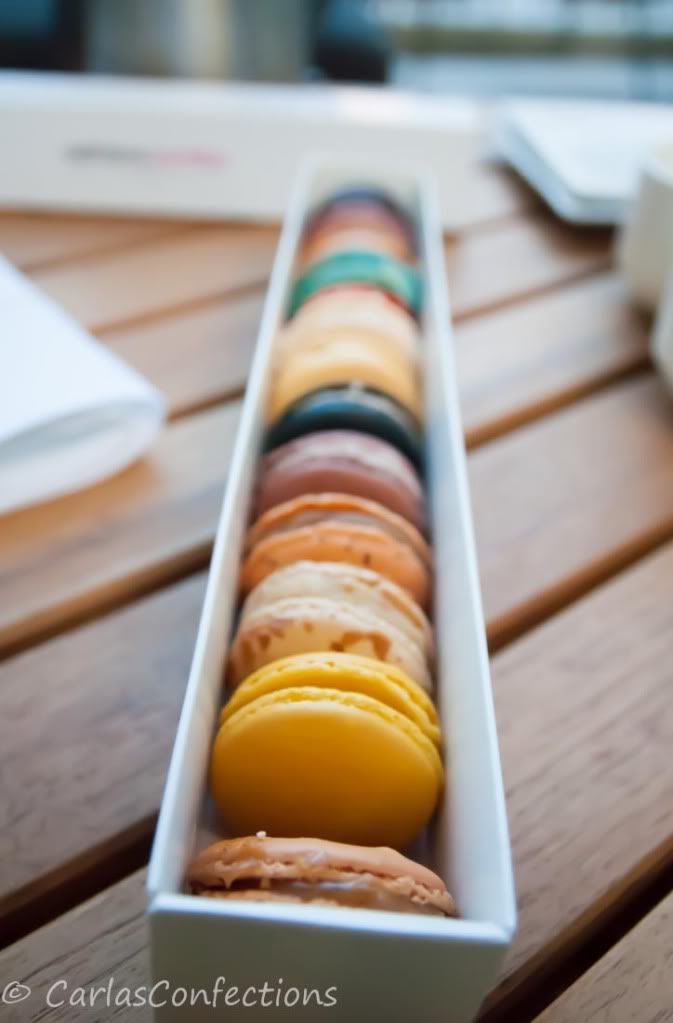 Just have a look at those beauties! There were so many flavors! Some of which seem odd, but actually tasted amazing!
The three in front are salted caramel (in the back), banana (on the right) and get this! butter popcorn in front! Believe it or not, it tasted exactly like popcorn, but also worked really well as a macaron! I would have five more right now.
These three are blueberry on the bottom, blackened vanilla in the middle and chocolate doughnut on top. It is really hard to pick out a favorite out of all the ones we ate, but my top few were the salted caramel, butter popcorn, banana and the chocolate doughnut! Man they were good. And yes it could be true that we managed to eat all of them within that one day! I know, its bad! But it just felt sooooo good!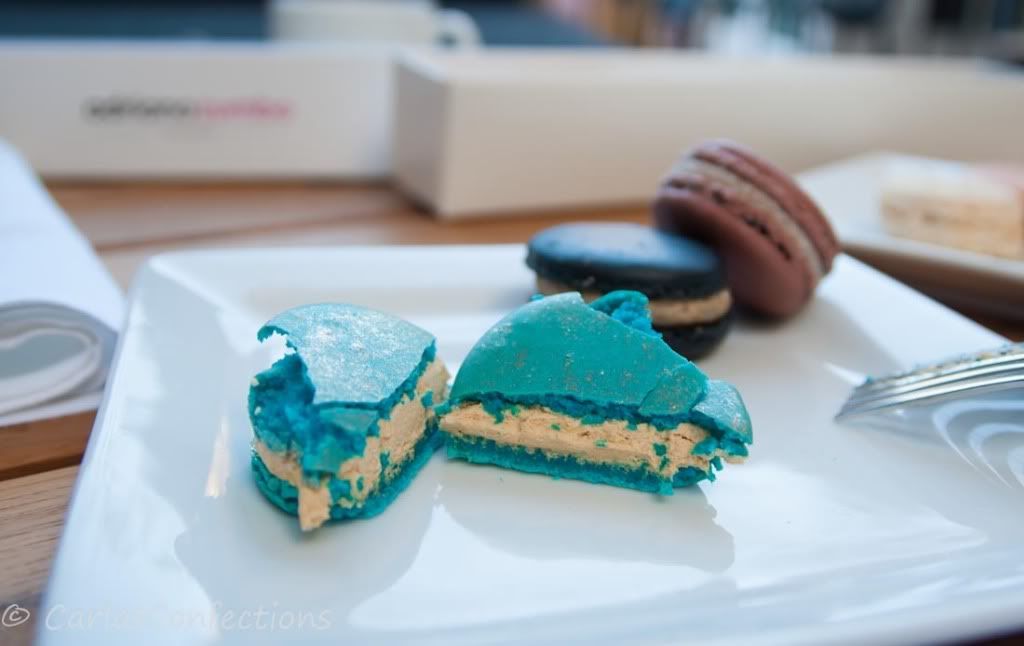 Just look at the oooey goooey goodness!
This one was peach iced tea. He really knows how to pin down flavors! I really cant remember all of the other flavors, but you can check it out
here
, and please tell me you will stop by his
shop
if you ever get to Sydney! It is a must! You haven't tasted macarons until you've had some Zumbarons!
I hope you get the chance! You wont be disappointed! But even if you don't, he has a
cookbook
out too that shows you how to make his famous Zumbarons. It's definitely on my list of books to get.
Thanks for stopping by and see you back early tomorrow for another Fresh Friday post!