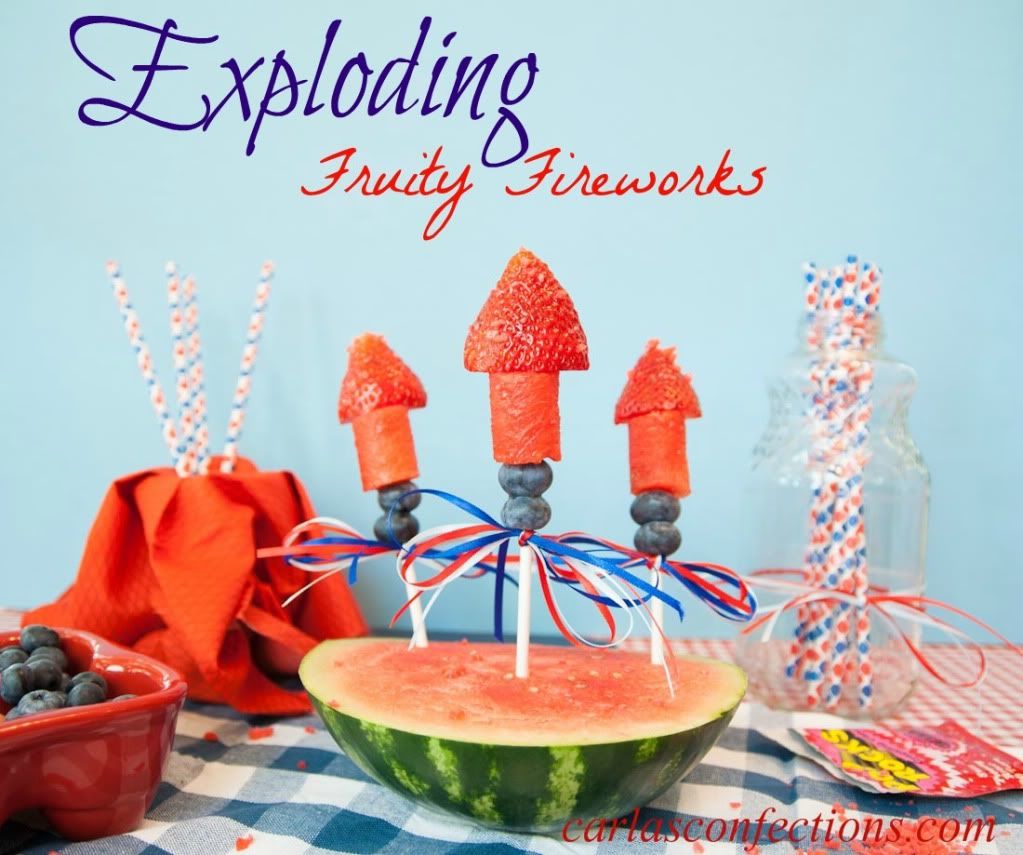 I am super excited about these little treats!
I knew I wanted to do something fun for Fresh Friday this week since it is Labor Day this weekend, and I thought these would be a lot of fun to make with the kiddos if you have them running around :) This is a great way to get them to have their fireworks and eat it too. I know Labor Day doesn't always come with fireworks, but now there can be fireworks no matter where you go! And the best part? They explode.
Yep. They sure do. How you ask? They are sprinkled (or fully covered, depending on how you would like to do it) with Pop Rocks! Your kids will have so much fun with them popping in their mouths, and you are getting your kids to eat fruit. It is a win-win situation! And you can't say these aren't the cutest fruity fireworks EVER!!!!
They are also super easy to make, so lets get to it!
All you need is some lollipop sticks, red, white and blue ribbon to tie bows on the end (if you so please), watermelon, blueberries, strawberries and some Pop Rocks (we used cherry flavor but you can use whatever flavor you would like).
To get the cylinder shape in the watermelon, we used an apple slicer. You need to cut about 1 1/2" slices of the melon, and then cut squares out, just so you are being economical with the rest of the melon. The triangles don't work so well for the firework shape, so this is the best technique for not wasting the rest of the melon. You could also use a small round cookie cutter about an inch in size, or if you just have an apple corer, that works even better. We searched to try and find one, but came up empty, so we went with the apple slicer instead :)
If you are looking for something to do with the leftover watermelon pieces (the triangle shaped ones), just display them in a small bowl along side the Exploding Fruity Fireworks, for the kids or adults to snack on this weekend.
Cut the tops of the strawberries off, and then slice it right down the middle, so you get what looks like a triangle, the top of an arrow, or a firework, and then just grab some blueberries, and you are ready to assemble! Easy peasy, and just WAY too much fun!
We poked holes in the fruit using a bamboo skewer, just to make sure the lollipop stick would go through, but feel free to use whatever tool works for you.
To assemble, poke the cut up fruit with the pointy skewer (make sure it is right in the middle to make it look right), and add two blueberries, then the watermelon cylinder, and ending with the strawberry "arrow" on top.
Wet the strawberry with water, then sprinkle with, or dip right into some pop rocks and hear them start crackling!
Finish off with some red white and blue ribbon at the bottom of the blueberries, both to keep the fruit in place, and also to give it the sparkler look. You can even display it in the bottoms of the watermelon for extra fun.
I hope you guys enjoy your Labor Day weekend, and I hope you get to make some of these Exploding Fruity Fireworks for appetizers or dessert, some
Grilled BBQ Chicken Pizza
for dinner and some
Biscoff Chocolate Chip Cookies
for dessert too.
I hope you guys have an awesome Labor Day weekend! What are your plans? I cant wait to hear about it :) See you back next week!
Exploding Fruity Fireworks
|
Printable Recipe
ingredients/tools:
watermelon, cut into 1 1/2" slices
strawberries, tops cut off, and washed
blueberries
cherry or other flavored Pop Rocks (I found mine at Michaels)
apple slicer, apple corer, or 1 inch round cookie cutter
lollipop sticks
red, white and blue ribbon
bamboo skewer with pointy end, to poke fruit
directions:
With the 1 1/2" sliced watermelon, cut into smaller squares, as to not waste too much of the melon.
Using the apple slicer, cut the watermelon, trying to get as many cylinders (with the circle part of the slicer), and as few other shaped watermelon pieces.
Wash the blueberries and strawberries
Lop the top of the strawberries off (the side with the leaves), and then cut the pointed part right down the middle, to make an "arrow" shape
Take the lollipop stick and tie the ribbon on one end, making a bow.
Assemble the fruit in this order starting at the ribbon: blueberry, blueberry (use as many as you would like), watermelon cylinder, strawberry "arrow"
Make sure the strawberry is wet with water (not dripping though) and sprinkle on or roll into some Pop Rock candy.
Display in one end of a watermelon "bowl"
Enjoy within a few hours.