finally
here to tell you all about our trip to Sydney! Sorry it has taken me so long! We were suppose to be heading back to Reno, NV from Portland, OR yesterday. We have been staying with my brother and sister in law as you probably know for the last week and Matt has been trying to get a job so we can stay up here. Well, he got one! Right now, its just a trial and its not lasting too long, so we aren't in any position to be looking to move up here yet. But for now its a little extra income coming in, and hopefully it will go really well and we can end up staying longer. So that is where things stand for now, and I will keep you all updated! But I promise I am getting back into the groove of things, and I will be posting more often now! Thank you for your patience with me and getting myself settled back into US life :)
Now onto Sydney! Some really friendly people we met in Sydney (which was pretty much everyone!!!) kindly took the above picture of us. Sydney was definitely one of our favorite cities we have ever been to! Okay, so we haven't been to
that
many cities, but Sydney is definitely one of our faves out of the ones we have seen! It is just beautiful, clean, large enough, and just amazingly beautiful (did I say that already?!)
Max Brenner Chocolate Bar
,
Adriano Zumbo's Patissier
, and...
Jamie Oliver
is right? Is it someone that only the UK and the southern half of the world know? Or is he popular here in the USA too?? I really don't know because I found him in New Zealand (well not him as in the person of Jamie... I could only wish that lol), and bought one of his cookbooks (which I had to sell before coming back home *sad face*) so naturally I became obsessed with his cooking. Thanks to my sweet friend Tiff in New Zealand (I miss you Tiff!!!!), I was able to watch his shows, and read some of the cookbooks I didn't have, including
Jamie's America
. I cant wait to get my hands on those cookbooks again!
Anyway, I was an idiot and had my camera on the wrong settings when we were in Jamie's restaurant (I know! I am still learning how to use a camera properly!), and the lighting was awful anyway, so unfortunately I didn't get any good pictures, but the food was fantastic! I highly recommend it if you are ever in Sydney! Visit the
restaurant
for some amazing and very reasonably priced food!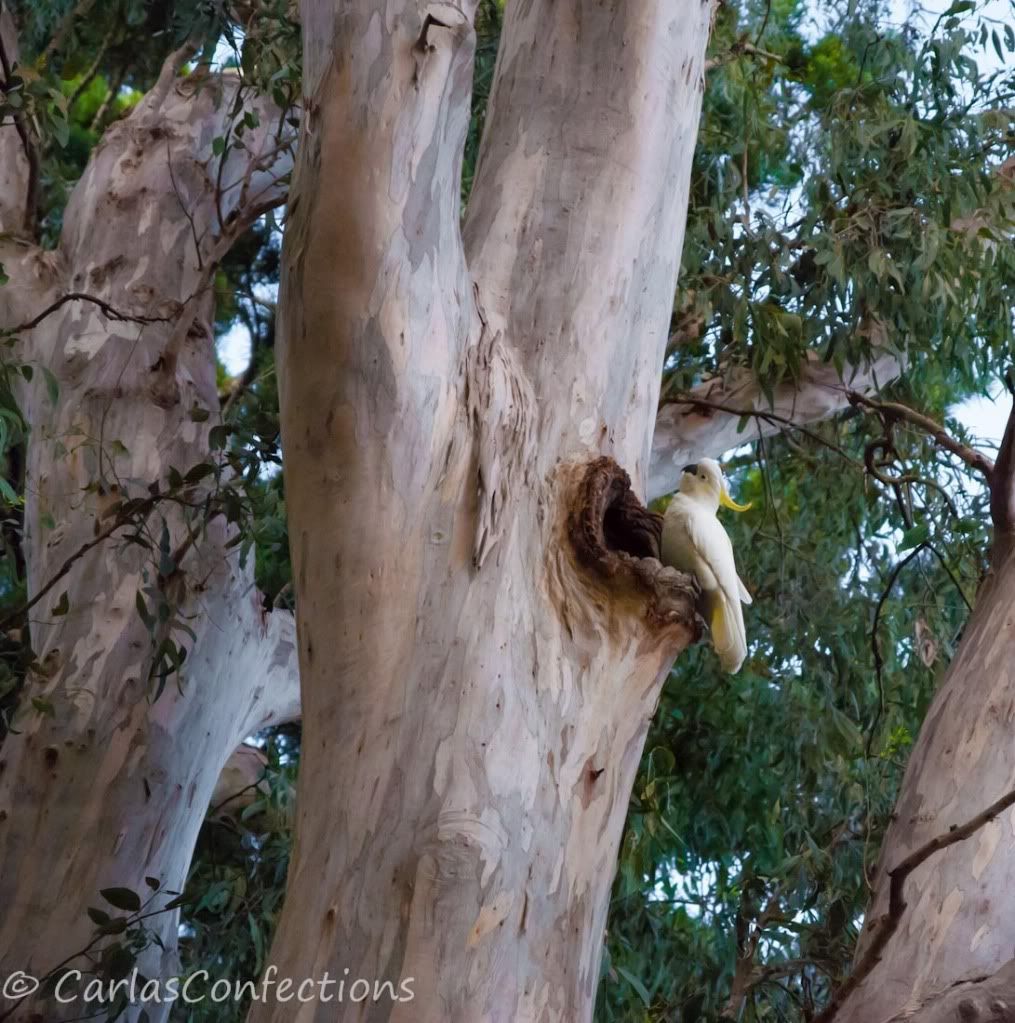 This is a cockatoo, and I have never seen one in the wild! But I have had one in my house! My family used to own one, and he was my favorite pet ever! They are such sweet birds (my brother would disagree I'm sure), and quite large birds. They live to be between 80-100 years old, and they like to mimic people's words. Ours, named Casper (fitting right?), loved to laugh and his favorite word was Carla. That could be why he was my favorite pet ;)
Needless to say I was super excited when we saw these in the wild. And there wasn't just one!
Do you want to know what else we saw in the Botanic Gardens? You might not... you may want to look away for this next picture if you are creeped out easily. I promise I'll only show one! Okay, here it comes...
In. Sane.
It is true what they say about Australia, even in the biggest city! Large spiders (oh but don't worry, its the little spiders that'll kill ya!), and all of the world's deadliest animals. Yep, right there is reason enough not to move there (sorry Matt, Tiff and Kate!)
Ok, I will move on from there... even though you shouldn't move there, you SHOULD visit!
Zumbo
will always be my favorite :)
Well guys, I hope this wasn't a boring post. I hope you enjoyed my recap of Sydney, and please tell me if you ever get the chance to visit Sydney! I would love to give you some suggestions and even get you in touch with some good friends who have lived there :)
Thanks guys and I'm looking forward to seeing you again this Friday for more Fresh Friday posts. Are you guys liking those? I sure hope so! Always let me know if you have any ideas for posts :)
See you soon! XOXO