Can you feel fall in the air? Its definitely felt like its been cooling down in Portland, and the trees are starting to change colors and I also saw some leaves falling too! Doesn't it seem a little early for that one?
Either way, I'm fully in the fall mode now. I am ready for the warm weather to be kicked in the butt, and to bring out scarves, boots, pumpkin spice lattes and sitting curled up on the couch we don't have next to the fireplace we don't have with the puppy we don't have and with my husband that I DO have.
I think I have some shopping to do before this cold weather gets here...
But in the meantime, I have full intentions of getting you all ready for the fall weather as well. I will start with these muffins, and then I have a feeling that we will be moving on to pumpkin recipes from there. I mean, every other blogger is, so I feel it is only necessary to follow in the trend. It's why we are all here, after all, to give our readers what they want, and I can just hear you all shouting, "GIVE US PUMPKIN!"
Am I right?
Probably not. I rarely am. But I am going there anyway. So next time you see me, I'll be holding a can of pureed pumpkin, because I have gotten
lazier than in my NZ days
, and no longer puree my own pumpkin. But maybe I will again one day, when I realize how much better times were when I had to puree my own pumpkin.
I am getting off topic.
So these apple muffins...
They were pretty fab if I must say so myself. And I think I must. And I think you must as well, because, well, why wouldn't you? They are a delicious combination of a sweet treat, and you can't argue that they aren't at least slightly healthier for you than the average treat, such as the pumpkin donuts that you know I will share with you... Let me explain
You see, these muffins contain
apples
people! And if that isn't enough, instead of an egg, they contain applesauce, and instead of butter is vegetable oil!
Do you see where I am going with this?
Make them today and you will feel so much better about yourself, because they are healthier than the average
breakfast
baked goods, and for goodness sakes people, they will make you feel like you are running around in an apple orchard and you will automatically be ready for fall. Does that make sense? I think so!
Speaking of apple orchards, if you are in the Sierra Nevada's and Northern California (I don't know the difference between the two...) you should really go to
Apple Hill
, so you'll have plenty of apples to make these muffins. You wont want just enough to feed your family. You'll also want some for your friends and neighbors. So stock up on those apples.
And while you're at it, make some of this
Apple Pie Spice from My Baking Addiction
(you'll need it for these muffins) and some
Pumpkin Pie Spice from Table For Two
, which you will need in basically every pumpkin recipe there is, including the pumpkin donuts that will be coming your way soon enough, and this
Homemade Pumpkin Spice Latte
I made during the cold months of being in New Zealand.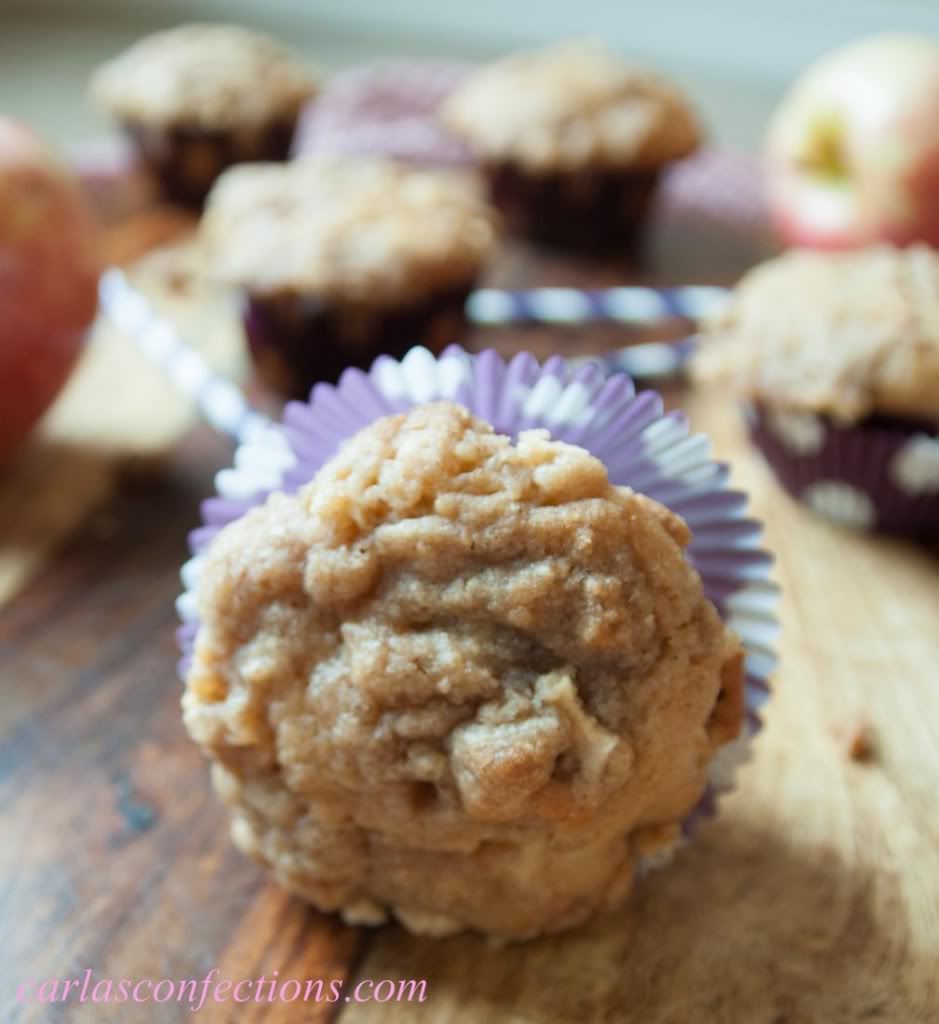 Egg Free Apple Crumble Muffins
|
Printable Recipe
makes about 18 muffins
ingredients:
for the muffins:
1 apple, peeled, cored and diced
2 1/4 cups all purpose flour
2 1/4 tsp baking powder
1/2 tsp salt
1 tsp apple pie spice (store bought or homemade)
1 cup packed brown sugar
1 tsp vanilla
1/2 cup apple sauce
1/4 cup vegetable oil
3/4 cup buttermilk
for the crumble topping:
1/2 apple, peeled, cored and diced
1/2 cup all purpose flour
1/2 cup packed brown sugar
1 tsp apple pie spice (store bought or homemade)
6 Tbsp cold butter (preferably unsalted, but either works)
directions:
Preheat oven to 400F/205C. Put cupcake liners in regular sized muffin tins, or if desired, just grease the muffin tin cups.
Peel and core two apples, and dice them into small pieces (about 1/4 inch thickness). You are only using 1 1/2 of the apples total, so set aside or eat the remaining half of the apple (See, you are already being healthier!!!) Divide them into separate piles for inside the muffins and the crumble topping.
In a medium sized bowl, stir together the dry ingredients except the brown sugar using a whisk or spoon: flour, salt, baking powder and apple pie spice. Set this aside for now.
In another bowl that is bigger than the one for the dry ingredients, stir together the wet ingredients plus the brown sugar using a spoon or another whisk: brown sugar, apple sauce, buttermilk, vegetable oil, and vanilla.
In small batches, stir the dry ingredients into the wet ingredients using a spoon or spatula. Do not over mix the batter. It will taste better this way :)
Once just combined, add in the apples (only up to one apple total. Reserve the rest for the crumble topping)
For the crumble topping mixture, in a smaller bowl, add in all of the ingredients except the apples: flour, butter, brown sugar and apple pie spice. Using the tips of your fingers, crumble the mixture together. Be prepared for your hands to get messy! Crumble the mixture until there is a mix of smaller and bigger pieces of butter with the sugary mixture. Once that is combined to your delight, stir in the apples using your hands as well.
Wash your hands, then using 1/4 cup measuring cup, scoop the muffin batter into the muffin cups, filling 2/3-3/4 of the way full, then spoon over the crumble mixture. Don't be scant about the crumble mixture! Fill those babies up. You wont regret it ;)
Bake for 18 minutes, or until a cake tester or toothpick comes out with no batter on it. Cool for a short time then enjoy warm or cold.
Store extras in an air tight container and eat within a few days.
PS, these also make great holiday gifts, wrapped in decorative bags along with some homemade apple pie spice, some apples and the recipe :)
Recipe adapted from
Two Peas and Their Pod