In a crazy turn of events this week, I am now again employed! The company I was working for before we moved to New Zealand, a physical therapy clinic here in Reno, came to me asking if I was interested in any part time work while we are in this transition period.
When I was working for them before, I was going to school to be a physical therapist, before I changed my mind to focus on baking, cooking and blogging. I have to admit, it is definitely really weird to be back here again, and working for the same clinic I was working for before. Everything is the same, except for the fact that I no longer want to be a physical therapist and Matt is no longer in school to be an animator. He is now on the prowl for a job, but at least in the meantime, we will have a tiny bit of extra income coming in.
I am done with my first day of work now, and to my surprise, it was a lot better than I had anticipated! I must be honest and say that I wasn't overly thrilled about being back in the work force, since it has been two years since I last worked (and oddly enough it was with this same company), but it has been a lot more fun than I thought it would be to work again. I have enjoyed it more than I thought. It is nice to have a lot more purpose in life than just having this blog. The blog is still my number one priority though, so don't you worry about that! Ill still be here at least twice a week, if not more :)
I made these cookie bars the other night because we got invited over to some friend's for dinner. I don't usually make cookie bars; I would normally just go the total cookie route. But I have to be honest and say that I thoroughly enjoyed that you only have to bake it once and you still get a good amount of bars out of the batter! I think I will be leaning more toward bars for all of my cookie treats from now on! They are also a lot of fun to photograph and play around with styling. But the most important thing is that these ones tasted just amazing, with the sweet and salty combo. We all know how amazing that can be! Please make sure to make them soon. You may need to get your fat pants out for them, but I promise you'll be okay with that after you get a taste.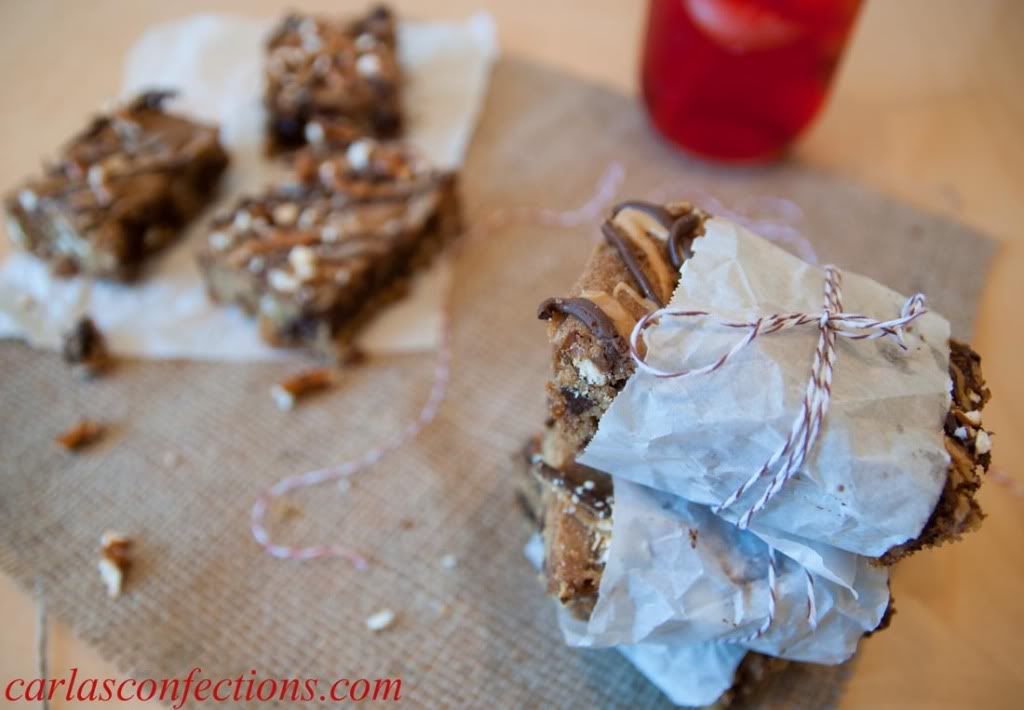 ingredients:
2 cups flour
1 tsp baking soda
1/2 tsp salt
1 1/2 sticks (3/4 cup) unsalted butter, softened
1 cup packed brown sugar
1/2 cup granulated sugar
2 eggs
2 tsp vanilla extract
12 oz bag good quality chocolate chunks
1 1/2 cups pretzel twists, broken into smaller pieces (plus more for the top of the bars
extra dark chocolate, for drizzling
peanut butter, melted for drizzling
directions:
Preheat oven to 350F/180C. Spray a 9x13 pan with a lip with cooking spray
In a bowl, combine flour baking soda and salt
In a stand mixer, beat together butter and both sugars on medium until fluffy
Add eggs, and vanilla, then turn to low and slowly mix in the dry ingredients
Stir in chocolate chunks and pretzel twists
Spread evenly in pan, and bake for 25-30 minutes, until golden brown
Remove to cooling rack, and while cooling, melt the extra chocolate and peanut butter in a ziplock bag in the microwave, and drizzle over the cooked mixture
Add the remaining pretzels and allow to cool completely before cutting into
Cut into as many bars at whatever size you prefer.
Enjoy
Source:
Brown Eyed Baker