Happy Wednesday to you all! How has your week been going? I hope it has been good. Matt started back at work again on Monday, and since then I have been trying to find a routine to get into again. Being a housewife can get boring sometimes if you have nothing to fill your time, such as no internet, no cable and no car to get you out and about. Yep that's my life right now. At least until today. The cable/internet guy is *suppose* to be coming by today to get those going. Hopefully nothing happens to make him not come today.
I am at Starbucks using the wifi yet again to get my post up and running because, well, there isn't much you can do as a food blogger if you have no internet. Keep your fingers crossed that they show and we will have internet by the end of the day.
As for not having a car during the day, well that certainly isn't much fun. Matt works in the city and we live in the burbs, so it takes him anywhere between 30 minutes and an hour to get to work every day. And then the same to come home. Yeah it sure makes for a long day. And we only have one car now because our other car got totaled while we were in New Zealand (don't worry, everyone was ok in that accident) and we just can't fork out the money right now to buy another car.
The worst part about only having one car is when I want to walk my booty to Starbucks to use the wifi, or go get ingredients needed for some baking or cooking, it is a bit of a walk. We weren't smart enough to choose the apartments right next to Target or Safeway. And on top of that, we live in the city that doesn't see sunshine for half the year. So let's just hope that I don't melt when walking out in the rain. I guess I'll either be cooped up in this apartment (that I absolutely love by the way, despite being sad that we aren't closer to stores) or I will get myself into better shape trekking out in the rain. If you pass me by, make sure to stop and say hi – I'd like to know there are others out there
:)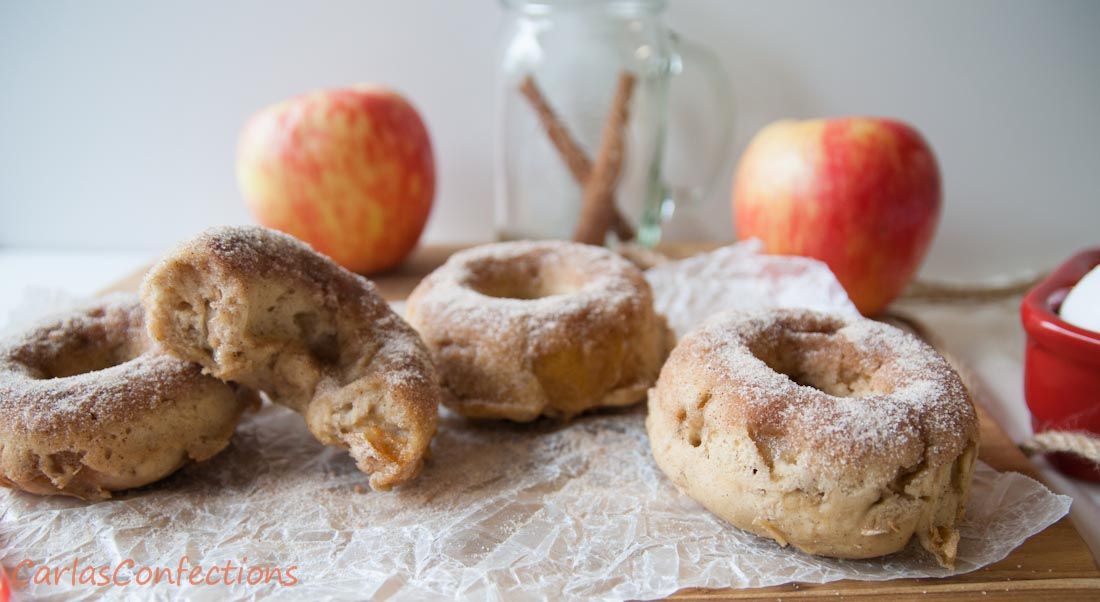 So let's talk about these donuts. I have been wanting to make some apple chips because I bought five pounds of
expensive
super tasty honey crisp apples, but I don't own a mandolin (yet), and I learned fast that my food processor wasn't going to give me the perfectly round chips that I was hoping for. I tried. And it didn't work. So I improvised and sliced my apples in the food processor anyway, coming up with my ideas all the while. I had a brill idea to cook the apple slices in some apple cider with a few cinnamon sticks, and to add the cooked apples plus some of the cider into a donut recipe.
Presto, they are beautiful and oh so yum!
This is the perfect recipe to make the day before Thanksgiving to enjoy on the morning while you are preparing that luscious turkey! Make sure you give these babies a go! There apple-icious!
makes 16-18 donuts
ingredients:
for the apples:
2 heaping cups sliced apples (I used 2 honey crisp apples)

1 quart apple cider drink

2 Tbsp. sugar

2 cinnamon sticks
for the donuts:
4 Tbsp. (1/2 stick or ¼ cup) butter, softened

3/4

cup sugar

2 eggs
1 tsp. vanilla
1/2 cup buttermilk (you can make this by combining ½ cup milk with ½ Tbsp. lemon juice and let sit for 5-10 minutes before using)

3 ¼ cups all-purpose flour
1/2 tsp. salt

1 tsp. baking soda

2 tsp. baking powder

1 tsp. ground cinnamon
for the sugar coating:
4 Tbsp. (1/4 cup or ½ stick) butter, melted

1 cup sugar

1 tsp. ground cinnamon
directions:
For the apples, core and thinly slice the apples using a knife or food processor. Add the apples and the apple cider to a pot over high heat. Add in the cinnamon sticks and the 2 Tbsp. of sugar. Give the mixture a stir to coat the apples and bring to a rolling boil. Once there, turn the heat to low and cover and simmer for 30 minutes. Remove from heat and allow to cool for 20 minutes.

Drain the apples, reserving the liquid. Remove and discard the cinnamon sticks (I stuck mine in a cup to make the kitchen smell nice)

While the apple mixture is cooling, make the donuts. Preheat the oven to 350F/180C, and spray a donut pan with non-stick spray.

Make your buttermilk if you didn't already have it on hand.

Using a stand mixer or an electric hand mixer, beat the softened butter and ¾ cup sugar until light and fluffy. Add the eggs, one at a time and then vanilla and beat until mixed in. Beat in the buttermilk. Beat in ½ cup of the reserved apple cider liquid. Reserve the rest of the liquid for other use. You could make mulled apple cider with it.

In a separate bowl, whisk together flour, baking soda, baking powder, salt and cinnamon. Slowly stir this mixture into the wet ingredients, making sure not to over mix. Finally, stir in the cooked apples until combined.

Pour the batter into the donut pan, filling to the top, and bake 10-12 minutes, until the dough springs back when touched. Remove and allow to cool on a cooling rack.

For the coating, melt the butter in the microwave in a microwave safe dish in 10 second intervals, until fully melted.

I

n a separate bowl, whisk together the cup of sugar and ground cinnamon.

Dip the donut first in the butter, then into the sugar mixture to coat one side of the donut. Return to the cooling rack and enjoy within a few days.