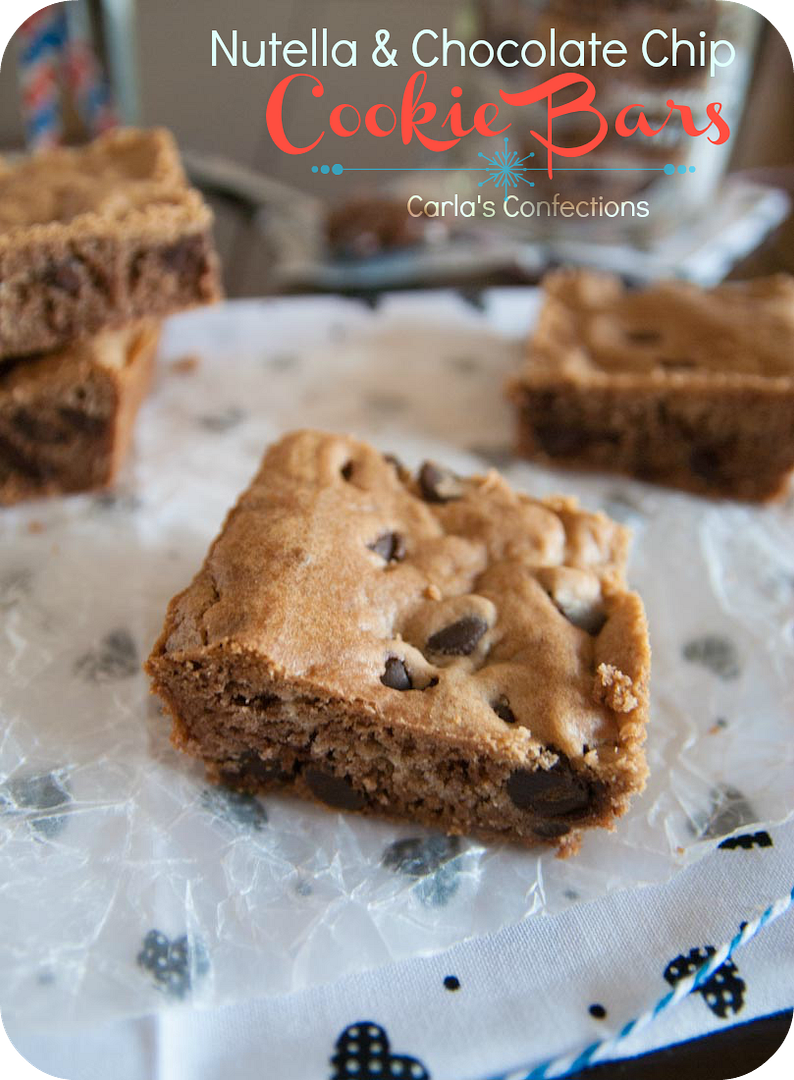 I hope everyone had a wonderful Thanksgiving weekend! I am sure you are all turkey'd out, as well as full to the brim with sweets galore, all the while you still have pumpkin pie and turkey sitting in the fridge just waiting to be eaten. Am I right, or is that just our house?
I have a few ideas for my leftover turkey, such as this
pizza from Baked by Rachel
, and I really just cant get rid of the pie fast enough, especially with Matt's birthday being the day after Thanksgiving, which means that there is even more dessert in the house. It's rough living here ;)
In case your house is not like mine, and you don't have desserts overflowing out of every window and door, I thought I would throw another cookie bar your way.
Are you tired of cookie bars yet? Because, I have to be honest. I am not. It is my newest obsession. Just like
Jenny
and her
Oreo
obsession, I am absolutely smitten with cookie bars. If you havent been following me for any length of time, you can see
here
,
here
and
here
what I am talking about. I just cant help it. They are so tasty, and made even better by the fact that you bake once and get tons of cookies. They are so easy to make, and on top of all of that, you can add whatever you want to the cookies. I use
this base recipe
for almost all of my cookie bars, then I just add whatever I am feeling like adding at the time.
I made these a few weeks back (I know Im so sorry I held out on giving you the recipe until now), and I am telling you, these cookie bars I am making are just getting fluffier and fluffier! They are so delicious, it is just insane. I give almost all of my bakes to Matt to take to his coworkers. He told me when he got home from work that one of his women coworkers asked him if his wife made the cookies, to which of course he said yes. She proceeded to say, "these are (*insert bad word here*) delicious! I want to marry her!" I guess thats a good thing.
So promise me you'll make them. They have Nutella in them for goodness sakes. You can't really go wrong with that can you?!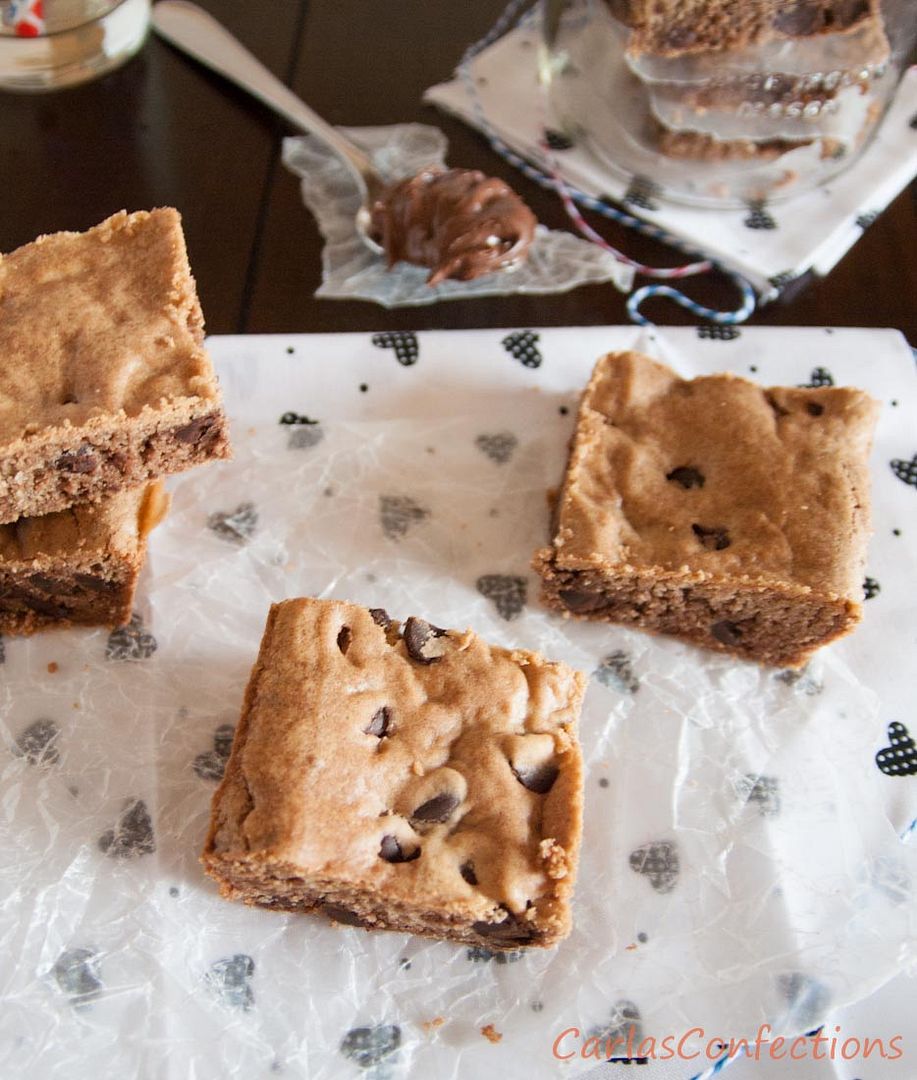 makes about 36 cookie bars
ingredients:
2 1/4 cup flour
1/2 tsp baking soda
1 cup (2 sticks) butter, softened (if you use salted, just eliminate the extra salt later)
1 cup brown sugar
1/2 cup granulated sugar
1 tsp salt
2 eggs
2 tsp vanilla
1/2 cup Nutella
2 cups semi sweet chocolate chips
directions:
Preheat oven to 350F/180C
In a large bowl, whisk together the flour and baking soda. Set aside.
Using a stand mixer, beat the softened butter with both sugars and salt until super fluffy on high, about 5 minutes. Make sure the butter is at room temperature and very soft to the touch before beating it. You want the butter super soft and fluffy before adding the remaining ingredients.
Add in the eggs, one at a time, and beating until incorporated
Add in the vanilla and mix until incorporated.
Turn the mixer down to low and slowly add in the flour mixture, until well combined.
Add in the chocolate chips and mix until combined, then add in the Nutella and give the mixer a few turns, to mix it in slightly, but dont over-mix it.
Grease a 10x14" baking tray that has a lip, and press in the cookie dough into the pan and bake 25-30 minutes until golden brown. Remove and let cool completely before cutting into 36 squares.
Enjoy :)
Slightly adapted from
Martha Stewart