Do you have those weeks, when you are planning on blogging a certain recipe or two (or if you aren't a food blogger, a recipe that you plan on taking somewhere), and not even just the one, but the recipe after that too is just a total flop?
That was the beginning of my week. I had two recipes that just did not work the way I wanted them too. Granted, they still both tasted great, but all in all, they were not blog worthy.
For my blog, I will always focus on the recipe itself as the most important aspect. If the recipe worked for me, and tasted awesome, I will share it with you. Then if I happen to get good pictures out of it, then even better. But the food is the focus.
So if I don't get the results I want, to the blog it does NOT go.
Yep. That was the week I had. At least the beginning of the week. I made the two recipes, tasted them (and liked them!) and even took photos of one of the recipes. But in the end, I just decided they were not blog worthy. Not because they didn't taste good, but because they didn't turn out perfect.
I'm crazy. This I know. I would rather my food be perfect than my photos be perfect. Because I know I have a long way to go with getting
good
great photos.
So two recipes down, and one recipe even having the pictures taken, I started from scratch.
I'm working on being better with planning. I do have this whole month in blog posts planned out now, thanks to
Julie's
fabulous idea of doing that (why I had not thought of that myself I have no clue). But either way, there will always be those times where recipes just don't work out the way you want them to.
That's where inspiration comes into play. I wanted to have some easy Christmas recipes on hand for people having parties, or to give out as gifts. I was browsing
Pinterest
, and lo and behold, I found my inspiration for this recipe.
This one would be so perfect in a mason jar with a basket full of other foodie goodies, like a whisk, a small baking sheet, and some other cookie recipes, or cookies in a jar. Stay tuned for a cookie in a jar recipe from me later this month :) It'll make for some great gifts if you are at a loss of what to get.
You can get mason jars in packs at any cheaper stores, like WalMart, so don't think you have to over spend to give a fun gift. And I think homemade gifts are always the best anyway!
This snack mix really couldn't be more simple. The hardest part is melting the butter and stirring in the brown sugar into it. Rough huh?
So get onto making this so you can give it away this Christmas, or just have it at your holiday party :)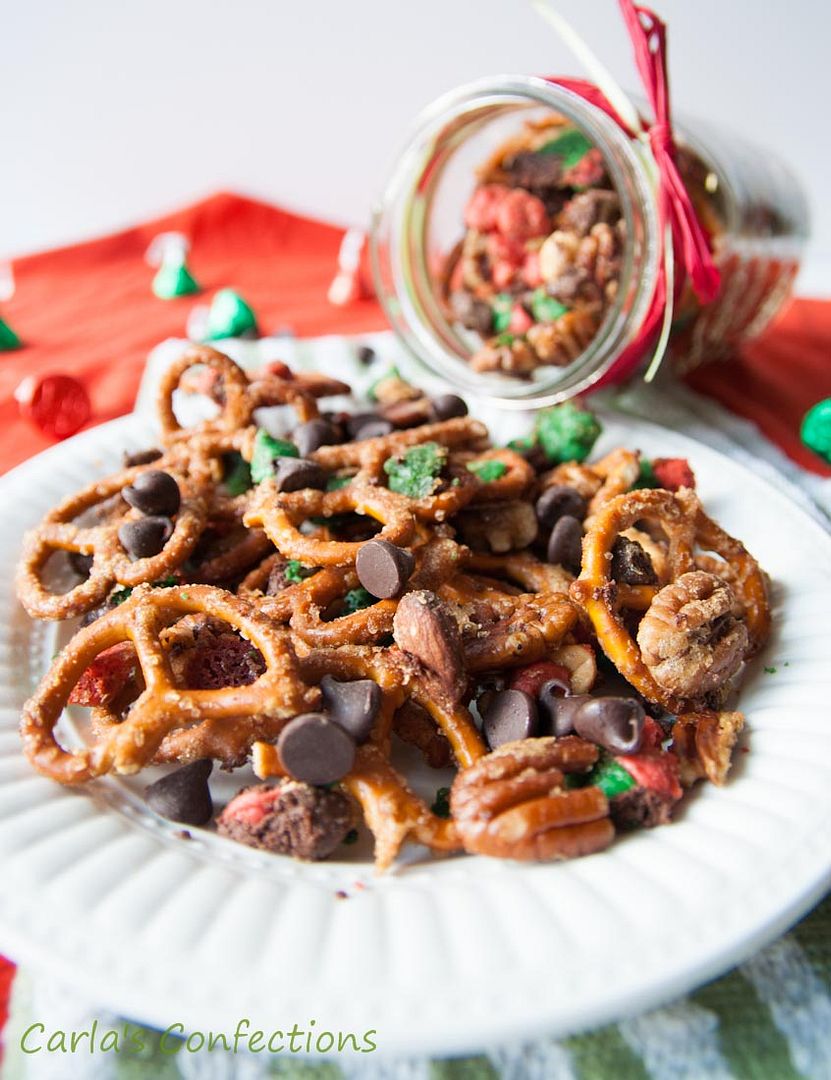 Christmas Party Snack Mix
|
Printable Recipe
makes about 5 or so cups of snack mix
ingredients:
for the sugar butter mixture
1/3 cup butter, melted
1/3 cup packed brown sugar
2 Tbsp vanilla sugar, optional (see below for how to make)
for the snack mix
3 cups pretzel twists
1 cup salted mixed nuts
1 cup pecans
1 (12 oz) bag holiday chocolate chips (with red & green chips)
1/3 cup butter sugar mixture
directions:
If desired, make the vanilla sugar, at least a day in advance. Add any leftover vanilla beans (with the seeds removed from inside) to as much sugar as you would like. Store in an airtight container until ready to use. Can store as long as you would like, and keep adding vanilla beans as you use them.
Preheat oven to 350F/180C
Combine the melted butter and brown sugar (and vanilla sugar if desired) into a small bowl and mix to combine.
Combine the rest of the ingredients into a large bowl. NOTE: I mixed in the chocolate chips before baking, but if desired, you can keep them out and mix in after baking so they stay in shape.
Coat the snack mixture with the sugar butter mix and toss around well
Spray a large (at least 10x14) jellyroll pan well with spray grease. Lay out the snack mix as flat as possible and bake for about 8 minutes, then stir around and bake another 8 minutes.
Allow to cool then serve or store in an airtight container such as a mason jar to give as gifts.
Inspired by
Betty Crocker