The hubs has really been loving grilled cheese sandwiches lately. I have to admit that they are not always my favorite sandwich to eat, but when you combine the right ingredients, it is very hard to turn one of these fellas down.
Remember Friday's post? I shared
Arugula & Walnut Pesto
with ya. Remember that one? Yeah I thought you had.
I told you you were gonna want to check back to see what I made with it. Aren't you glad you did now? Yep. I knew it.
Like I said, these aren't always my favorite, but when you combine pesto, bacon, and melted cheese all on a slice of rye toasted bread (also spread with some butter), I mean, how can you even begin to say no?!?
Look at that melty goodness!
You can choose whatever bread you would like, but the rye really adds something special to this thing. And then I think we can all agree that the bacon is what really tops it off.
There you go. Now you need to go make it! I made mine on a griddle pan (thank you
Maria
!!!), but a simple saute pan, or even a panini press would do wonderful as well.
I have to apologize to my hubs too for sharing this recipe while I'm not even home to make it for him. I promise I'll make it when I'm back :) I hope you're eating well while I'm not there...! I love you!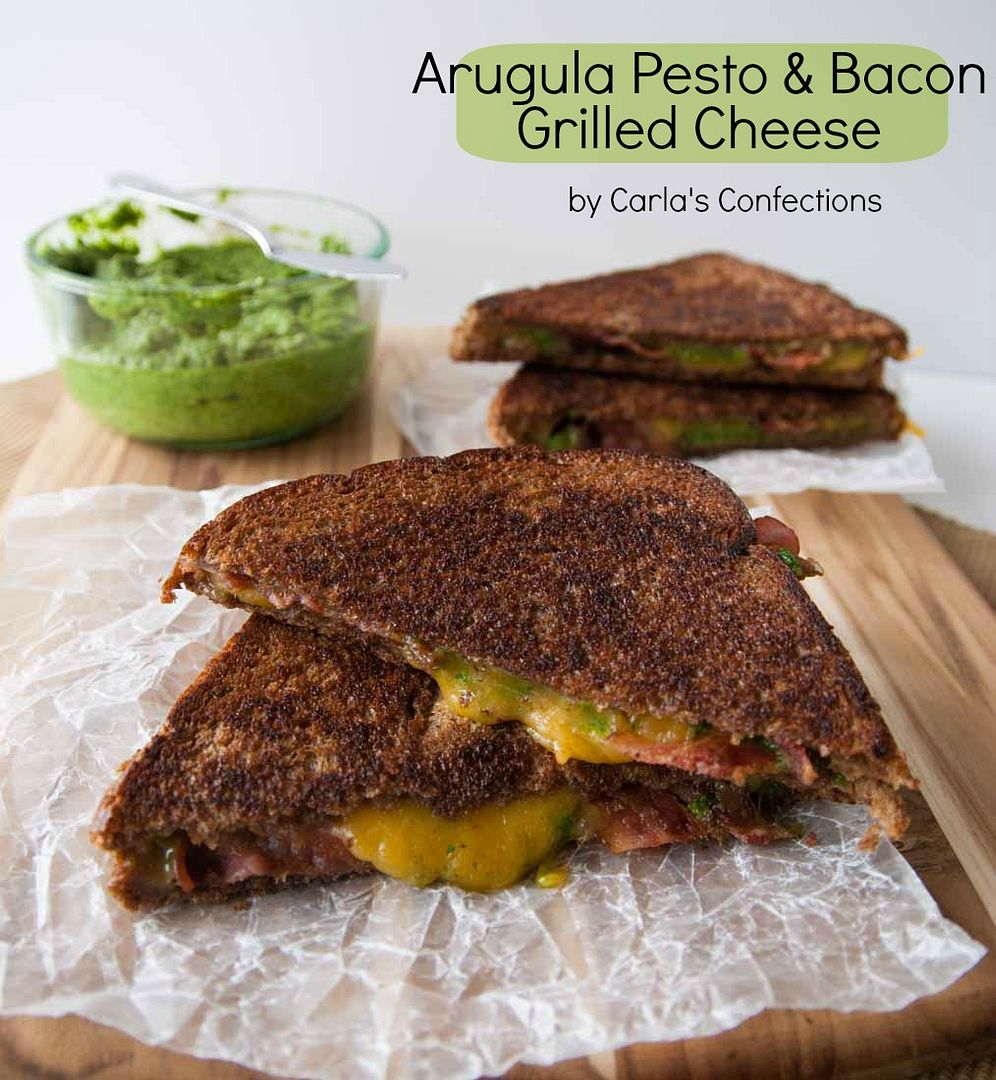 Arugula Pesto & Bacon Grilled Cheese
|
Printable Recipe
serves 2
ingredients:
4 pieces rye bread
4 Tbsp butter, divided
4 Tbsp Arugula & Walnut Pesto
4-6 pieces bacon, to preference, cooked over stove top or in microwave
2 slices sharp cheddar cheese
directions:
Spread one side of each piece of bread with butter (roughly 1/2 Tbsp each)
Spread the non-buttered side of bread (one piece per sandwich) with pesto, and add the bacon and the cheddar cheese. Cover with non-buttered side of bread. Buttered sides of bread should be facing out.
Place a griddle pan over two burners. Turn both burners on medium-high. Place the remaining butter on the griddle pan and allow to melt. Place the grilled cheese sandwiches on the griddle and allow to cook until golden brown and turn over. Cook about 5 minutes each side (NOTE: watch closely. Could be faster than 5 minutes), until golden brown and cheese is melted.
Slice in half and enjoy :)
Pesto adapted from
Table for Two