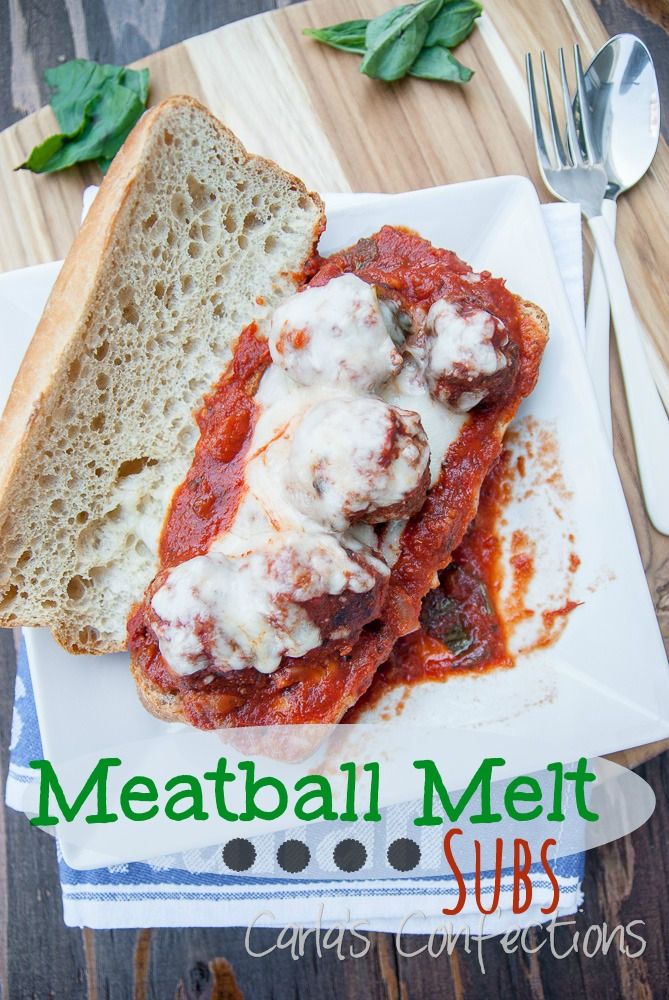 I know I have gone pretty savory on you guys a lot here in the last couple weeks.
Well other than my
Purple Cocktail
earlier this week.
I promise, we will be getting back to our regularly scheduled programming next week. I will make it up to you. With donuts!
I tend to steer clear of main dishes here on Carla's Confections, for the mere fact that I don't plan far enough in advance to take pictures of our dinners. Nor do I ever make enough leftovers to take pictures the next day.
There are a few exceptions of course. Such as these
Crock Pot French Dips
, and the ever popular
Kale and Broccoli Quinoa
. And then there are these
Meatball Melt Subs.
I made them last Sunday, and I made sure to do it at lunch time, so I could take some quick pictures before we devoured them. They also made for some quick and easy meals this week, which worked out well since we are getting ready to house Matt's parents and sister starting tomorrow.
Which of course means we have to clean the house top to bottom, and we have a bigger place than we have ever had, and that means there is more to clean. Can someone tell me why things won't stay cleaned for more than a week??? And seriously, why can't carpet just vacuum itself?
Ok, to be honest, I don't mind vacuuming. But I do not enjoy cleaning as a whole.
Also, did you hear my story about
falling on my butt
? And even though I posted it on April Fools, it is definitely no joke, although I wish it was.
So that's been fun to sit on. And it hurts when I bend over too.
Do I complain too much?
Yeah I didn't think so. Thanks for the reassurance.
Before I get carried away on telling you all my problems, and you start to feel more like a therapist than a food connoisseur, I better tell you more about these melts.
I have been on a real marinara kick lately (not to be confused with a fake marinara kick). It started with spaghetti squash, and then it escalated to these melts, because I am a carboholic.
I am a carboholic and I admit is. But I am also going to admit that this is an addiction I do not plan on quitting.
And these Meatball Melts are why.
You can certainly use your favorite spaghetti sauce for this one, but I made my sauce from scratch. It takes a little bit longer, but it is worth the extra work. The homemade sauce is so much better than the stuff in the jar (at least the one's we have tried).
If you have the time, I recommend that you allow the meatballs to rest in the fridge for a while after they are formed, but I know when you are in a time crunch and the last thing you want to do is wait another thirty minutes. Just don't come running back to me, telling me your meatballs fell apart. We will have to have the mommy-child talk.
"Did you do what I told you to do?"
"No, but..."
"Well, how can you expect it to come out the way I said it would, if you didn't listen to me???"
Wow, I am not even a mom yet, and I already have this scolding thing down. My kids are going to love me...
The real key to these meatballs though, is letting them sear on the outside first. The crispiness adds so much flavor, you wont regret doing this step.
And once the meatballs are cooked up, sauce made and added to the meatballs, layer on a sandwich roll throw on some mozzarella and Parmesan cheese, and stick under the broiler to let the cheese melt and get slightly crispy.
I hope these Meatball Melt Subs make an appearance at your house this weekend, without the addition of falling and bruising your butt while you are waiting for the cheese to melt (yep that's when it happened for me!)
Have a fabulous weekend, and be sure to check out some of my most popular posts (on the right hand side bar), and my
recipe index
if you are looking for a particular recipe :)
Meatball Melt Subs
|
Printable Recipe
serves 4-6
ingredients:
for the meatballs:
1 1/2 lbs lean ground beef
1/3 - 1/2 cup plain (or panko) breadcrumbs (enough to make the mixture hold together and not be super wet)
1 egg
freshly ground salt and pepper, to taste (I use sea salt)
1/2 Tbsp dried oregano
1 tsp dried basil
1/4 tsp chili flakes (optional)
1/4 tsp garlic powder
1/2 tsp Worcestershire sauce
for the sauce:
1 (27oz/800ml) can crushed tomatoes
3/4 (27oz can) water (fill the tomato can with water)
freshly ground salt and pepper, to taste
1 bay leaf
2 tsp dried oregano
1/4 tsp garlic powder
4-5 fresh basil leaves, broken into smaller pieces
1/2 tsp sugar (to cut the acidity)
for the subs:
prepared meatballs (above)
prepared sauce (above)
4-6 sandwich rolls of choice
1 cup mozzarella cheese
1/2 cup Parmesan cheese
directions:
Start with adding your ground beef, and the remaining herbs, spices, breadcrumbs, egg and Worcestershire sauce to a medium sized bowl.
Get down and dirty with the meatballs, by using your hands to mix the ingredients together, and form 1 1/2" meatballs, and place on a plate to rest
Once done forming them all, if you have time, allow to rest in the fridge 20-30 minutes. If you don't have time, feel free to skip this step. But I am not responsible for any broken meatballs ;)
While the meatballs are resting, prepare the sauce (or you can sear the meatballs and prepare sauce at the same time)
To prepare the sauce, add all ingredients for the sauce into a medium stockpot. Stir together and allow to come to a boil over medium-high heat, and then turn down to simmer on Low.
While the sauce is going, put a skillet over medium-high heat and place as many meatballs in as you can fit. If you have to do it in batches, that is ok. I try to fit them all if I can though, and they will shrink once seared.
Sear the meatballs on one side, and then flip to sear on as many sides as you can get.
Once all the meatballs are seared and mostly cooked through, add either sauce to skillet with meatballs, or meatballs to stockpot with sauce (whichever one is big enough to fit them all), and allow meatballs to cook fully through while soaking up some of the marinara sauce. Once the mixture is boiling (cook over medium heat), they should be fully cooked through.
Turn broiler on high in the oven, and line a baking sheet with foil.
Place rolls down, cut side up, place on as many meatballs as desired with extra sauce, and dumb desired amount of Mozzarella and Parmesan cheese, and broil 5-10 minutes, until melted, and the rolls are starting to get toasted
NOTE:
You could also make these into sliders using dinner rolls, and serve at a party too!
Carla's Confections original
Check out these other sandwich recipes: