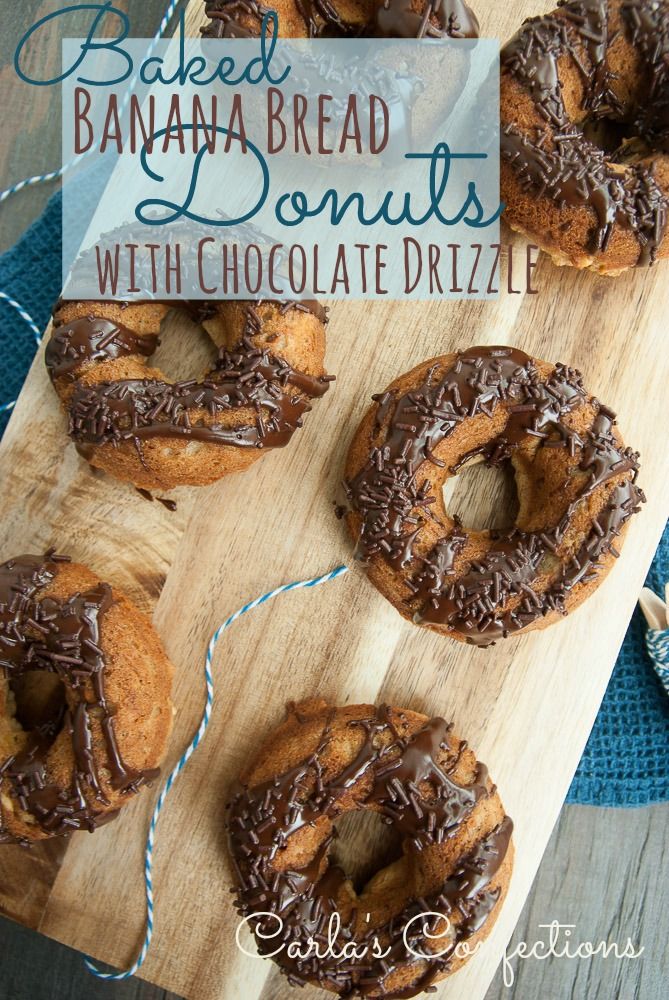 Welcome to the first installment of Donut Fridays!!!
Remember a couple months ago when I posted a
Donut Recipe
on Tuesday and proclaimed that every Friday should be Donut Friday?
Lets skip over the fact that the last sentence makes no sense.
I also told you that my father in law has Donut Friday at work every week, because his boss rules (I'll be asking for compensation for saying that ;) )
Since it is summer, and Fridays are meant to be celebrated, I have officially declare every Friday (for the next couple months at least) Donut Fridays!!
And since I'm posting a donut recipe every week for a while, I'm spelling it donut just so my life is easier. I mean who wants to spell it doughnut that many times?! And if you want to get mad at me, look at the beginning of this paragraph.
New. Donut. Recipe. Every. Friday.
Nuff said.
SO! The other day on
Facebook
I asked you guys what your favorite donuts were and what donuts you really want to try.
See how sneaky I was there?? Eh? Eh?
For the next couple months, every.single.Friday. you will see a new donut recipe here on CC, a lot of them inspired by your responses! So thank you for the fabulous ideas!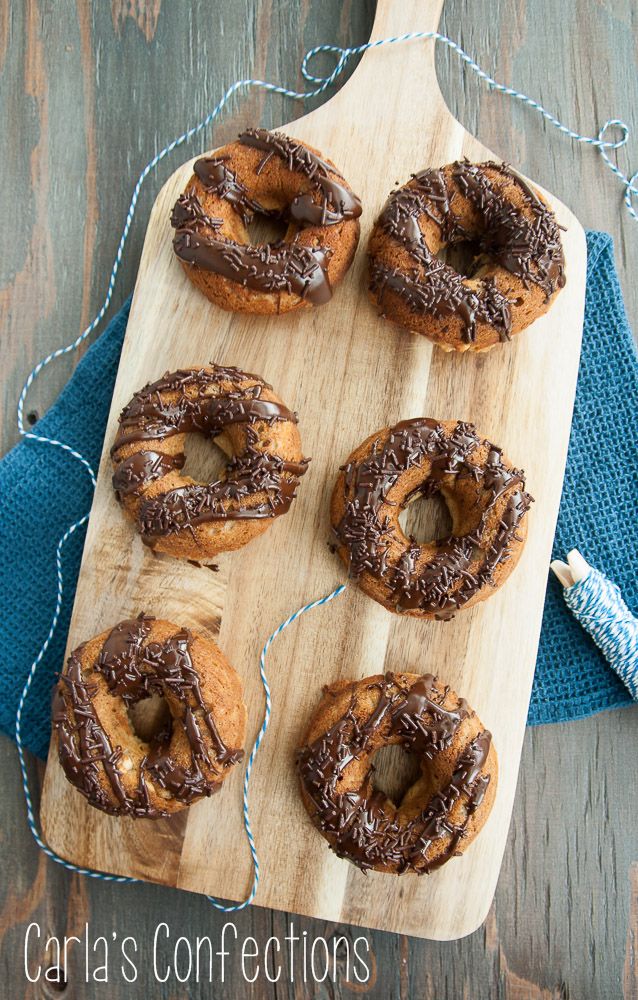 These donuts were not inspired by my Facebook fans.
I know, I'm all over the place. I like to keep you guessing!
These were birthed from overly ripe bananas. What can I say? I bake with class.
These little sinful breakfast treats are actually on the healthier side. I thought maybe I would ease us all into this new series. Start with a healthier one... not start out with a bang!
Oh, what am I saying? That isn't the truth at all! Overly ripe bananas + banana bread recipe (that happened to call for whole wheat flour and peanut butter) + donut pan = THIS!
But really, don't be fooled here. Donut Fridays? Newly declared weekly holiday. Like Champagne Thursday (name that movie), or Taco Tuesdays. I have a feeling this one is going to catch on.
And you know I couldn't start out the series with a donut that doesn't taste good! So look past that whole wheat flour (only half of it is whole wheat!!), the peanut butter, and those bananas! Instead focus on the chocolate and the chocolate sprinkles. It will make you feel better. I promise!
Happy Donut Friday, and make sure you are coming here every Friday for a new donut for you to try! (And be on the look out for ones inspired by you!)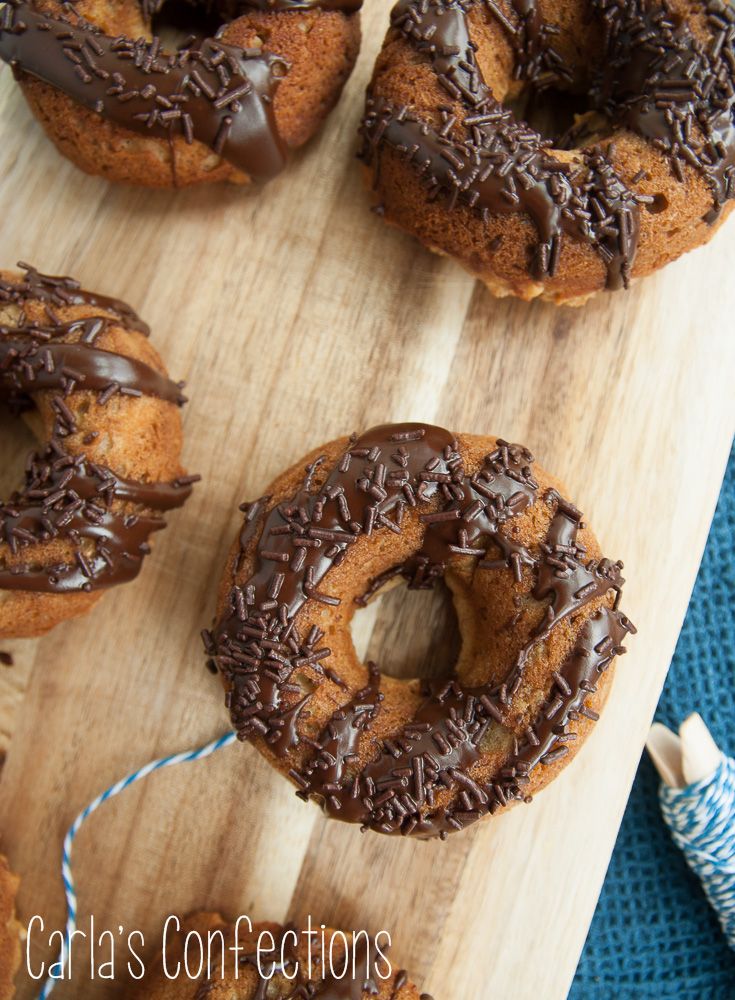 Baked Banana Bread Donuts with Chocolate Drizzle
|
Printable Recipe
makes about 1 1/2 dozen
ingredients:
3 overly ripe bananas, mashed
1/2 cup packed brown sugar
1/4 cup honey
1/3 cup vegetable oil,
3/4 cup crunchy peanut butter
2 eggs, lightly beaten (cold are perfect!)
splash of vanilla
1 cup all purpose flour
1 cup whole wheat flour (can also use white whole wheat flour)
1/4 tsp salt
1 tsp baking soda** (see note at bottom)
for the drizzle: 1/2 cup dark chocolate chips and as much vegetable oil as needed to get drizzling consistency
chocolate sprinkles (optional, but not really ;) )
directions:
Preheat oven to 375°F/190°C, and spray a donut pan with non-stick spray.
In a medium bowl, combine bananas, sugar, oil, honey, peanut butter, eggs and vanilla. Stir well with a spoon.
In another medium bowl, whisk together the two flours, baking soda and salt.
Add the wet ingredients to the dry ingredients and stir together until combined. Don't overmix.
Spoon the mixture into the donut pan, filling only 3/4 full and bake for 10-12 minutes.
Cool on cooling racks, and make the drizzle by melting the chocolate chips in the microwave at 30sec intervals, and stirring until fully melted. Stir in as much vegetable oil as needed to get drizzling consistency, starting with 1 teaspoon.
Drizzle chocolate over donuts (do this over a baking tray to catch the chocolate and make it easier to clean), and once that is slightly set, garnish with sprinkles.
Enjoy within a few days.
NOTE: The recipe I adapted from called for 1 tsp baking soda. I thought this seemed like a lot of baking soda, but since it was my first time using whole wheat flour, I decided to stick with it. Next time I would use half the amount (1/2 tsp). I am certain they would have turned out great with that amount too. You can decide for yourself though between the two how much you would like to use.
Recipe slightly adapted from (and turned into donut form)
Two Tarts
© Carla's Confections 2013
Need more Donuts in your life??? Click on these pictures to get the recipe!
Chocolate Ganache Glazed Doughnuts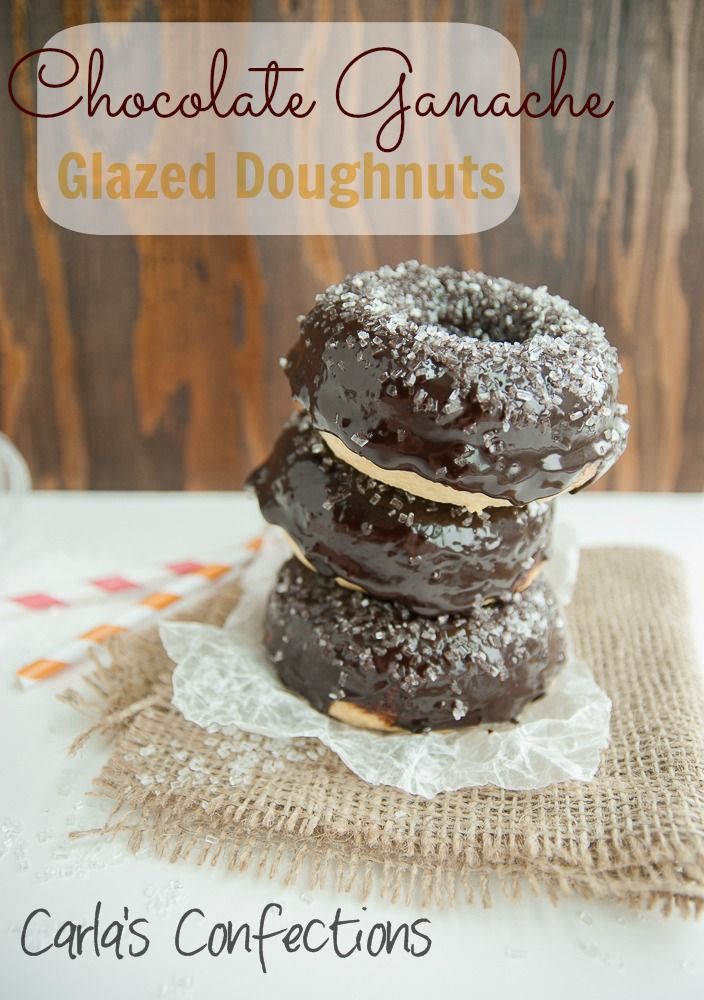 Pumpkin Buttermilk Donuts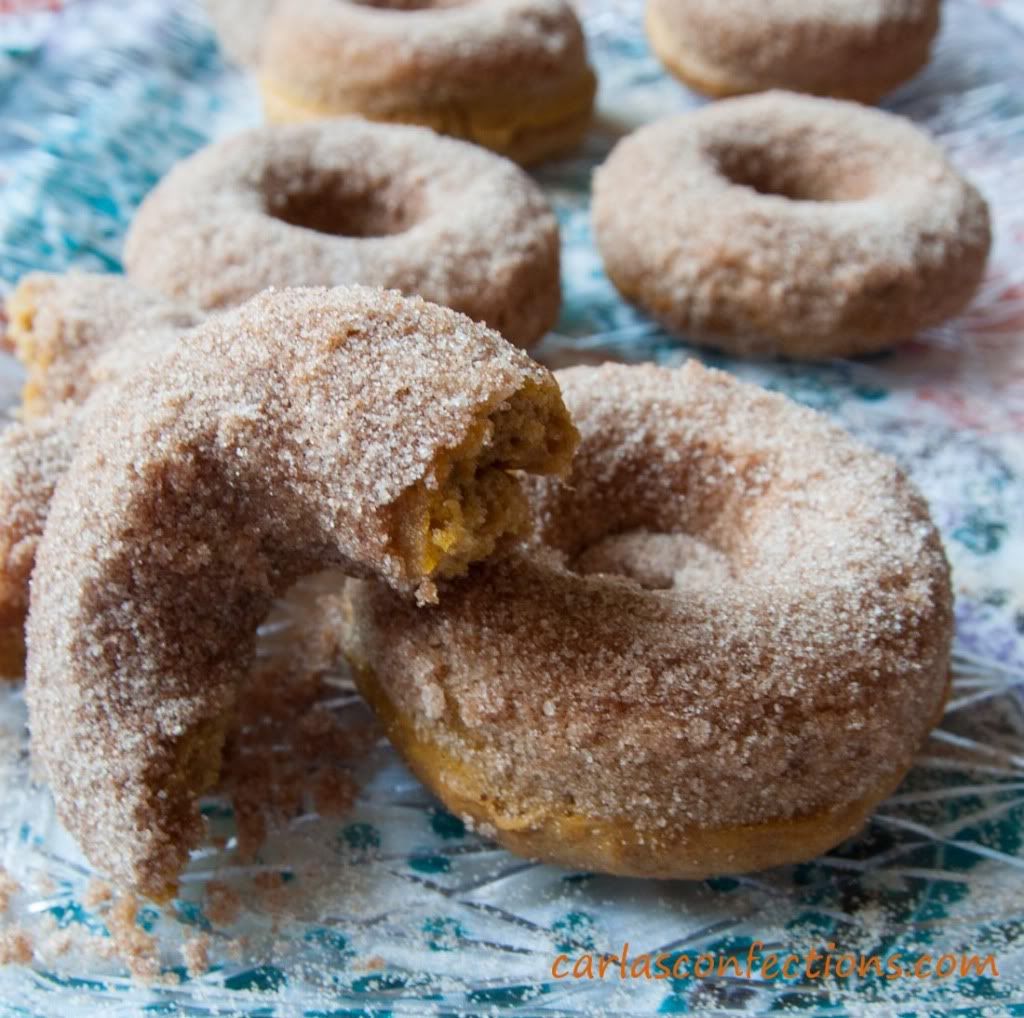 Baked Apple Cider Donuts