Are you confused at my last two posts yet? Seeing a savory post with the word truffle in it and then my post from
Friday that was sweet with the same word
?
Yeah I like to keep everyone on their toes. It's my only mission in life.
No but really, let's get down to business here.
I am not sure how many of you know this, but there is a type of mushroom that is super rare (all I can think about is Mickey Blue Eyes right now.... "Raaaaaae. Raaaaaaaaah." Sorry moving on.).
So this mushroom is very raaaaaaae (*ahem*), and very difficult to get your hands on, therefore it is really expensive, but oh man is it worth the cost! People have made it into an oil (also expensive when you can find it), and have made many savory dishes with it.
The first time I tried it was here in Vancouver, when Matt took me and his family to
Romer's Burger Bar,
and I made the bold statement that
Truffle Fries are the new black
.
And I don't regret that statement. (PS, if you are looking for places to eat in Vancouver, please check out my post about
Must Eat Restaurants in Vancouver
.)
So, in summary, truffles and truffle oil have nothing to do with what we normally consider truffles.
Make sense? I figured as much ;)
Oooooooooooooon another note, in precisely 24.372 hours I will be driving my booty down to Portland in preparation for my big ole weekend in Florida.
I am going to be in Disney World spending a weekend with some fabulous ladies learning new things about this thing we call a job, not to mention kickin' it with Mickey and Minnie for a few days. Florida style.
Raise your hand if you have been to Disney World before.
Me, no. My hand is down, because I have not, but I won't be able to say that after this weekend! Woop! And considering it is basically Mr Carla's Confections job to be a child, he is prettttttttty jealous.
And who can blame him?
So keep an eye out on
Twitter
,
Instagram
and
Facebook
, because as long as I have wifi, I'll be sharing all sorts of fun stuff from the trip :)
But for now, let's talk about these fries.
As I mentioned, I first tried these at
Romer's
, and the minute I took a taste, I knew I had to try and re-create them at home. I also don't trust myself with deep frying, so I opted for the easier (and healthier) option of baking them.
Seriously peeps, get out and get yo-self a bottle of truffle oil (I bought white truffle oil), despite it being on the slightly more expensive side. You will hardly ever use it, so it will last you a long time.
If you have made fries at home before (check out these
easy oven baked Garlic Fries
) you will love these Truffle Fries even more.
They make you want to eat like a king every night of the week. Because truffle oil is so fancaaaay.
And remember, truffles ≠ truffles. Are we on the same page?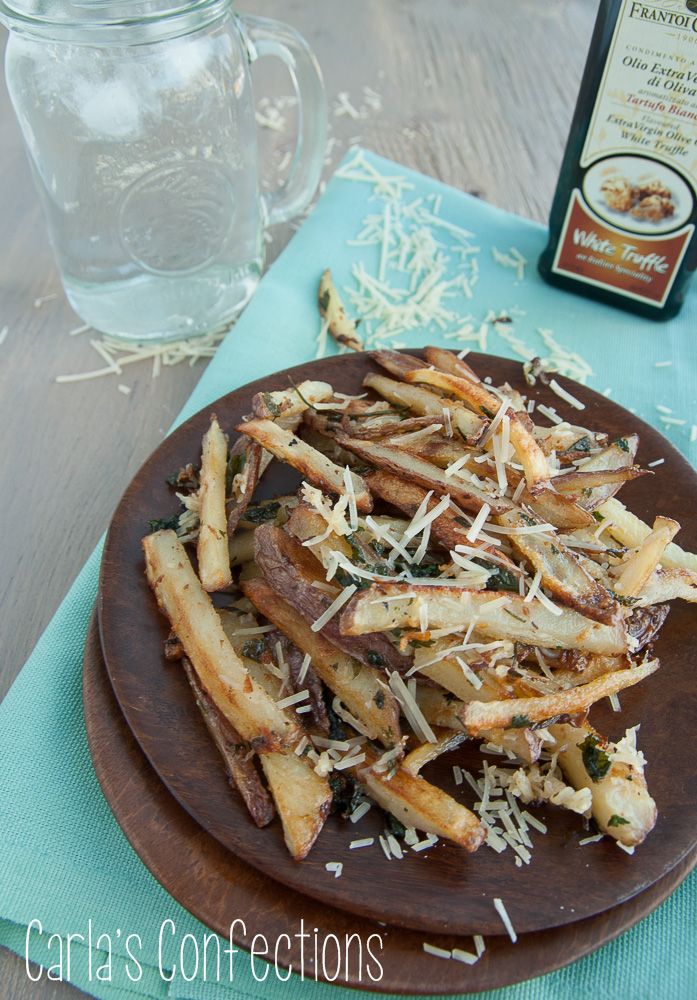 Baked Parmesan and Truffle Oil Fries
|
Printable Recipe
serves 1-2
ingredients:
2 medium red potatoes
2 Tbsp Truffle oil
2 large cloves garlic
1/4 cup chopped fresh parsley
Parmesan, to garnish (you could also use Parmeggiano Reggiano)
directions:
Wash and dry the potatoes, and cut into 1/4 inch "fry" shaped slices.
Add the potatoes into a bowl, along with truffle oil.
Grate the garlic straight into the bowl, and toss around. Add in the chopped parsley, and toss around.
Place plastic wrap over the bowl and stick in the fridge for at least 20 minutes to marinate.
Preheat oven to 425F/218C. Line a baking tray with foil and spray well with non-stick spray.
After 20 minutes (longer if you like), take the bowl out of the fridge, and lay the fries out flat on the baking tray.
Bake for 20-25 minutes, stirring every 10 minutes or so, until golden brown and starting to crisp.
Remove from oven and sprinkle over parmesan cheese and allow to melt slightly.
Serve warm and eat immediately.
NOTE: You do not need any salt and pepper for these, because you want the oil and garlic to be the main flavors. You could also use any other potatoes you desire. The type of potato may alter the cooking time though.
Inspired by Romer's Burger Bar