A perfect summer cupcake made with chocolate cake, whipped cream, and a fresh berry drizzle on top!
Oh how I love summer!
I feel like ever since the sun actually started shining, Ive done nothing except avoid the indoors at all cost.
I think I am afraid that if I don't spend time outside, the sun will think I don't love it and go back into hiding for another 9 months.
I cant let that happen.
Must. Be. Outside.
The good news is I have really excellent tan lines from tank tops and short sleeve shirts, and the front of my legs are tanned (shorts-line down), while the backs of them are pasty white.
Yeah... I need to work on this.
The bad news is all I want to do is eat ice cream.
You basically burn more calories sitting in the sun than you do sitting behind the computer.
So ice cream is totally justified.
Which also means, so are these cupcakes.
They have fruit on them too, which as we all know, totally makes them healthy.
#lawyered!
I made these cupcakes with and without the fruit sauce on top to show that you can use it or choose not too, but we personally loved the extra fruit flavor on top, so I recommend doing it!! You can also use any berries to your choosing. I just had strawberries and blueberries on hand :)
They are the perfect summer cupcake - light, airy annnnnnnd
healthy
fruity.
I made a simple whipped cream by whisking heavy whipping cream with some powdered sugar (ok, lets be honest - my stand mixer did the work - not me), and didn't bother with making it look pretty.
I kind of love the imperfect look of the whipped cream. Plus it gives you a great place to add the fruit. It wont be falling off your perfectly piped pyramid of frosting this way.
I highly recommend using
I Am Baker's chocolate cake recipe
here - just cut the recipe in half and you should get 12-15 cupcakes, then you can top it with the whipped cream, fruit and the optional fruit sauce drizzle and you have the perfect excuse to sit outside in that glorious sunshine!
Devour these and you won't even have to feel bad about it :)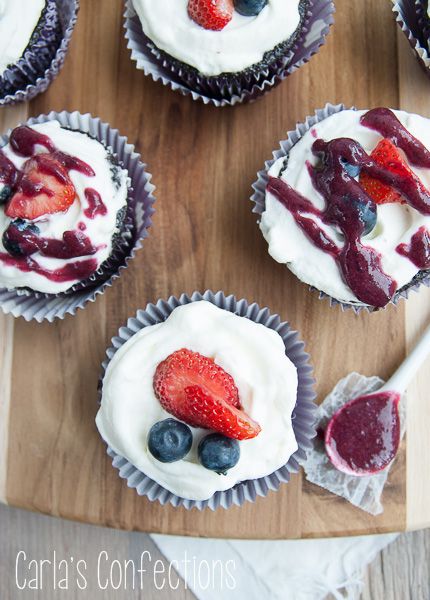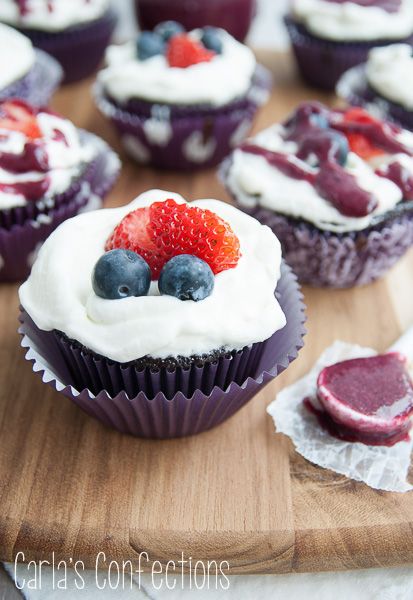 Chocolate Berries and Cream Cupcakes
|
Printable Recipe
makes 12-15 cupcakes
ingredients:
I Am Baker's chocolate cake recipe, cut in half (or other favorite chocolate cake recipe)
237ml (8oz) heavy whipping cream
2 Tbsp powdered sugar
1 cup berries of choice, plus extra for garnishing
1 Tbsp white sugar
1 Tbsp fruit juice of choice (I used orange juice)
directions:
Make cupcakes using your favorite chocolate cake recipe, filling cupcake liners 2/3 full and baking until done. Allow to cool completely.
Make the fruit sauce by adding 1 cup berries of choice to a small saucepan with 1 Tbsp white sugar and 1 Tbsp fruit juice of choice over medium high heat. Stir occasionally, allowing juices to be extracted from the berries. Cook for roughly 10 minutes, until most juices have been extracted.
Allow to cool slightly, and add to a food processor or blender, and blend until completely smooth.
Allow to cool completely.
To make the whipped cream, place the heavy whipping cream in the bowl of a stand mixer with the whisk attachment on, and whip on medium to high speed until you reach soft peaks, roughly 2-3 minutes. Add in the 2 Tbsp of powdered sugar and whisk on medium speed until incorporated and you reach stiff peaks. You will know stiff peaks have been reached when you pull the whisk out and you get no movement from the whipped cream. It should stay in place on the whisk. Do not over beat, otherwise you will undo the stiff peaks stage.
Use a spatula to roughly decorate the cupcakes, leaving a "hole" shape in the middle to place berries.
Add berries of choice into the "hole" shape and garnish with fruit sauce if desired.
Consume within 24 hours.
NOTES:
Feel free to use store bought whipped cream, but try not to be afraid of making whipped cream at home. It is fast and very easy!
Use any berries of choice, but cut large berries into smaller pieces, especially for the cooking stage. It will cook faster this way.
You don't want a heavy chocolate cake recipe for these cupcakes. You want it to be airy to go along with the fruit and whipped cream. Don't choose a dense chocolate cake recipe. I highly recommend I Am Baker's.
© Carla's Confections 2013
Looking for more cupcakes? (Click on pictures to go to recipe)