Simple and delicious rice krispie treats filled with oreos and drizzled with melted cookies 'n' cream chocolates.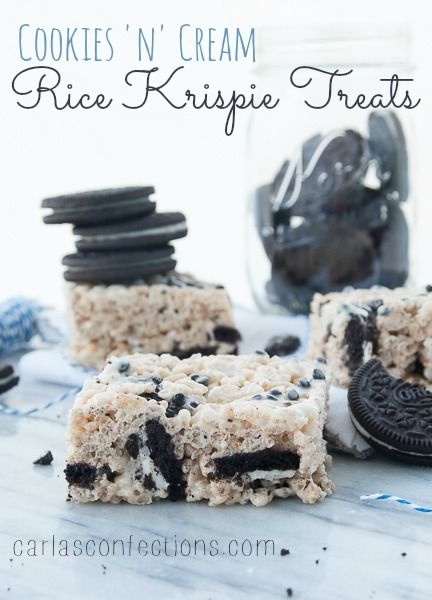 What are your favorite TV shows to watch right now?
We're slightly obsessed with "Lost".
Um... yeah. We started on season 1 last week. Last week!!
We may or may not be finishing season 1 in the next few days. Seriously. We sit down to watch ONE episode and the next thing we know, it's past 11 pm and I still have a blog post to write.
So there you have it. I have spilled my secret.
I write my blog posts at night *cough cough* after watching five episodes of Lost, half asleep, and my comfy pillow is serenading me, trying to coerce me onto it's soft fluffiness.
Now you understand why none of my posts make sense.
I apologize.
Please tell me you have (and love) Netflix and get caught up watching shows like me.
Pleeeeeeeeeeeeeease tell me I'm not crazy.
Ok, you don't have to tell me that.
I know it's not true.
Aaaaaaaaaaaaaaaanyway, between having a husband who isn't working, having to clean our place to show to potential tenants, packing here and there, and being fully obsessed with watching Lost on Netflix, I can't seem to focus on work for more than five minutes at a time!
I think it boils down to being the hubs fault.
When all else fails, blame the hubs. Right???
Sounds valid to me.
So if I am making anything, it's gotta be something easy and - more importantly - something fast. Except donuts. Those are worth the amount of work.
I need it to be BAM! BAM! DONE! so I can get back to watching tv and simultaneously glaring at my husband for being too darn cute to want to get any work done.
I am a good multitasker.
Except when it comes to working. Cleeeeeearly!
I made these Rice Krispie treats on a whim when I looked in the pantry, saw mini Oreos and Hershey's cookies 'n' cream kisses.
I'm bringing ALL the brand names into this post. Watch out!
They are super simple and come together in less than 20 minutes.
Best use of brand names ever! (Oh, and no, this post ain't sponsored.)
The melted kisses on top can totally be omitted, but I really liked the addition of the white chocolate and extra little Oreo chips. You could sub it out for melted dark chocolate, or leave it out altogether.
Totes up to you.
What isn't up to you... trying to stop yourself at one. I know I couldn't.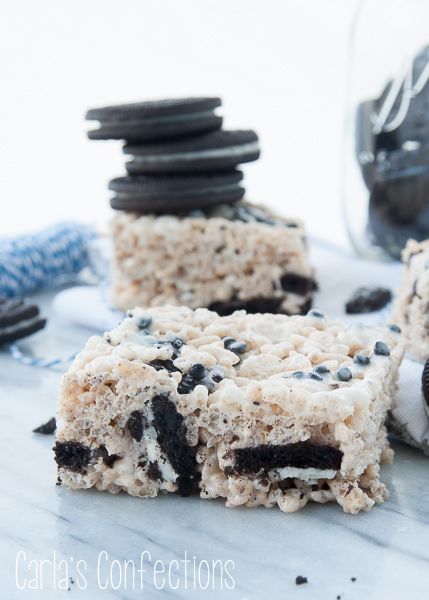 makes roughly 12-15 bars
ingredients:
1/4 cup (1/2 stick) salted butter, cold or room temperature
8 oz (225g) bag mini marshmallows
9 oz (250g) mini Oreos
6 cups Rice Krispie cereal
15-20 Hershey's Cookies 'n' Cream kisses, melted
1/4 tsp vegetable oil (if needed)
directions:
Spray a 9x13 casserole dish with non-stick spray.
In a large saucepan, melt butter over medium-high heat. Add in marshmallows and cook until melted, stirring frequently.
Once marshmallows are fully melted, add in Rice Krispie cereal and mini Oreos. Remove from heat and stir to coat well. Immediately dump into casserole dish and press down to flatten and fill dish.
Allow to set (you may place in fridge to quicken this) at least 10 minutes.
Once fully set, unwrap kisses candies and place in a microwave safe dish and microwave for 20 seconds, or until fully melted. Do not exceed 30 seconds at a time in the microwave, or chocolate will burn.
If needed, add in vegetable oil to the chocolate mixture, stirring well, to get to drizzling consistency. Stir together and drizzle chocolate over rice krispies. Allow to set slightly before cutting in.
Cut into desired number of squares and enjoy. Cover with plastic wrap or foil if not consuming right away. Enjoy within a few days.
© Carla's Confections 2013