Rich chocolate donuts with a hazelnut glaze and chunks of Ferrero Rocher candies within and garnished on top.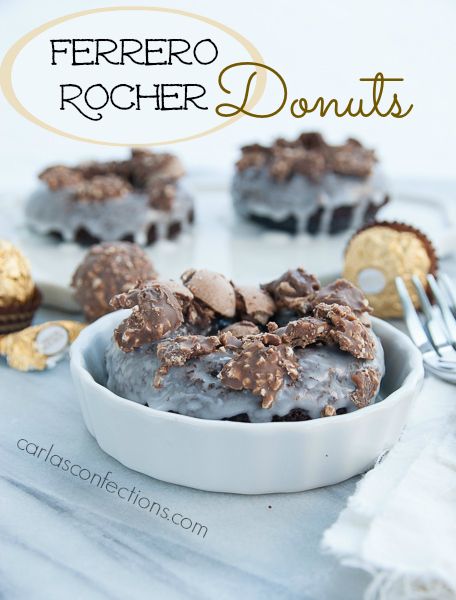 Yeah I did that. I went there.
I put a candy in a breakfast item.
*gassssssp*
Sorry 'bout that folks. Buuuut I'm really not that sorry at all actually.
We all want to live like the god's of Olympus right??
Now we can at all hours of the day.
The other day, we spent the whole day inside working and cleaning the house (please hold back your sighs of jealousy), so naturally I stayed in my sweats.
When it came time to make dinner, I realized our house was barren of acceptable dinner items, and I also had a hankering for Bruschetta.
Which only meant that I had to step outside of the house.
In my sweats. (Or go get ready, but com'on! Be real.)
With no make-up on. Hair un-did.
We were on our way to the market to get the food for our dinner, and I was being the typical girl - complaining about the way I looked and having to subject the outside world to that scariness, and for some reason, this is what came out of my mouth:
"I shouldnt be outside, because I look like crumbs."
Crumbs?
Crummmmmbs???
Lemme tell ya though, these donuts will make you feel like anything but crumbs.
They feel like you should be eating them while sipping on expensive tea with your small dog in a Louis Vuitton bag on the floor next to you.
Light elevator music playing in the background.
Diamonds raining down at your feet.
#agirlcanonlydream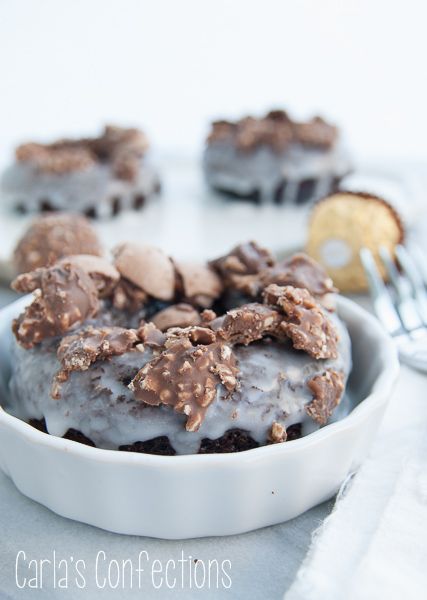 The idea of these were actually born of a reader (and friend) of CCs. I put the question out there on Facebook of what kinds of donuts people would like to see made, and someone mentioned Ferrero Rocher.
I was stumped. And intrigued.
But this combo, oooooooooooh goodness.
It's rich, but remember, so are you (diamonds raining down, duh), so it fits.
The batter is a deliciously rich chocolate cake and it is topped with a sweet hazelnut glaze that ties all the flavors in perfectly. Then of course, you have the necessary candies. Cut into chunks and oh-so-perfectly distrubuted within the batter and garnished on top.
All for you.
To feel like more than crumbs.
To have diamonds falling at your feet.
And cute dogs in a bag next to you on the floor.
You're welcome.
Here ye, here ye, I dub the worthy of eating candy for breakfast and living like the god's of Olympus!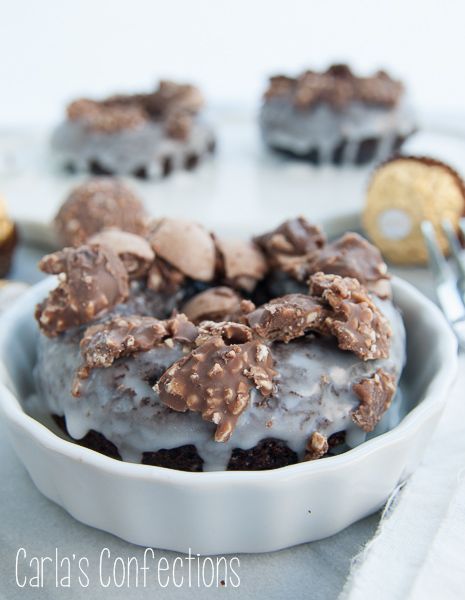 Ferrero Rocher Donuts
|
Printable Recipe
makes 10-12 donuts
ingredients:
for the donut batter:
7 Tbsp flour (1/2 cup minus 1 Tbsp)
1/2 cup sugar
3 Tbsp cocoa powder
1/2 tsp baking soda
1/4 tsp baking powder
1/4 tsp kosher salt
1/4 cup buttermilk
1/8 cup (2 Tbsp) vegetable oil
1 small egg
1/4 tsp vanilla
1/4 cup hot coffee
10-12 Ferrero Rocher candies, roughly chopped, divided
for the hazelnut glaze:
1 cup powdered sugar
2 Tbsp milk
1 Tbsp hazelnut oil
directions:
Preheat oven to 350°F/180°C and spray a donut pan with non-stick spray.
In a small bowl, sift together flour, cocoa powder, baking soda, baking powder, sugar and salt. Whisk until combined.
In a medium sized bowl, whisk together the buttermilk, oil, egg and vanilla.
Slowly add the dry ingredients to the wet, whisking well to combine (can also use stand mixer or electric hand mixer if desired).
Finish off by whisking in the hot coffee until well combined.
Stir in 5-6 chopped Ferrero Rocher candies, reserving the rest for garnish.
Fill donut pans 2/3 full, dispersing the candies well throughout each donut.
Bake 11-15 minutes, until batter springs back when touched.
**Allow to cool completely before removing from pan. Donuts may stick to pan a little bit.
While donuts are cooling, make the glaze by placing all three ingredients in a shallow bowl and whisking together to combine. Add more or less milk as desired for consistency.
Dip cooled donuts in glaze, and garnish with remaining candies. Consume immediately.
Live like the gods!
Cake batter slightly adapted from
I Am Baker
© Carla's Confections 2013
More Donut Friday posts here!! (Click on photos to get to recipe)