Classic Bear Claw Donuts turned into tasty and dainty little bite sized treats.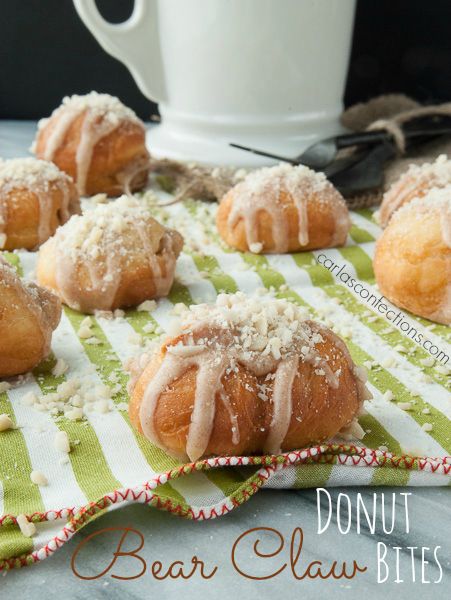 I almost called these Bear Paws or Bear Paw Bites
Or Cub Paws.
'cos they're tiny.
But then I got to thinkin' that I don't want to be eatin' no treat called a Cub Paw.
Besides, everyone knows these as Bear Claws, so we need to keep consistency right?
And you wanna know something?
I didn't realize that Bear Claws are suppose to be shaped like a Bear's claw.
Go figure. Tells you the quality of Bear Claws I was eating.
Yep the pre-packaged ones at the grocery store. Let's not talk about how good those are for you.
Not that these are much better, but they are homemade, so there's something to be said about that!!
So I turned the traditional Bear Claw into yeast-risen donut holes and then you know what I did?
I filled the insides with the almond-cinnamon Bear Claw filling.
Annnnnnd also glazed them. And garnished with more almond.
I want to eat Bear Claws, or Bear Paws, or Bear Cub Paws everyday for the rest of my life.
They are that gooooooood!
You can also feel good about eating these because you get like 1.286 inches of a donut at a time.
Sooooooo... yeah. Im doing you a favor. Giving you an excuse to eat donuts.
I am good at this job.
Eat away my friend. Eat away.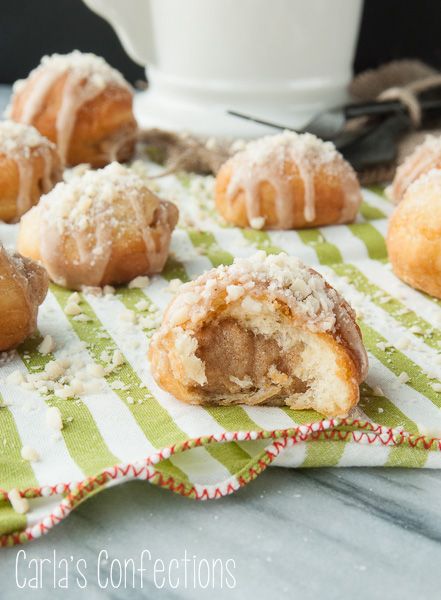 Bear Claw Donut Bites
|
Printable Recipe
makes roughly 4 dozen donut holes
ingredients:
for the donut holes:
2 pkg (scant 2 Tbsp) active dry yeast
1/2 cup warmed milk (warm in microwave for 30 seconds)
1 Tbsp sugar
1 1/4 cup all purpose flour, divided
2 Tbsp softened butter
2 egg yolks
1/4 tsp salt
1/2 tsp vanilla
for the almond-cinnamon mixture:
7oz (roughly 2/3 cup) almond paste
3/4 cup sugar
1 tsp cinnamon
1 egg white
for the glaze:
1 cup powdered sugar
1/2 tsp cinnamon
1/4 tsp almond extract
1-2 Tbsp milk, to reach desired consistency
crushed almonds to garnish donuts
directions:
To make the donuts, and starting with the yeast mixture, combine warmed milk, 1 Tbsp sugar, 1/4 cup of the flour and the two yeast packets in a mixing cup. Stir together with a fork and then let sit at least 20 minutes to rise.
Using a stand mixer with paddle attached, beat the softened butter and salt together, and when combined, beat in the two egg yolks and vanilla. Change the paddle to the dough hook, turn mixer on low, add in the risen yeast mixture and slowly add the remaining flour. Beat together using the dough hook, scraping down the bowl as needed. Knead together this way for roughly 5-10 minutes, until dough is holding together is stretching well.
Take dough out of mixer, place flour on your hands and on a clean surface, and beat the dough together on the surface, kneading together, for another 5 minutes.
Lightly oil a bowl, place in the dough, cover with plastic wrap and let sit in a warm place at least one hour, until at least doubled in size.
Once dough is doubled in size, place on a floured surface and roll out using a rolling pin to roughly 1/4 inch in width.
Using a small round cutter (I used a shot glass), flour the tip and cut out your donut hole rounds, and place on a cookie sheet with parchment paper. Re-use and re-roll the remaining dough until you get as many donut holes as possible. I got roughly 4 dozen (honestly didn't count them).
Once all the donut holes are cut out, place evenly spaced on a cookie sheet, and cover with plastic wrap and let rise another 30 min - one hour.
Preheat a dough fryer to 375°F/190°C with at least 2 inches of oil inside. (Feel free to use a saucepan on the oven with a candy thermometer too.)
Once to temperature, carefully drop in 5-8 donut holes at a time, frying roughly 90 seconds per side, until lightly golden brown. Do not let burn. Carefully remove and let cool on a plate.
Finish with remaining donut holes.
To make the filling, combine all the ingredients (almond paste, sugar, cinnamon and egg white) in a stand mixer or food processor and mix until fully combined.
To make the glaze, combine all the ingredients (powdered sugar, cinnamon, almond extract and milk) in a small bowl with a fork until to desired consistency.
Place the almond-cinnamon filling in a piping bag with a small round tip attached, cut a small hole into the sides of the donut holes, and pipe filling into the donut until starting to bulge out, roughly 1/4 tsp into each hole. Finish with remaining holes. You should have enough of the filling to fill all of the donut holes.
Once they are finished being filled, garnish with glaze and crushed almonds. Enjoy within a few days.
Donut holes adapted from
Pretty Little Dishes
Bear Claw filling recipe from
Sprinkle Bakes
© Carla's Confections 2013