Delicious and easy M&M and Hot Fudge Ice Cream that you can make without an ice cream maker!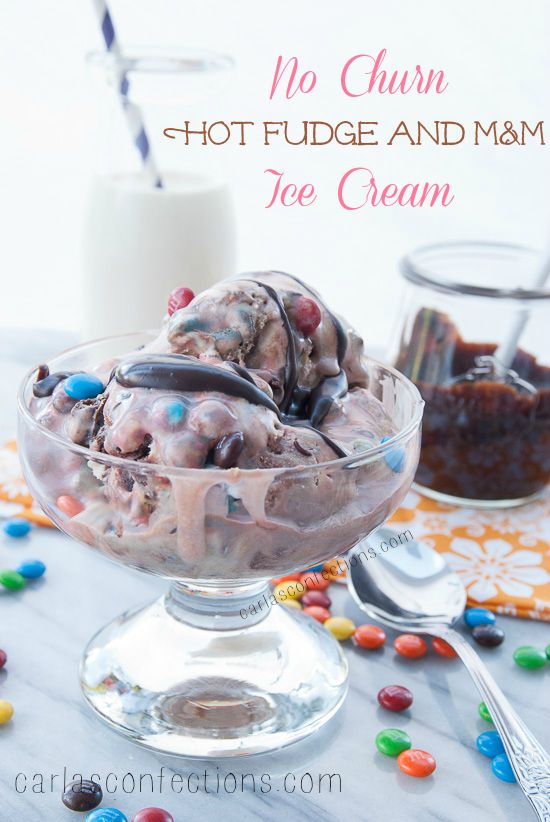 Please excuse my hectic life for the next couple weeks.
We leave Vancouver in two days. My husband is out of town until late tonight. My dad flew in last night to help pack the truck. My dad and I going to Washington today to pick up the moving truck. We will be back later today. We pack the truck tomorrow. We take my dad to the airport early Thursday morning. We drive across Western USA Thursday and Friday.
Excuse me while I pass out.
So for the last week or so we have been living on literally the bare minimum. Eating what is in the fridge, really trying not to use our pots and pans, attempting not to run the dishwasher or washer and dryer, and living in a constant state of messiness.
Aren't you jealous of my life?!
But what we do have is this: three containers of un-eaten or half-eaten ice cream. Of the homemade kind.
Because there just IS no other kind for us.
So why are they un-eaten?
Because we packed our silverware.
This is true. But we do have plastic ware. So I guess there are no other excuses other than spending all our time packing rather than eating ice cream.
Luckily my dad likes ice cream. I am sure it will be gone by Thursday.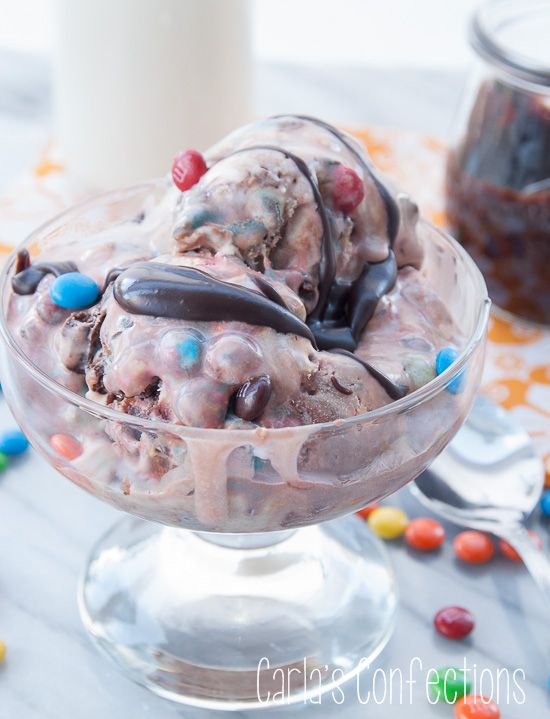 Ok, so more about this ice cream!

I seriously had no idea a year ago how easy it is to make ice cream. And you truly don't need an ice cream maker.

I have three recipes sitting in my freezer that did not require one.

Not to say I don't want one.

Yes, yes I do.

But you don't have to be turned away because you refuse to spend the money on one (I don't blame you! I am in the same boat!!)

So this is a basic vanilla ice cream, then I added some homamde hot fudge sauce and some mini M&M's for texture (and because they are cute as can be!)

If you can't find mini's, feel free to use regular sized ones. The mini's are just too cute!

I know I said that twice.

I can't help what comes to my crazy little brain.

Anywhoooo, the color of this ice cream COULD be white with speckles of M&M coloring, but this girl stirred in the M&M's too early. So don't do what I do, and you'll get better coloring.

Ok, that is all. Now I am off to eat an entire carton of ice cream and pack my self things into a moving truck.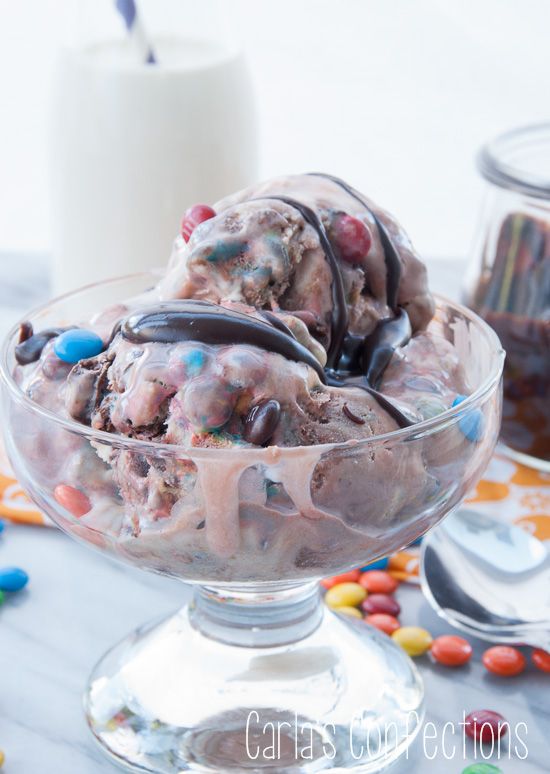 No Churn Hot Fudge and M&M Ice Cream
|
Printable Recipe
serves 2-4

ingredients:
for the fudge sauce:
7 Tbsp heavy whipping cream
3 Tbsp brown sugar
1 Tbsp butter
11 Tbsp (1/2 cup + 3 Tbsp) chocolate chips (I used dark chocolate)
1/4 tsp vanilla
tiny pinch salt
for the ice cream:
1 cup heavy whipping cream
1 can sweetened condensed milk
1 tsp vanilla
1/2 cup fudge sauce
1 cup mini (or regular) M&Ms
directions:
For the fudge sauce, in a small saucepan, heat the heavy cream over medium high heat until starting to boil. Reduce to low, and stir in the butter and sugar until fully melted. Turn off heat, add in the chocolate and let sit for a few minutes, before stirring together with spatula. Stir in vanilla and salt, and let fudge sauce sit and cool. Place in fridge until ready to use (in an airtight container).
To make the ice cream, beat the cream in a stand mixer with whisk attachment on high until you reach stiff peaks.
Fold in the can of condensed milk and vanilla until fully incorporated. Place in a freezer safe container and place in freezer to harden.
Leave in freezer for a minimum of 3 hours, breaking up with a fork every so often. When ice cream is no longer runny, stir in the fudge sauce and M&Ms, and place back in freezer to harden completely, breaking up with a fork every so often.
Consume within a few weeks.
Ice Cream adapted from
Bits of Sunshine
; Hot fudge sauce from
Stratton Leopold (on Food Network)
© Carla's Confections 2013