Before I get to the cake, I will tell you what the past couple weeks have looked like for us.
Matt got hired at his dream job in the dream city for us. For those who don't know, he is an animator, so the dream job for him is working at Pixar. And he got it! We could not have been more thrilled!
We drove to the bay, got a hotel and started working hard searching for a place to live.
Matt started work on Monday, and promptly came home 3 hours later.
Not normal. At all.
Turned out the movie he was set to be working on got pushed back a year and a half (a very smart move for the movie and the company as a whole), which unfortunately (for us) means that there is no work to be done anymore, and that was the reason they hired Matt, so lo and behold, Matt got laid off of his dream job on his first day of work.
Pretty heart breaking for us to be caught in the middle of this.
We really respect Pixar for being able to make the hard decision; it is just a tough timing for us. And hopefully Matt will be able to work there again, once the work picks back up.
But on the bright side, we had not signed any lease on an apartment, nor had we moved any of our stuff (it's all still in storage). We are also so close to our hometown that we are already back in Reno with family again.
Times could be worse.
But let's move on to something more positive and beautiful. The cake!
I made this cake for some friends of ours. I have known the bride for as long as Matt and I have been together. Her brother was best man in our wedding, and Matt has known the two of them since he was tiny tiny.
Next to Matt and I, they are the cutest couple on earth (the bride and groom, not the bride and her brother) ;) I wish I could tell you the story of how they met, but that would take a full blog post in itself. It is super cute, I'll tell you that much.
Anyway, back before they even got engaged, I told them, if they wanted, I would make their wedding cake for them.
Not sure what I was thinking when I said that, other than maybe **hopefully** they wouldn't take me up on the offer.
They did.
Obviously.
But I am truly truly so happy they did.
Oh did I mention this is my first and only wedding cake I have done?!
I guess the real question is what were they thinking taking me up on the offer!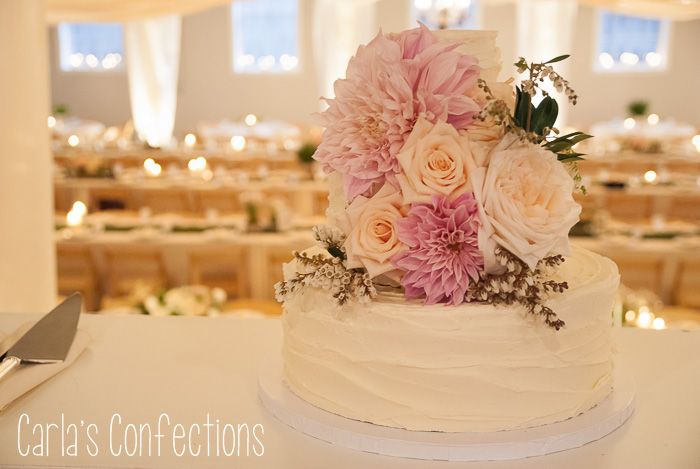 Thankfully they didn't want fondant, because that would have been a whole new ball game for me. Buttercream, though, I could work with.
They were also very specific on what they wanted, which helped me a lot, but without the pressure. They were truly just so thankful that I was making the cake and didn't want me to feel too much pressure.
I was thankful for that aspect!
Oh! I didnt even mention that we know the couple from Reno, NV, but they live in and wanted to get married in Denver, CO.
Yeah, that made for some challenges!
I was working in a kitchen I was unfamiliar with, and with mixers that are smaller than mine (no way was I lugging mine halfway across the country!!)
But things went extremely well, and I am so happy with how the cake turned out! Just don't look at the flaws in it.
Thank goodness for giant flowers covering half the cake ;)
As stressful as making my first wedding cake in a town I have never been in, using tools Im not used to (and minus a car) was, stress didn't stop there. I'm sure you have also heard about all the flooding in Colorado. That happened to fall on the same week of the wedding. Most of the flooding was in Boulder, but Denver was certainly not in the clear.
As soon as I finished the cake and stuck it in the fridge to stay cool, the entire kitchen at the church flooded! Talk about perfect timing!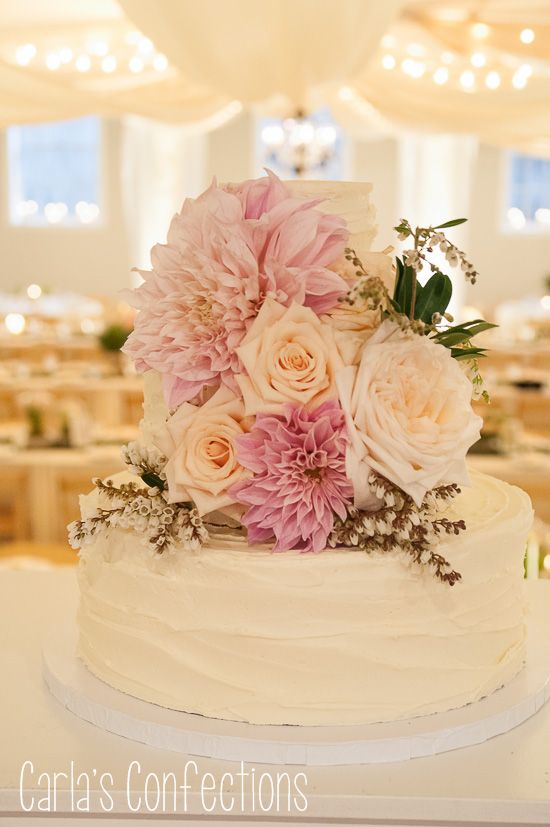 The couple, thankfully, were not picky about the flavor of the cake either, and since it was my first wedding cake, I wanted to make sure to use a very sturdy cake recipe.
My friend Erin, who is the face behind
Dinners, Dishes and Desserts
, came to the rescue with a tried and true vanilla cake recipe. You'll have to get it from her if you want it ;)
I did a three tier cake, 12", 8" and 4". The bottom and top tier were the vanilla cake, sandwiched with chocolate spread and salted caramel frosting in between, and the 8" tier was fake!
I used a
styrofoam cake tier
that I found at Michael's so the cake wouldn't so heavy that it collapsed. (link goes to Amazon, but not an affiliate link)
I learned that when using a fake styrofoam tier, your buttercream frosting needs to be uber stiff, otherwise, even after freezing it, it will rub off when adding more buttercream.
But even with those hiccups and all the other challenges I faced, I was so happy with the outcome and **GASP** I might even think about doing more wedding cakes.
Just don't tell that to my future self.
I might want to go back in time and slap my present self for saying that.
Anyway! What do you think of my cake and do you have any wedding cake tips? I'd love to hear them!