Frighteningly easy Halloween Rice Krispie Treats that will be perfect for your little ghouls and goblins (and it wouldn't be Halloween if you didn't sneak a few) ;)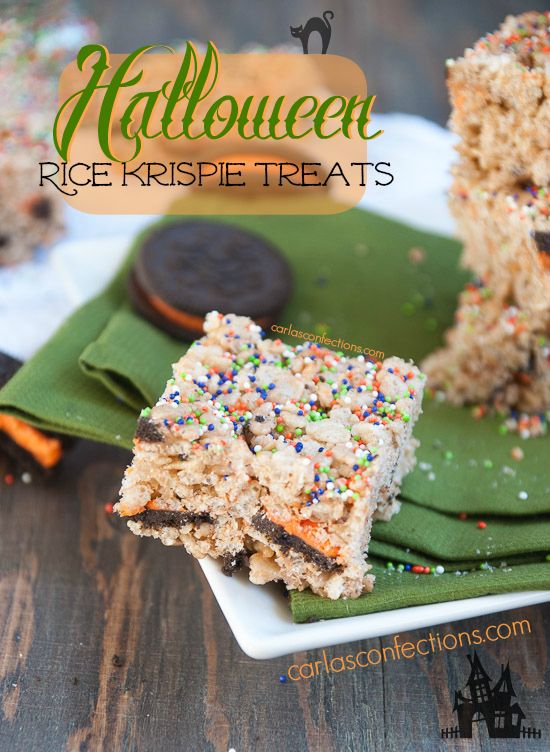 Ok, let's talk about procrastination here! Posting a Halloween recipe the day before the big holiday?!?

I do apologize!

But I am banking on having a few of you who are like me; looking for a last minute treat that will be extremely quick and easy to make.

And trust me.

These are quick. And easy. And (more importantly) uber delish.
What are you doing for Halloween? Taking your kiddos trick or treating? Going to a party? Handing out candy??
I am super excited for my night tomorrow!
We are throwing a murder mystery party! And it's Hollywood themed which only makes it even cooler in my opinion!
We get to assume character roles, act out and solve the murder! Talk about the perfect Halloween party! I want to do this every year!
Yeah, I will be taking tons of photos, so keep a look out on
Instagram
!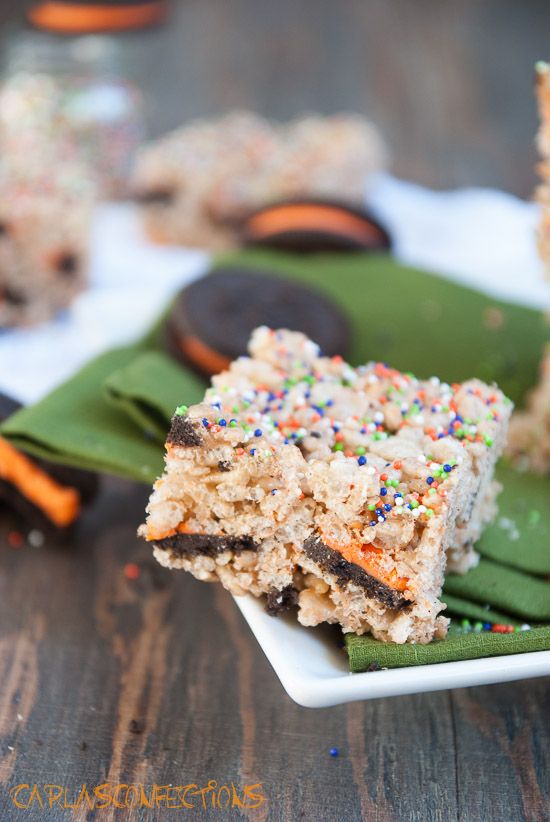 So these Rice Krispie Treats! They are so incredibly simple!

You only need butter, Rice Krispie cereal, Halloween marshmallows (or regular marshmallows), Halloween Oreos (or normal for after the holiday), and Halloween sprinkles.

I found the Halloween marshmallows that are shaped like bats and ghosts, and are orange brown and white, but that is totally optional. You can totes use just white mallows and they are the same delicious flavor!

The Halloween Oreos too are (thankfully) original flavor! I'm not a huge fan of the flavored Oreos, but that's just me. Cut them up slightly to get chunky chunks of Oreos. You'll love it.

Anywhoooo, I think you can figure out the rest with the directions.

If you need a last minute, easy Halloween treat, these are the perfect solution!

Happy Halloween and stay safe!!! :)
Halloween Rice Krispie Treats
|
Printable Recipe
serves 12-15
ingredients:
-1/4 cup salted butter
-8 oz bag Halloween (or regular) marshmallows
-6 cups Rice Krispie cereal
-10-15 Halloween (or regular) Oreos, chopped into smaller chunks (depending on preference)
-Halloween (or other) sprinkles, to top
directions:
1. Take out a 9x13 jelly roll pan or casserole dish and spray well with non stick spray.
2. In a large saucepan, melt the butter over medium heat. Once melted, add all the marshmallows. Stir frequently, and heat until fully melted.
3. Once melted, immediately turn off heat and pour in the Rice Krispie cereal and Oreo chunks. Stir around until the cereal and cookies are fully coated with the marshmallow mixture.
4. Transfer quickly to the coated casserole dish, and press down to flatten out (a non stick spatula works great for this).
5. Top with sprinkles and press down to keep in place. Allow to cool before cutting into.
© Carla's Confections 2013