The delicious flavors of fall in a hearty breakfast of Spiced Pumpkin and almond Granola. Perfect for a bowl full of yogurt, or just to snack on it's own!
I think I say this every time I make something new, but I really think granola is my favorite breakfast to make.
It is so easy to throw together and it is really super simple to invent new flavors!
If you have never made homemade granola, you need to stop buying the boring grocery store stuff! It literally takes 10 minutes to throw granola together at home, and then you roast it in the oven for 45 minutes.
Not to mention the way your house will smell afterward!
Seriously, you need to get on it this minute!
I know there are plenty of Pumpkin Granola recipes out there, but I just couldnt help doing my own version to share.
T'is the season, right?
If you are wondering what we are up to these days, I wish I had better news for you.

But I don't.

We are chillin' in our hometown hanging out with family and awaiting the day our prince (aka: a job) comes a-callin' on us.

We are certainly keeping busy enough.

We are basically celebrities after all.

*cough cough* NOT!
Truthfully, things are a little tough at the moment, and we have literally been looking for anything, but we are just trying to keep the faith that it will work out for the better.
And we know it will.
It is just tough right now.
But it nothing a little homemade granola can't fix.

I am super thankful for having my blog as something to keep me sane in these times of nothing to do. I seriously LOVE baking and blogging.

It is hard to make it a full time job when I have a husband who demands all my attention (just kidding, I demand HIS attention) ;), but when I get down to doing it, nothing else matters.

I have so much fun with it, and I hope you guys enjoy it too. I really appreciate you being a reader and letting me share my creations with you. Thank you for helping keep me sane. :)

Now let's all make some Pumpkin Granola!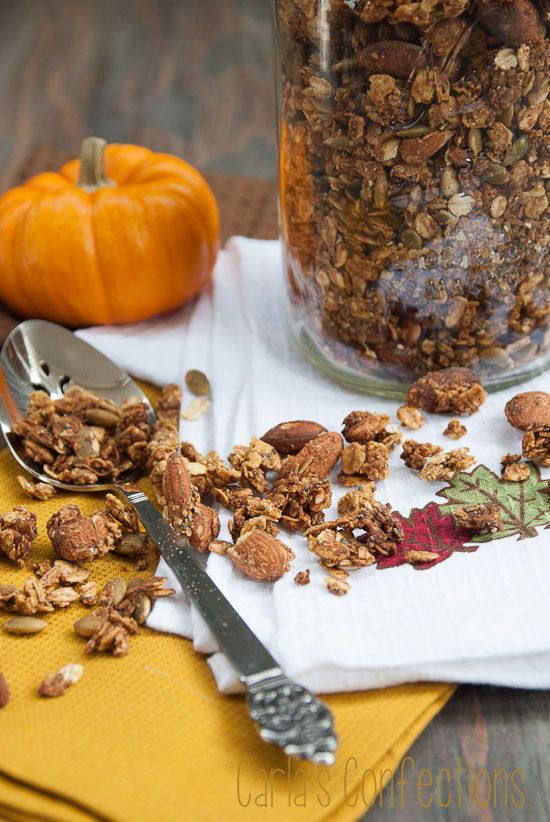 Spiced Pumpkin and Almond Granola
|
Printable Recipe
makes roughly 4 cups
ingredients:
-3 cups old fashioned oats
-1/2 cup wheat germ (can also use ground flax seed)
-1/3 cup pumpkin puree
-1/4 cup maple syrup (can also use honey)
-1/4 cup sunflower or other nut oil
-1/4 cup packed brown sugar
-1 tsp vanilla extract
-1/2 tsp ground cinnamon
-2 tsp pumpkin pie spice
-1/4 cup almond meal (ground almonds)
-1/2 cup pumpkin seeds
-1/4 cup chia seeds
-1 cup almonds, partially broken
directions:
1. Preheat oven to 325°F and line a large baking sheet with parchment paper.
2. In a medium measuring bowl, whisk together the pumpkin puree, sunflower oil, maple syrup or honey, brown sugar and vanilla extract.
3. In a large bowl, dump in all the dry ingredients and stir together. Pour over the wet mixture, stir together, and lay flat out on the baking sheet.
4. Bake for 45 minutes, stirring once or twice to mix up the granola, until turning golden brown.
5. Remove and let cool before serving.
6. Serve over yogurt or as itself. Store in an airtight container for up to a month.
© Carla's Confections 2013