Comfort food at it's best! Extremely easy Taco Soup that is sure to show up in your menu weekly!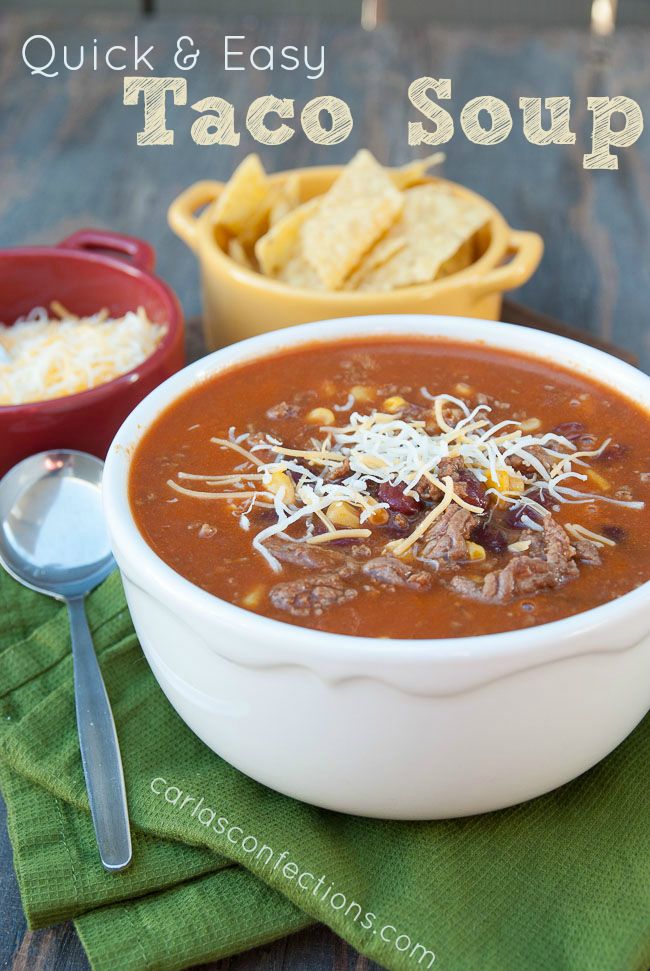 This is one of those recipes that have been in the family since like forever.

And of course by forever I mean like 10 years.

Because that is forever to me. #problemsofa26yearold

This soup seriously shows up in our rotation at least every other week. It is so easy and its a deliciously warm way to have your taco and eat it soup too.

The best part is that you can add your favorite ingredients to the soup. I come from (and married into) a semi- picky family(ies), so we tend to keep things simple here. This here soup contains taco meat, corn, kidney beans and tomato soup. But if you are a fan of black olives, jalapenos or chili peppers, onions, or any other delicious Mexican ingredients, those will make them all the better!
So have you noticed that in the last month or so, the same like
four
props have showed up in my photos?
Yeah, the hazards of having all our stuff in storage.
I went to use nutmeg the other day in a recipe, and I only have whole nutmeg because (come on!) it's a thousand times better than already ground nutmeg. Anyway, I went to use it and realized that we don't have a zester to get the fresh grinds. I know we have one, but it is packed away neatly somewhere between the boxes here where we are staying (call me lazy for not wanting to search that hard), or in our 10x10 storage unit 20 minutes from here (call me lazy for not wanting to drive and search through boxes).
So what did I do?
I used the edge of a butter knife and then proceeded to buy a new zester from Bed Bath and Beyond. #problemsofbeinghouseless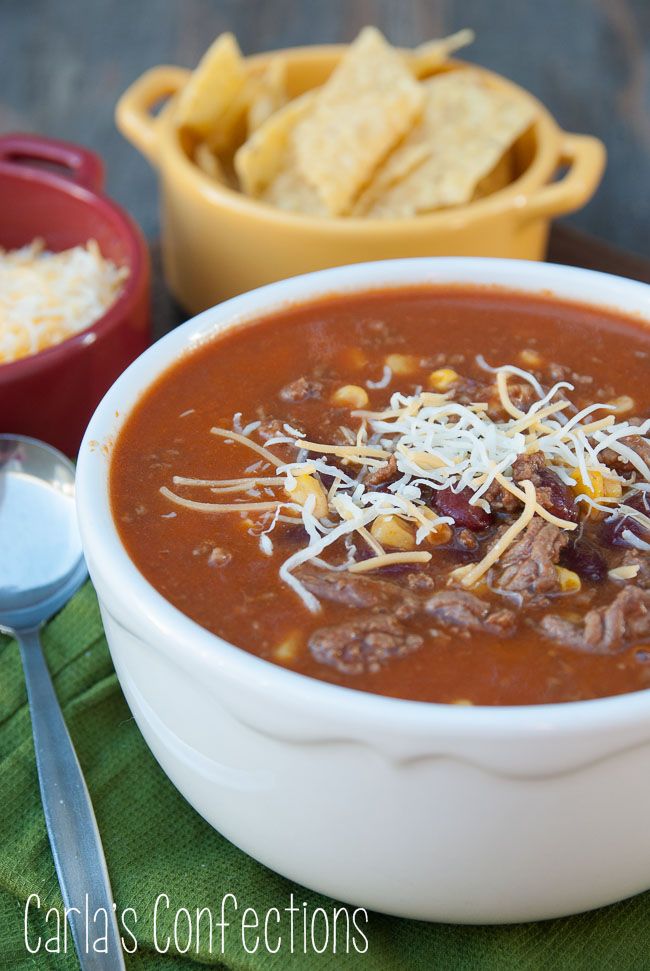 I would seriously give anything these days to have all my kitchen tools and props right at hand! I know our food processor is packed in storage and oh I would give anything to make a fresh batch of pesto (nope no blender either). My food props are scattered, some here, some there, and I keep losing my mind when it comes to buying new things. I buy it, place it somewhere, only to find later that that somewhere has hidden itself. Like the Room of Requirement in Harry Potter. Except that it doesnt work at all, because when I require it is when it decides to hide itself. Hmmmph!

My only saving grace is that Plumelope (my stand mixer) has found a temporary home here with me. I dont know what I would do if I didnt have my stand mixer with me!

Moral of that story: always assume your stuff will be in storage much longer than 2 weeks. Then you might keep things more organized.

Hopefully I learn for next time. #iwish!
Quick and Easy Taco Soup
|
Printable Recipe
serves 4-6
ingredients:
-1 1/2 pounds lean ground beef or ground chuck
-1 package taco seasoning
-3 (10 oz) cans condensed tomato soup
-1 (15 oz) can red kidney beans, with juice
-1 (9 oz) can whole kernel corn, with juice
-water to thin out (I fill the tomato soup cans twice to get extra tomato soup out of it)
-optional ingredients: canned black olives, canned jalapenos or chili peppers, fresh white onion
-Serve with: cheese, sour cream and corn chips, if desired
directions:
1. Start by browning the meat over medium-high heat in a large pot until there is no pink left in the meat, breaking up into small chunks as you go. Remove any accumulated grease and then empty the taco seasoning packet into the pot with the meat. If needed, splash in some water to make it more moist and let the seasoning move around.
2. In the same pot as the meat, add in all the canned ingredients (including the juice in the kidney beans and corn). Finish off by adding enough water to get to the soupy consistency you like. I typically fill two of the tomato soup cans with water and add that way. This way you get the most out of the tomato soup as well. Feel free to add more or less than this.
3. Bring to a boil over medium high heat and then simmer for 20-30 minutes. The longer you let sit, the more the flavors will mix.
4. Serve immediately with cheese, sour cream and corn chips if desired, and store any extras in an airtight container in the fridge for a week.
NOTE: you can also make in a crock pot (brown meat in pan before adding to crock pot) and simmer on LOW for 5-8 hours.
© Carla's Confections 2013