Any party that includes these beautiful Shrimp Caprese Skewers and Parmigiano Onion Bread is a party I will be crashing, even if it does have to do with football. The real winners are these appetizers anyway, and they pair perfectly with wine. Football parties no longer need to be beer and tater tots (not that I would complain about those either!)
It's football time again. How did that come around so fast?!

I have to be honest and say that I am really not a football fan, but I will also say I will attend any party that has food and alcohol.

Heck, I would host a party if food and alcohol showed up as guests! #sorrynotsorry

I mean, how fun would it be to have a "classy" football party? Wine and finger food anyone?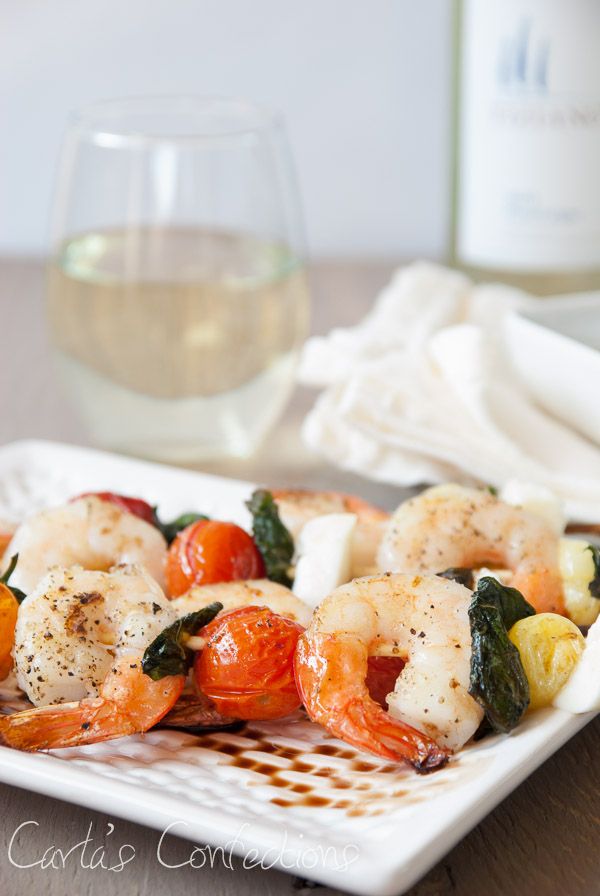 Two things I absolutely love are all things grilled, and all things Caprese. So why not combine the two beautes?! I had never tried Shrimp Caprese, so I challenged myself to do just that.

Goodness, I didn't know Caprese could get any better but oh, yes it does! Adding grilled shrimp is just the perfect addition! And talk about a perfect football party food.

Tiziano's Pinot Grigio pairs amazingly with these Shrimp Caprese Skewers, because the crisp flavor of the sweet citrus brings out the bold flavor of the tomatoes. The wine also pairs nicely with shrimp, so I couldn't go wrong there! You will love this pairing!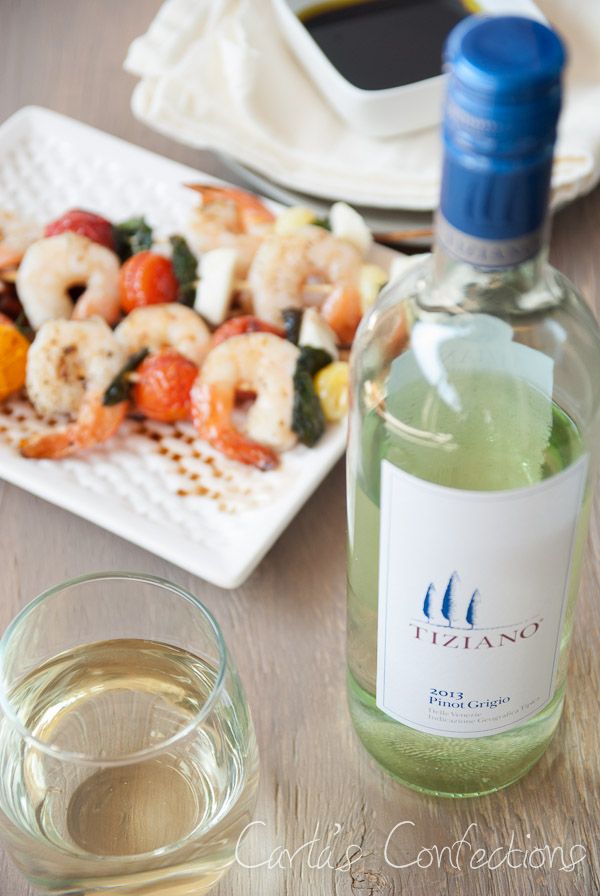 Just sayin', if you want to make these at your football party, you might just have an extra person (read: me) show up at your party.

For the Chianti, I wanted another appetizer, but I wanted a distinctly different taste to pair with this sharp-flavored wine.

This is a recipe that takes me back to one of the best days of my life - my wedding.

We had a very similar recipe at our wedding and it quickly became a favorite. That is where the inspiration for this recipe came from. I am slightly obsessed with bite sized appetizers, and a little too obsessed with Parmigiano Reggiano cheese. So these Parmigiano Onion breads speak to my heart. And the slight spice really brings out the young fruity yet sharp flavor of the Chianti wine. Not to mention, we are classing up this football party if you remember, and since this bread takes me back to my wedding, I think it is a winning combo!

Just look at that melty goodness! I am not ashamed to admit that I could eat these on a daily basis. No joke...

If you are throwing a football party, or any party for that matter, these really are the perfect apps to add to the menu. Shrimp Caprese Skewers and Parmigiano Onion Bread will bring all the boys to the yard (what???) and the ladies will stay for the wine.
Seriously.
I hope you at least consider inviting me to the party...
I meant I hope you have Tiziano Wine at the party!
Not sure how that came out so wrong...
By the way, have you checked out the
Tiziano Wine
website yet? They have some really cool features on there, including their
Wine 101 Guide.
I wanted to embed that image in this post, but it really is long enough already, wouldn't you say ;) If you are looking for where you can buy Tiziano Wine, you can find out
here
!
Well, until the next football party, you can find me doing this...
Shrimp Caprese Skewers

ingredients:
-1 lb deveined raw shrimp, thawed if frozen
-1 lb heirloom cherry tomatoes, left whole
-1 lb mozzarella cheese (mini if possible), cut into bite sized pieces if not mini.
-bunch of basil leaves, washed and dried
-freshly ground salt and pepper, to taste
-olive oil to brush on skewers
-balsamic vinegar, to taste
(you will also need large wooden/bamboo skewers)
directions:
1. Place skewers in a water bath to soak for at least an hour prior to grilling, so the skewers do not catch on fire.
2. Remove skewers from water and place the shrimp, tomatoes and basil on one after the other onto the skewers, leaving a little room on the end to add mozzarella later **DO NOT ADD MOZZARELLA AT THIS POINT. IT WILL MELT ON THE GRILL.
3. Brush a little olive oil over the skewered meat and tomatoes. Sprinkle with freshly ground salt and pepper, and continue until you use up all your shrimp, basil and tomatoes.
4. With the grill on medium, grill the skewers roughly 5-7 minutes each side, until shrimp is fully cooked, getting grill marks and tomatoes start to burst open.
5. Remove, allow to cool slightly, and place fresh mozzarella on the ends of the skewers, and drizzle balsamic vinegar over the skewers.
6. Serve warm (if possible) with a bowl of extra balsamic vinegar if desired and pair with
Tiziano Pinot Grigio Wine
Parmigiano Onion Bread
ingredients:
-1 French baguette, cut into desired size slices
-1/8 cup olive oil
-2 cloves garlic, peeled and grated into olive oil
-1/2 cup mayonnaise
-1/2 cup fresh grated Parmigiano Reggiano cheese
-1/2 cup freshly chopped yellow onion
-1/2 tsp red pepper flakes (more or less as desired)
directions:
1. Preheat oven to 400°F.
2. Once the garlic is grated into the olive oil, allow to sit for a couple minutes to infuse, and then brush lightly over the baguette slices. Place on a baking sheet and once all slices are coated in garlic oil, place in preheated oven roughly 10 minutes, until starting to harden up.
3. In a bowl, combine mayonnaise, Parmigiano Reggiano cheese, chopped onion, and red pepper flakes.
4. Remove baguette slices from oven, and change the oven to be on high broil.
5. Place roughly 2 Tbsp of the Parmigiano Onion mixture on the baguette slices, until you run out of the mixture. If you have extra, place more on each slice.
6. Place back in the oven to broil for roughly 5 minutes, until the tops start to golden brown and bubble slightly.
7. Remove, allow to cool slightly, and enjoy with
Tiziano Chianti Wine
Parmigiano Onion bread adapted from Nancy Steven's recipe for Nanchetta.