Hey guys! I am currently in Orlando, FL at Disney World enjoying my pants off (only because I have a dress on!) at Food Blog Forum 2013. I am having more fun than I can even handle, so I thought I would provide you with a treat of someone else blogging for you rather than being silent today. I asked my friend Erin of Texanerin Baking if she would post for me today, and luckily, she didn't run for the hills! Thank you Erin for helping me out today!!
Hi everyone! I'm Erin and I blog over at
Texanerin Baking
, where I aim to make healthier baked goods that taste just as delicious as their unhealthy counterparts. I was thrilled when Carla asked me to do a guest post for her! It was my chance to share some whole grain goodness with her readers. ;) Plus she's super sweet so I was honored that she'd even ask!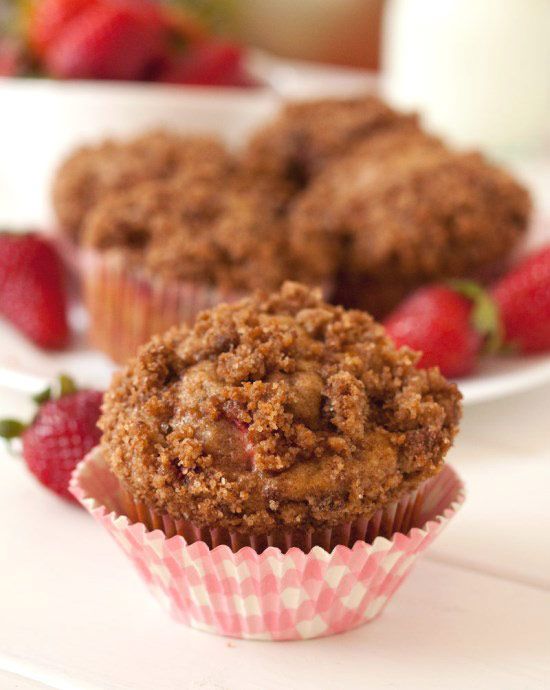 With strawberry season in full swing and a ton of my bananas getting a little too dark, I thought what better to celebrate spring than with some strawberry banana muffins!
Muffins make mornings so much more worthwhile, don't they? If I have to get out of my warm, cozy bed, I want it to be for something exciting. Having a piece of toast or a bowl of boring cereal doesn't really do it for me. To be honest, I normally grab some cookies, brownies or cake for breakfast, but I know this is really naughty. These muffins are an attempt at something healthier than flat-out dessert and I think they fit the bill pretty well!
You know how some muffins are really fluffy and more cake-like? Yeah, these aren't that kind of muffin. These are actually filling! The whole wheat flour adds a little fiber, but don't worry about the taste. With all the banana and cinnamon in the batter, you can't really taste that they're made whole grain. If anything, you can taste a hint of it.
And then there's all the strawberries in there! I know it doesn't look it by the picture, but these are packed with strawberries. I normally go overboard with adding fruit and other add-ins to my muffins, but I find that if you add too many strawberries, muffins get soggy. And soggy muffins just don't appeal to me so I really recommend sticking with 1 1/4 cups strawberries.