These Cinnamon Coffee Cake Cookies are the perfect cookie to take you into Autumn, not to mention they taste like Coffee Cake, which means it's totally acceptable to eat for breakfast.

You're welcome.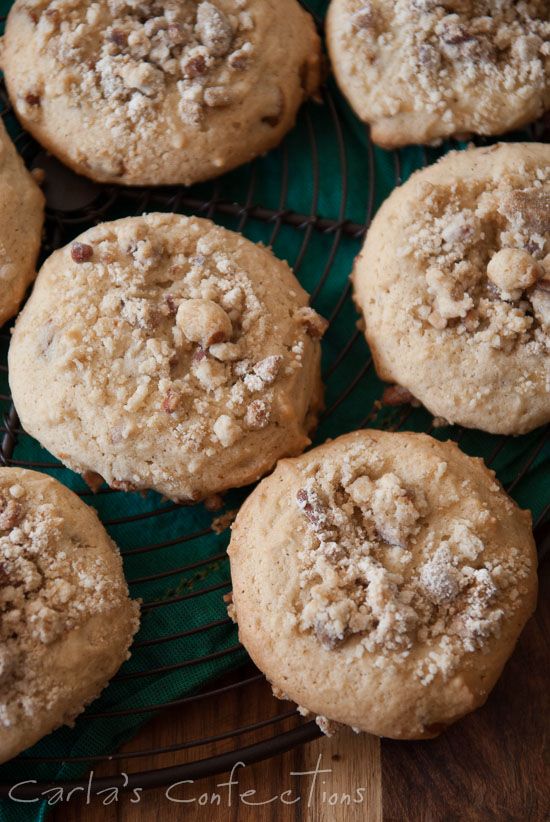 Or is that just me who will eat a cookie for breakfast before eating a healthy meal?

Well, okay, I willll drink a smoothie. I just dont want to take the time to cook a healthy meal for breakfast, sit down and eat it, wasting all that time I could be sleeping!

Enter coooooookie! A cookie you can eat for breakfast and not feel guilty about...

It does have struessel after all!

Struessel is usually found on a muffin. Muffins are breakfast food. Ergo: Struessel = breakfast. Ergo Ergoooo (these) cookies = breakfast.


Math always was my best subject.
But in all honesty, these cookies were made for someone.
More specifically, every child out there that is going through devastation. Childhood cancer claims more lives in children than any other disease, and it is time for it to come to an end.
OXO kindly sent me
some cookie tools
to get busy baking in the kitchen (hardly something I need an excuse for), and I just fell in love with everything they sent me.
I now have two of their
cookie scoops
, but really, can you ever have too many of those?! #morecookies! It is really sturdy and gives you perfect portions for your cookies. No more rolling necessary!
Their
cookie spatula
is perfect for lifting the cookies off the tray, and it is silicone, so you dont have to worry about the cookie sticking to the spatula.
They also sent their
3 piece spatula set
(can you ever have too many of those either?!), as well as their
new dusting wand
and some really pretty white measuring cups and spoons. I am truly obsessed with OXO products, and I just fall even more in love with companies that have huge hearts for kids!
OXO has teamed up with
Cookies for Kid's Cancer
to help bring an end to childhood cancer. When you buy any OXO product with this sticker on it, OXO will donate 25 cents in support for pediatric cancer! How amazing is that?!
In addition to that, for every blogger that posts a cookie recipe in the month of September in support of the #BakeADifference campaign, OXO is donating $100 to Cookies for Kids Cancer.

That is a campaign I can get on board with :)

So get out there, buy some awesome OXO products (with the #cookiesforkids sticker on it, donate a few cents to the campaign, and go home and make some cookies for breakfast!

Talk about killing three birds with one stone! ;)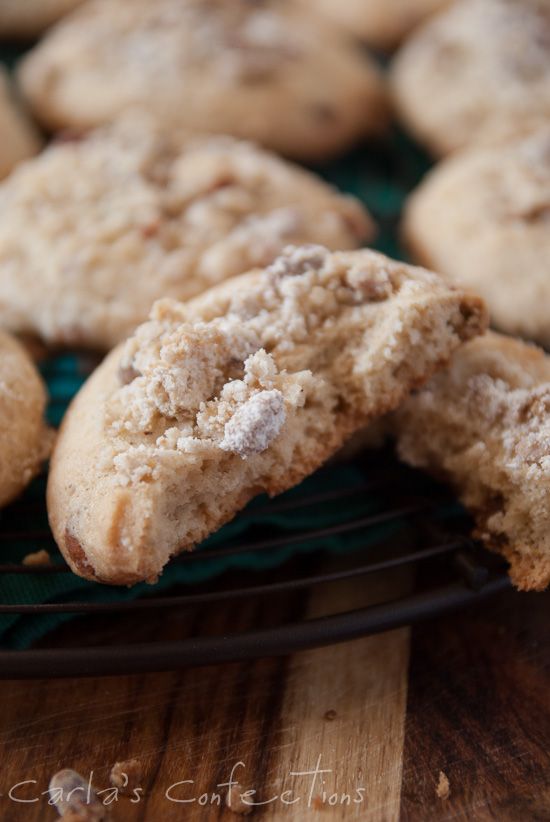 Cinnamon Coffee Cake Cookies
makes roughly 3 dozen
ingredients:
-2 1/4 cups cake flour
-1/2 tsp baking soda
-1 tsp cinnamon
-1 pinch nutmeg, or freshly ground
-3/4 cup + 2 Tbsp unsalted butter, softened
-3/4 cup granulated sugar
-1/4 cup packed brown sugar
-1 tsp kosher salt
-2 tsp vanilla extract
-2 eggs
-6 oz Cinnamon Chips (like chocolate chips, found in grocery stores)
for the streussel:
-3/4 cup cake flour (or all-purpose flour)
-1/2 cup packed brown sugar
-1/4 cup softened butter
-1/4 cup pecan chips (chopped pecans)
directions:
1. Preheat oven to 350°F, spray 3 baking trays with non-stick spray.
2. In a bowl, whisk together cake flour, baking soda, cinnamon and nutmeg. Set aside.
3. In the bowl of a stand mixer, with the paddle attached, combine together the butter and both sugars, beating on high until light and fluffy (roughly 5 minutes).
4. Turn mixer to low, and add salt, vanilla and both eggs. Return to high and beat until combined.
5. Turn mixer to low again, and slowly add in the flour mixture, scraping the sides with OXO spatulas when needed.
6. Using a spatula, fold in the cinnamon chips until combined. Set aside.
7. In another bowl, combine the streussel ingredients, stirring and smashing with a fork.
8. Scoop out cookies onto the three baking trays using an OXO cookie scoop. Using a spoon, press the tops of the cookies in to form a "bowl" for the streussel to sit in. Scoop out roughly 1/2 tsp worth of the streussel on top of the cookie, pressing in if needed.
9. Bake cookies in preheated oven roughly 10-13 minutes, until starting to golden brown on the sides. Remove and allow to cool before enjoying.
Disclosure: OXO sent me some of their cookie tools to make this recipe. I would not promote products I do not believe in. OXO is one of my favorite brands and I often buy their products because I love them. Their quality is top notch and I also love the things they stand for.