This week for Fresh Friday, I thought I would share a family recipe with you. I am up in Portland, OR helping my brother and sister in law move into their new house. When thinking about dinner the other night, my brother asked if I would make taco salad, a recipe that has been in the family for a while. One my mom made for us growing up, and one I will pass onto my kids, and today, to you guys!
I know this one isn't vegetarian, but it is worth it! We tend to use ground beef for this salad, but you could also use diced or shredded chicken, or even make it vegetarian (you'd have to play around with the flavors on that one though).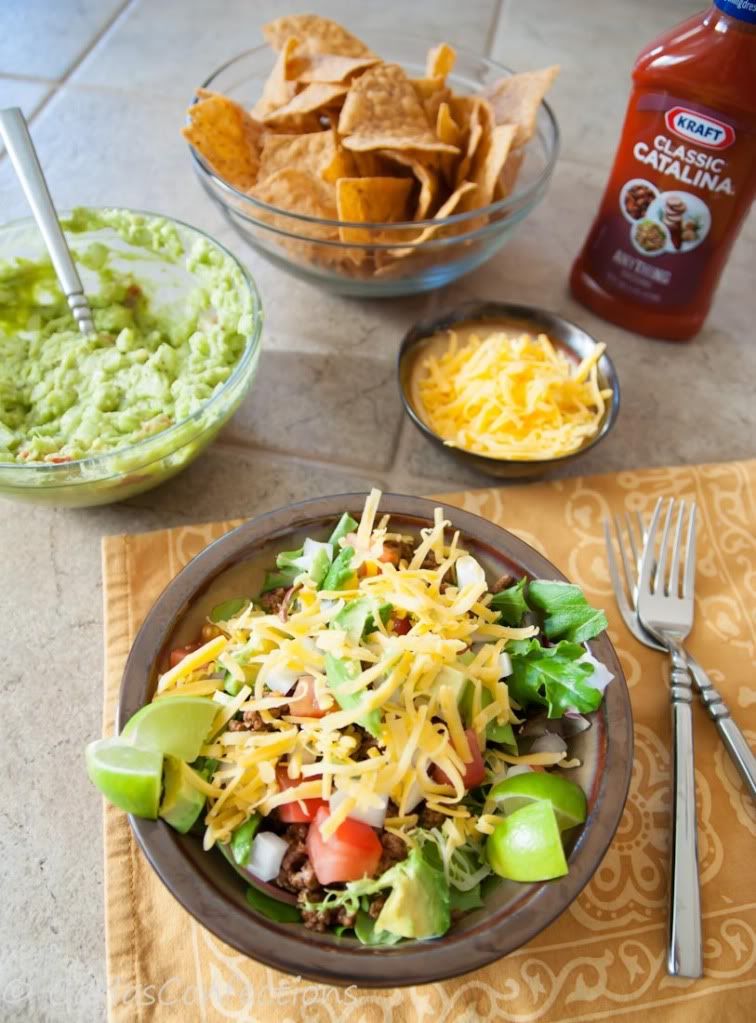 Not too many people know of this salad dressing: Catalina. Have you heard of it or used it? What for if so? I only use it on my taco salad, but it really is the perfect dressing for this refreshing salad!
This salad consists of lettuce (go figure), ground beef cooked with taco seasoning, tomato, onion, avocado, shredded cheese, and my family even likes to crumble some tortilla chips on top to give it a crunch. Then of course the dressing. I promise you wont regret trying this one! Just trust me on it! I also like to serve some
homemade guacamole
with chips on the side, and to balance out the healthiness, some Corona with lime, or another Mexican beer :)
Taco Salad
|
Printable Recipe
serves 3-4
ingredients:
lots of lettuce, of choice
1 lb (500 g) ground beef/mince
1 sachet taco seasoning, of choice
1-2 tomatoes, diced
1/2 onion, diced
1-2 avocados, pulled out of skin and diced
1 cup grated cheddar cheese
1 bottle Catalina salad dressing, to serve
tortilla chips, to serve
directions:
Wash lettuce, tomato and onion. Dice veggies as desired.
Cook ground beef over medium-high heat. Add taco seasoning in batches, and break up the ground beef as it is cooked, as to get small bits, and make sure to cover all meat with taco seasoning.
Serve with lettuce on bottom, meat, cheese, veggies on top, and add desired amount of dressing, and if desired, crunched up tortilla chips on top.
Enjoy some homemade guacamole on the side!
Here's the previous Fresh Friday posts if you've missed them: