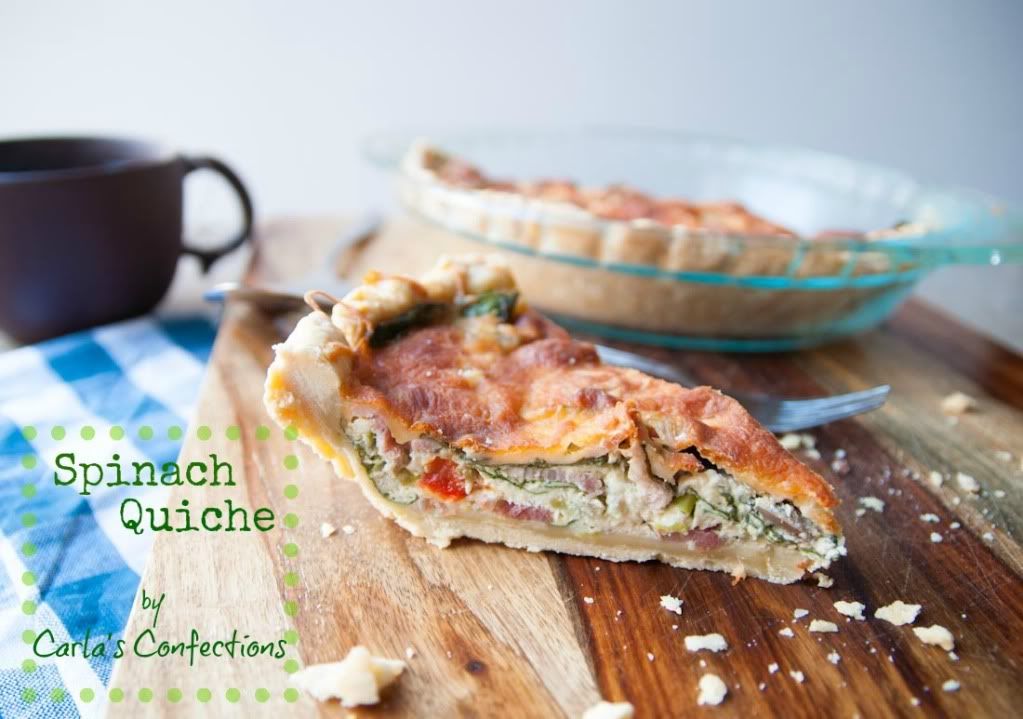 We were in the
rose garden's
this weekend with my brother and sister-in-law looking at all the pretty flowers they had, when out of no where Gina (SIL), says to me, "Carla, you need to make some quiche and snickerdoodles. Thank you."
Well I suppose if I don't have another choice!
Lucky for her, I just happen to enjoy making quiche just as much as I enjoy eating it ;) And anytime I make something, it is pretty much a chance to have a blog post, and boy do we love blogging! That's why I am here! To get my creative outlet my telling you silly stories (like this). Oh yeah and baking/cooking and taking photos too. I love all of these so much and that is why I do it. To share with you what I have fun doing. I hope you enjoy my blog as much as I do with writing it.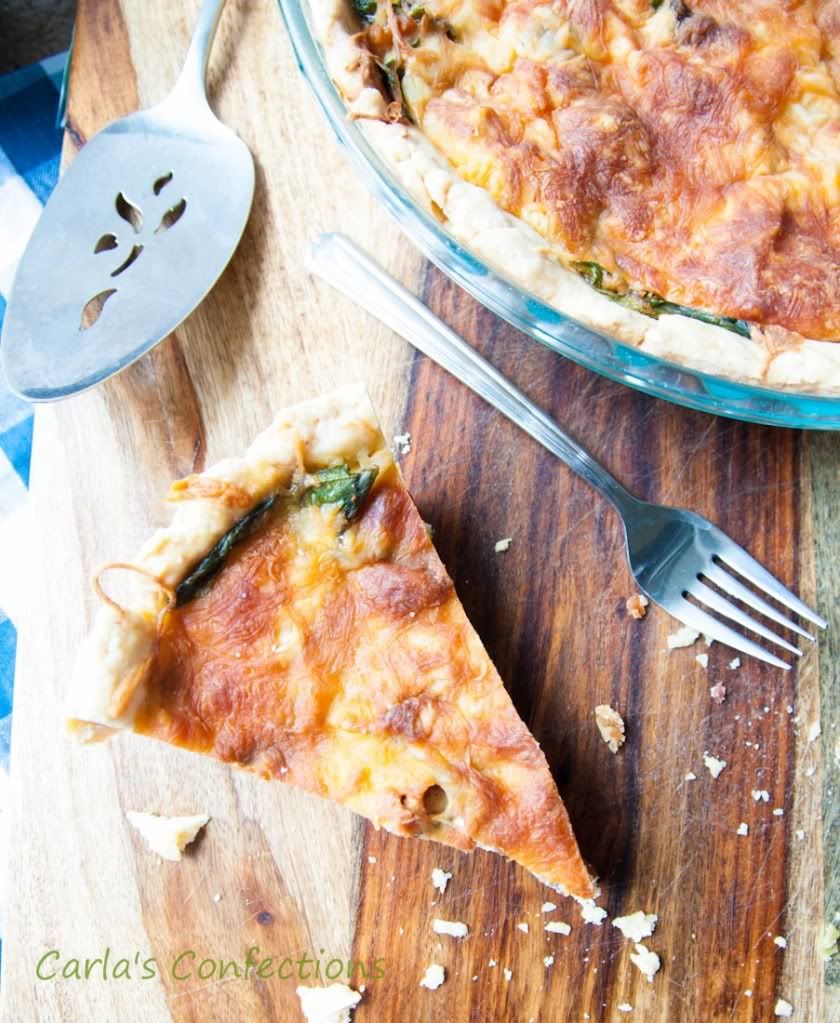 I almost didn't get to share this with you guys though. I made this and something else I can't share with you yet Monday, took photos of the other treat I made, and by the time I was getting ready to take these pictures it was getting pretty dark out (not to mention all the rain clouds making it seem like its getting darker even earlier), so the lighting just wasn't ideal for taking photos. I figured it was best to wait a day to take the photos.
If only the quiche lasted that long!
No, there was still enough, but as you can see, it was already more than half gone by the time I got around to getting pictures done! Luckily I got any at all!
I guess I'll be needing to make another one, and another, and another!
Goodness this quiche is good!
I love making
quiche
, and this is another top one in my book!
I wanted to up the health factor
slightly
so I added more spinach than I did in
my last quiche recipe
(hence the name). And a few more veggies. And more cream.
Oh wait. That's not healthy.
Never mind.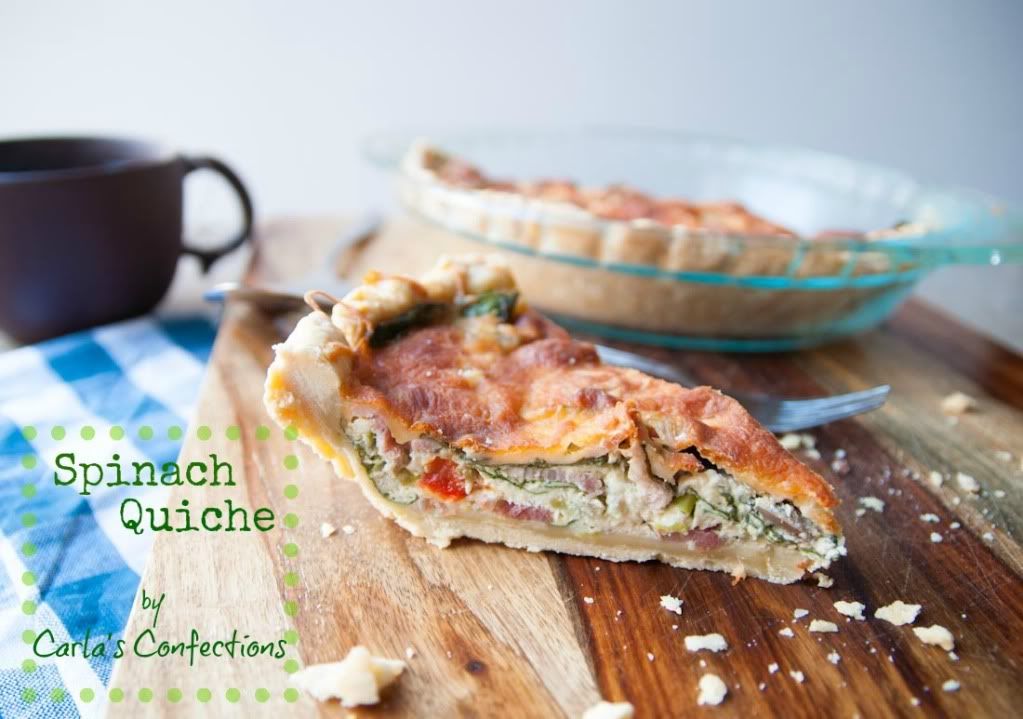 serves 4-6
ingredients:
for the crust (you can also get store bought):
1 1/2 sticks (3/4 cup) salted butter, cold
1 1/2 cups all purpose flour
2-4 Tbsp cold water (just enough to bring dough together and stiff)
for the quiche:
4 eggs
1/2 cup + 2 Tbsp heavy whipping cream
pinch of sea salt and freshly ground pepper
pinch of cinnamon
pinch of nutmeg
pinch of cayenne (optional for heat)
three pieces bacon, fried and diced
1/2 cup diced button mushrooms
1/3 cup diced green onion
1/2 Tbsp diced red onion
2 Tbsp diced red bell pepper (more if desired)
1 cup fresh spinach leaves, packed
1 1/2 cups shredded cheese variety (I used parmesan, gruyere and cheddar mixture)
directions:
For the dough, in a bowl, combine the butter and flour, pinching between (freshly cleaned please) fingers, until it resembles bread crumbs.
Add in the cold water, starting with 2 Tbsp and adding more as needed, combining with your hands until the dough comes together and becomes a firm dough.
Roll out the dough on a well cleaned, dried and floured surface using a rolling pin to the size of your pie pan.
Lay the crust into the pie pan, pinch the sides together and tear the remaining top off of the pan and use the remaining to fill in gaps. Give the edges a nice texture by pinching your fingers around it.
Use a fork to prick the bottom of the quiche for air bubbles to escape.
Freeze the pie crust for 30 minutes to an hour. Remove.
Preheat the oven to 350F/180C.
Shred the cheese if not done already.
Crack the eggs into a large bowl, and add the heavy whipping cream and spices. Whisk together.
Stir in the bacon and veggies, ending with the spinach. Once the spinach is added, its hard to add anything else. Combine as well as you can then pour this mixture into the pie crust.
Sprinkle the cheese mixture over the top of the egg and veggie mixture in the pie pan, making sure it is evenly distributed.
Bake in the preheated oven for 50-55 minutes, until quiche is set and golden brown.
Let cool slightly before cutting into. Serve warm.
Note: This recipe freezes very well, so double the recipe, make two quiches and freeze one for later! Then warm in the oven, or thaw in the fridge and microwave the pieces you want :)