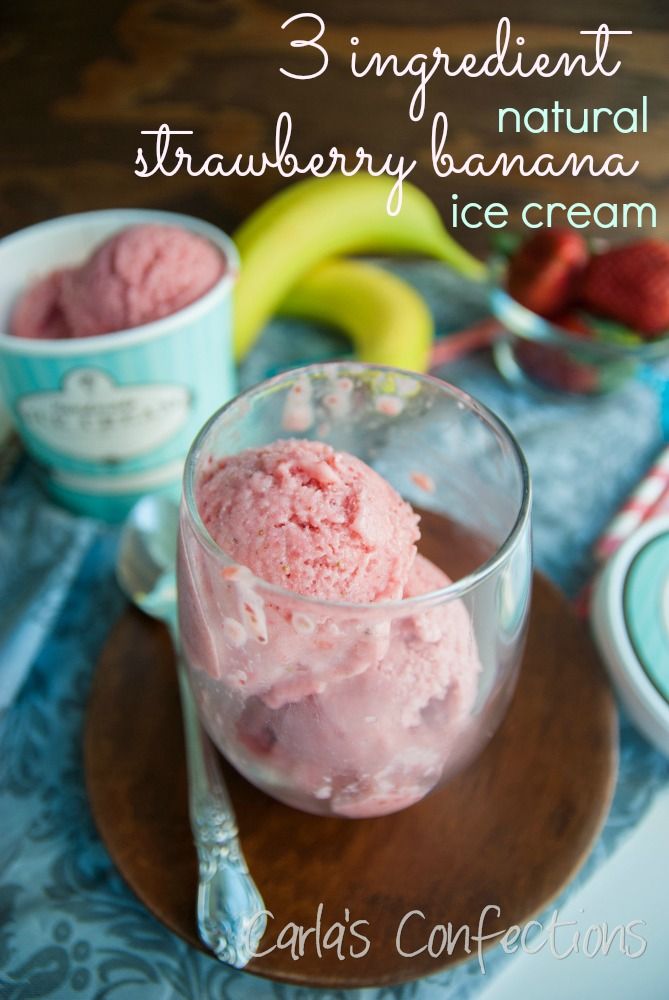 Well, to be perfectly honest, this is closer to a smoothie texture than an ice cream texture, but I really like to look at it as ice cream, that way you can feel better about yourself when you eat it after dinner :) You are eating healthy ice cream, and I love the thought of that!!!
Let me back up a little bit here.
When I first started the blog, I got a suggestion from a friend to do healthy banana ice cream, which is just processing a frozen banana. I honestly had never heard of such a thing (I am so out of the loop sometimes :P), and was very curious about it, but never got around to making it.
This last week, I found myself in the unfortunate situation where I had some bananas starting to go bad (actually that's not a bad place to be at all), but also some strawberries going bad. Sadly, there isn't much you can do with strawberries that are starting to brown that doesn't involve pulverizing them into oblivion. Yes I could have made a smoothie with it, or put them in a cake or something of the sort, but for some reason, my first thought was to make ice cream out of it.
Yes, you're welcome ;)
I have to warn you that if you plan to freeze bananas and strawberries, do yourself a favor and take the banana out of it's peel, and slice, and de-stem and cut up the strawberries
before
you freeze them. I may or may not be speaking from experience here. Ahem.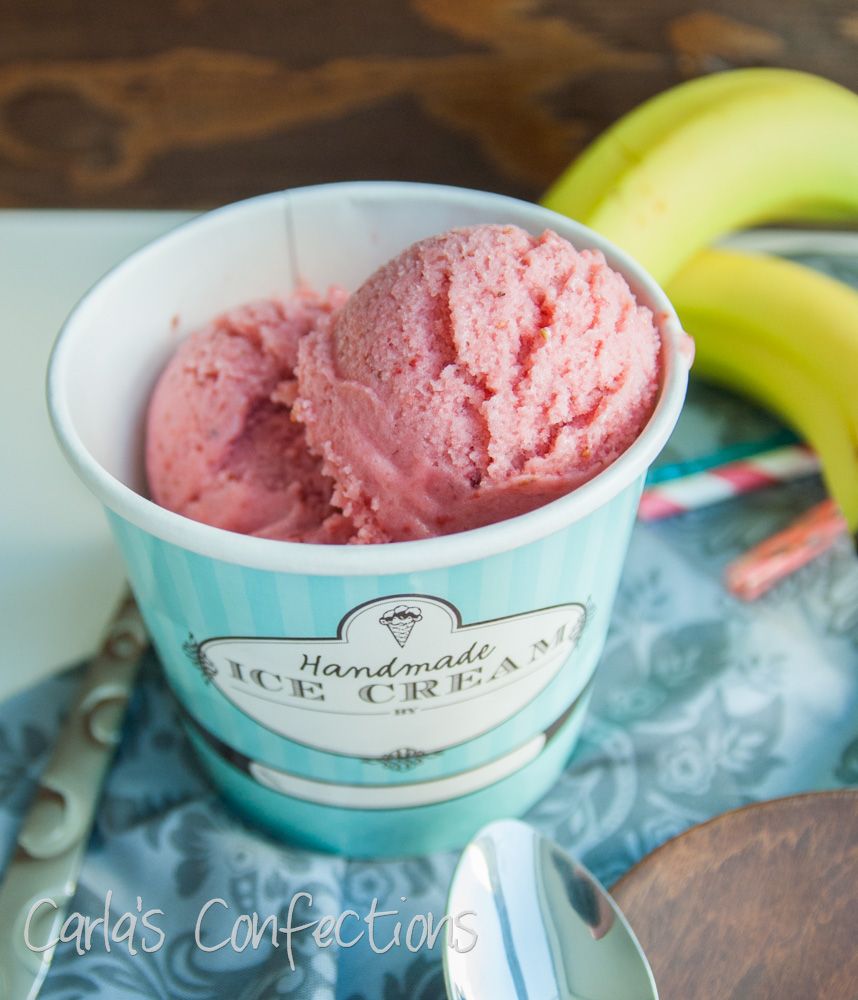 Also, since this is more of a smoothie texture more than an ice cream texture, naturally, it gets VERY hard when frozen. You can lessen this a little bit by breaking it up with a fork every hour or so when first freezing, but that probably won't help totally. I would suggest just taking it out at least 20-30 minutes before you plan to enjoy it to defrost a little bit. Or microwave it for 10 seconds then enjoy.
If you are wondering what the third ingredient in this mixture is, it's just milk. Nothing fancy. And that was just to get the mixture going in the food processor, really.
I'm not an expert on ice cream, and I'm certainly not claiming to be. If you know a better way to make this more of a "creamy" texture, let me know :) I thought about sweetened condensed milk, or heavy cream, but both of those would have made this a lot less healthy, and I was going for natural and healthy, so that was out of the question for me. But feel free to have fun with this!
If you want something even more natural than milk, you could sub in almond or coconut milk too, or any other natural milk substitute you can think of :) Just have fun with it and enjoy this natural (healthy) ice cream!!! And again, it couldn't be easier. I love that!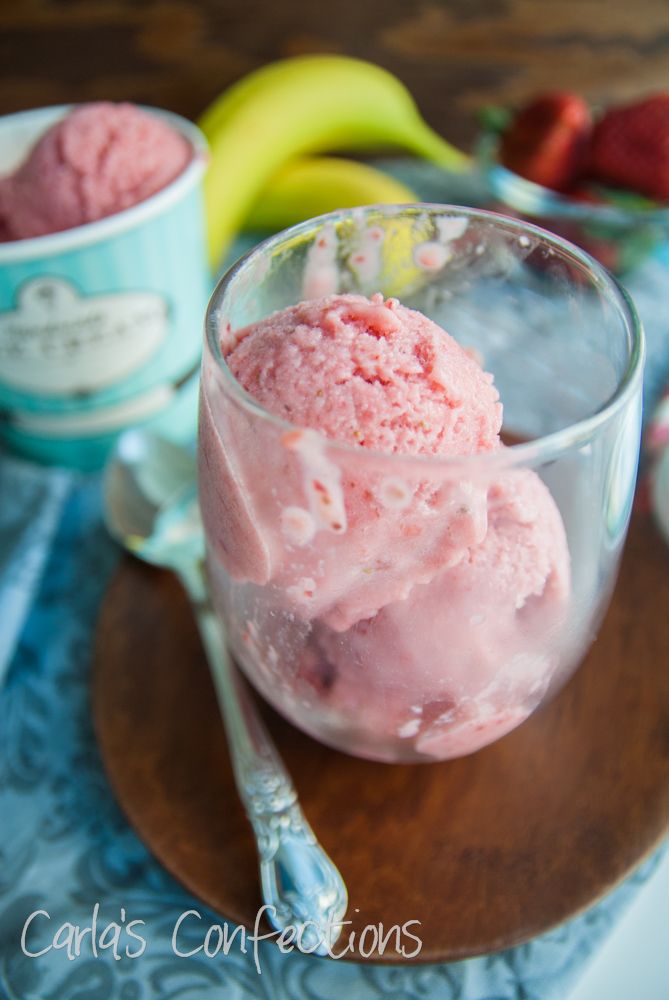 I am writing this post while I'm at home in Reno. Working, even on vacation. That's how I roll I guess. I can't just abandon my blog ;)
Just to give an update for you all, I am soaking up the sunshine here. Matt has been complaining about all the rain he's getting in Vancouver, and I am soaking up the sun! Ill take the break for a week.
As far as my vertigo, so far, there hasn't been much anyone has been able to do for me. Most have said it should just go away on its own, and it could be due to a cold I had over a month ago. I have suspected this for a while, so it didn't come as a surprise, I just wish there was something anyone could have/still do.
I still have some doc appointments this week, so I could get more or different information, but for now, that is what I have gotten. I'll keep y'all updated with more information, but in the meantime, I am enjoying the sun and wishing I had some more frozen strawberries and bananas to make more 3-Ingredient Natural Strawberry Banana Ice Cream :)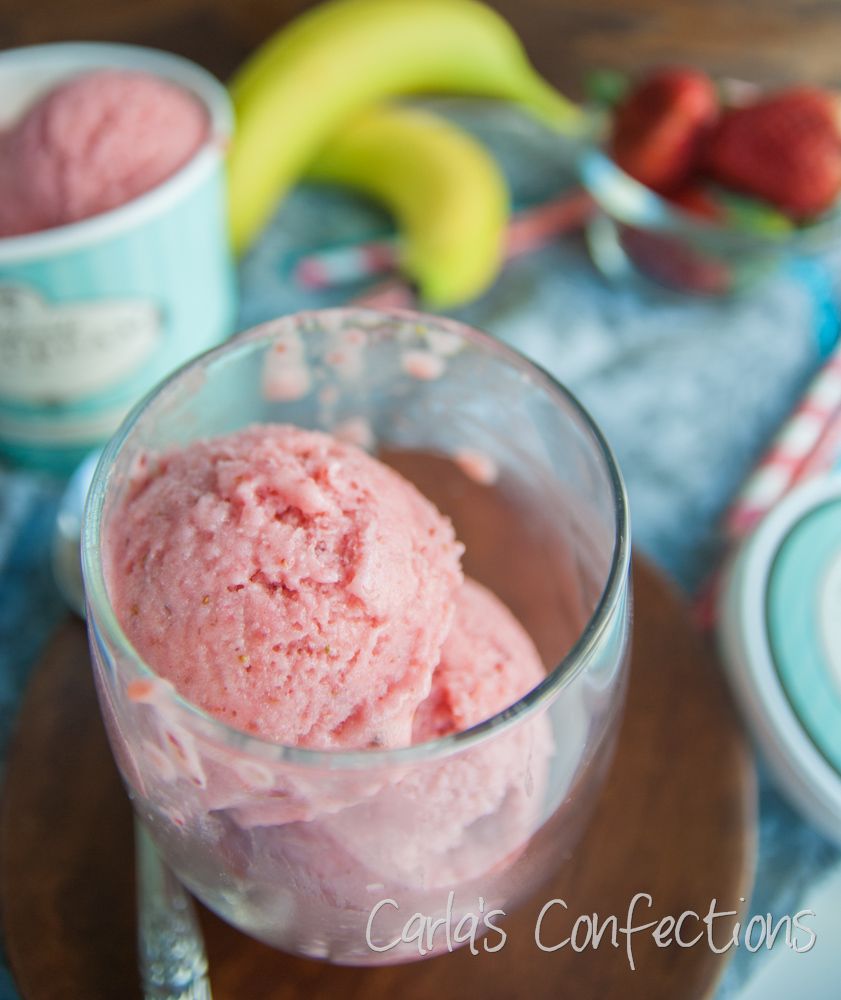 serves 4
ingredients:
2 bananas (ripe or not)
1 - 1 1/2 lbs strawberries (fresh, and ok if starting to go bad)
1/4 - 1/2 cup milk, almond milk, coconut milk, or any other substitute
directions:
Take peel off bananas and cut into 2-3inch pieces.
De-stem and chop strawberries into rough chunks
Freeze bananas and strawberries until ready to use, at least half a day.
When ready, place strawberries, bananas and as much milk as needed in a food processor or blender and process/blend until mixed. Add more milk if needed to smooth out a little more.
Place in freezer safe dish and freeze. (Should be ready to eat right away if desired)
Every hour, break up a little with a fork, as often as you can.
If frozen for more than a day, make sure to defrost a little before eating.
Enjoy!
Carla's Confections original (inspired by a friend)
If you're looking for other easy ice cream recipes: