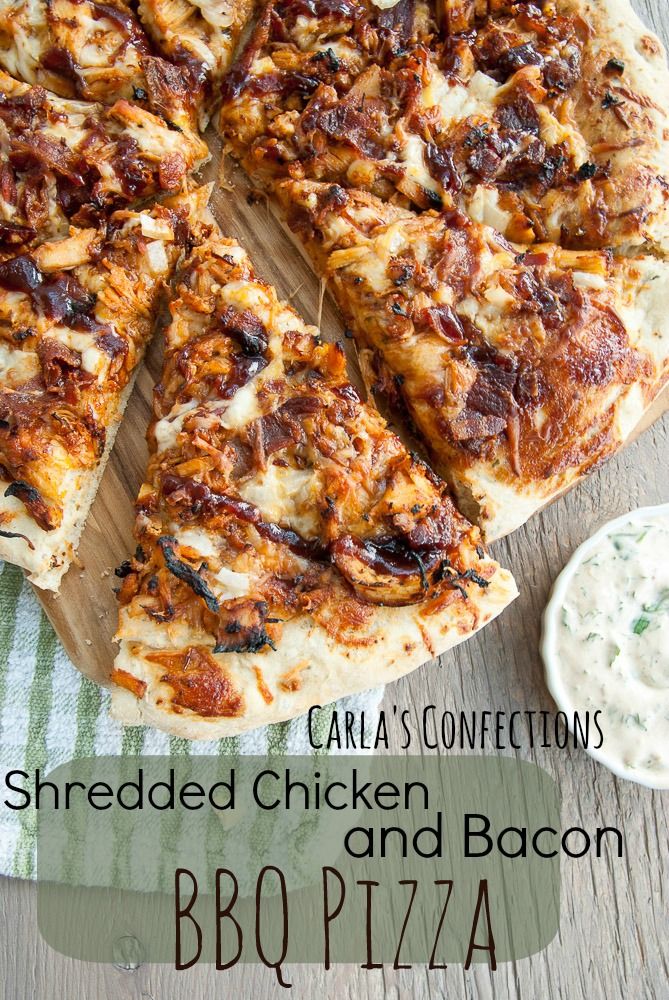 I am going to make a bold statement right now. Be warned.
This is the best pizza in the world.
The only pizza recipe you'll ever need.
Oops, that was two bold statements. #sorryI'mnotsorry
This pizza shows up on our dinner table at least once a week. I have made it 1.8 billion times, so it was high time I let you in on the goods.
I fully blame
Rachel
for my obsession with this pizza. And I know she isn't sorry about it.
Her and I share
an addiction
a love for all things BBQ sauce. We could be lost on a deserted island together, and as long as we had some BBQ sauce, this BBQ pizza and her
BBQ breaded onion rings
, all would be right with the world.
I am not ashamed.
This pizza has become a regular in our house; practically once a week. I just can't quit this pizza. Nor do I want to.
It's the perfect at-home-Friday-night-pizza.
It needs to show up in your rotation too. Particularly this Friday.
Just because I said so.
This one certainly takes a lot longer to make but I have a sure promise here: it is worth EVERY.single.bit of effort you put out.
And you will attempt to eat the entire pizza in one sitting because you just cannot stop eating.
This will probably make you explode, so please don't attempt.
Just sayin!
So the thing about this pizza is this - I bake the chicken in the oven until it is fully cooked, then it is easy to shred, which I do so in my stand mixer (please try if you've never done so), THEN I stick the cooked, shredded chicken in a skillet that cooked bacon (so oh yes, there is bacon fat in that baby!!). Even though the chicken is fully cooked prior to this, I like to let the chicken sit in the bacon fat and heat up to crisp up a bit and soak up that artery-clogging goodness we call bacon fat. Because it tastes good.
Judge me all you want ;)
Feel free to skip the step of baking the chicken and go straight to the cooking the chicken in the bacon fat, but I personally love the texture of the shredded chicken. I hate biting into huge chunks of chicken on my pizza.
Other than that, enjoy the love out of this pizza; I know I do (and Rachel too!! :) )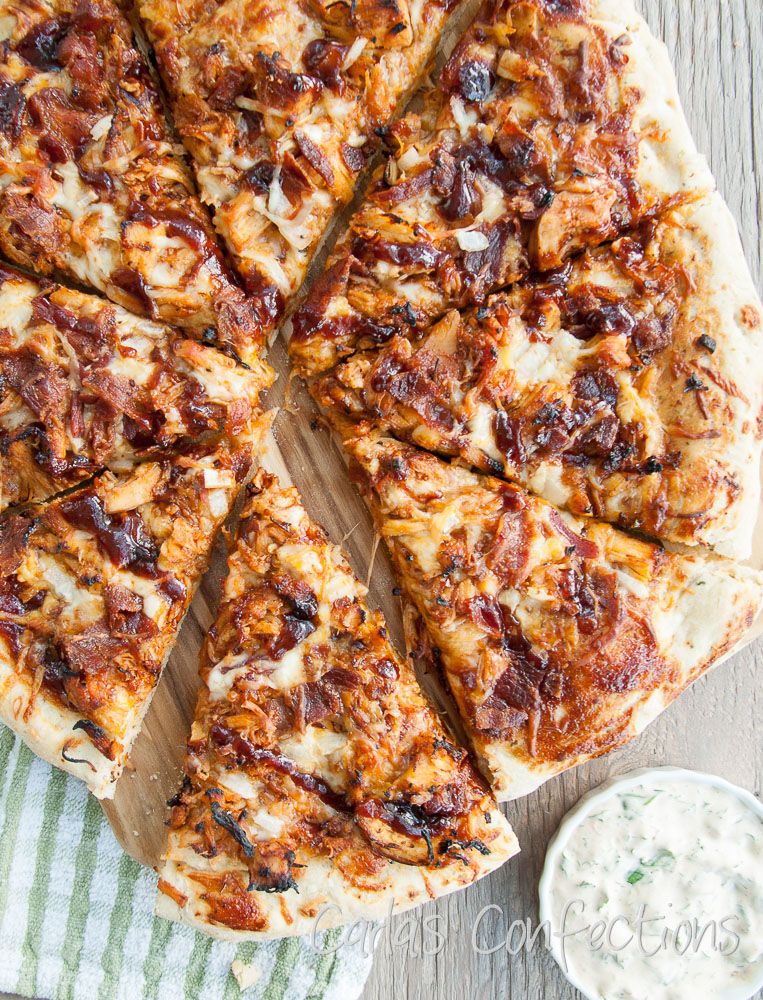 Shredded Chicken and Bacon BBQ Pizza
|
Printable Recipe
serves 4-6 (or 1 if you can force it all ;) )
ingredients:
for the dough:
2 1/2 cups flour (more if needed)
1/2 tsp kosher salt
1 tsp dried parsley
1 tsp dried oregano
1 tsp dried garlic
1 tsp garlic powder
1/2 tsp red pepper flakes (optional, for spice)
1 Tbsp olive oil
1 cup warm-hot water (not boiling)
1/4 tsp sugar
1 instant yeast packet
for the chicken:
1 b/l s/l chicken breast, or 2 b/l s/l chicken thigh (to preference)
1 Tsbp olive oil
2 garlic cloves, broken and skin removed
kosher salt and pepper, to taste
paprika, to taste
red pepper flakes, to taste (optional)
for the pizza:
1 recipe dough (above)
baked chicken (recipe above)
4-6 pieces bacon, uncooked
2 cups favorite BBQ sauce (more or less if desired)
2 cups cheese mixture of Mozzarella, Parmesan and Cheddar Cheese (more or less as desired)
1/3 cup chopped red or yellow onion
1/3 cup chopped mushrooms (optional, not shown here)
directions:
To make the dough, place the warm-hot water in a small bowl, and stir in the sugar and yeast packet until fully dissolved. Let sit for 5-10 minutes, until a head begins to form on top of the water (this is how you know the yeast is activated)
While the yeast and water are reacting, mix the dry ingredients with a whisk: flour, kosher salt, parsley, oregano, basil, garlic, red pepper flakes, as well as the olive oil.
Once fully mixed, and the head is formed in the yeast and water, place the dry mixture in the bowl of the stand mixer with the paddle attachment, turn on LOW and slowly pour in the water/yeast mixture. Mix until dough forms a ball. If needed, knead the dough with your hands and mix in extra flour if dough is too sticky or wet.
Place dough in a lightly oiled bowl, cover with plastic wrap and place in dark warm spot until dough is at least doubled in size.
For the chicken, place chicken, olive oil, garlic and spices in casserole dish and in a 400F oven (205C) and bake until fully cooked through, at least 20 minutes. Let cool slightly and then shred using the stand mixer and paddle attachment (and whole garlic cloves)
While the chicken is cooking, cook the bacon in a skillet placed over medium-high heat, making sure to reserve the fat.
Place the shredded cooked chicken in the skillet with the bacon fat and let crisp up and soak up the bacon fat.
When the dough is risen to desired size, roll out to desired size, place on pizza baking circle, and assemble pizza with BBQ sauce, cheese, bacon (chopped up), onion (and mushrooms if choose), chicken, and then drizzle extra BBQ sauce on top.
Bake at 425F (218C) for 15-20 minutes, until golden and cheese is melty and slightly crispy
Allow to cool slightly then cut into pizza slices.
Adapted from
Baked by Rachel
Serve with
Homemade Ranch Dressing
More Friday night dinners HERE:
Meatball Melt Subs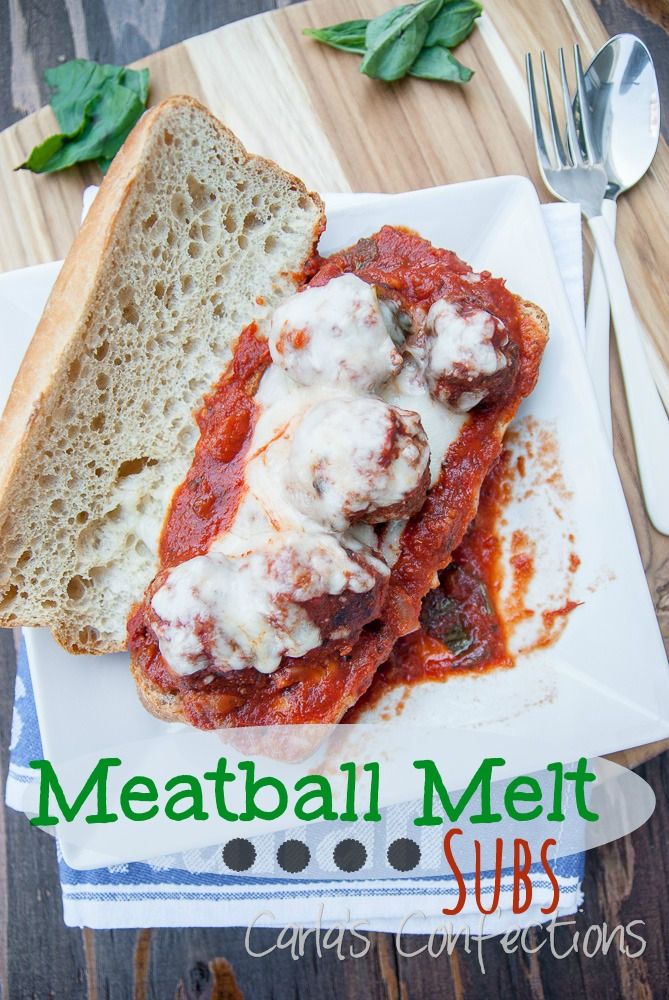 French Dip Sandwiches
Kale and Broccoli Quinoa