I have recently discovered that I have a thing for s'mores.
I am not sure what it is, but I absolutely love coming up with new ways to incorporate s'mores into desserts.
Maybe it has something to do with the fact that I don't have a fire to carry around with me so I can't toast marshmallows at any given time.
And possibly that s'mores might just be the best summer treat of all time.
I want s'more of s'mores. All.The.Time.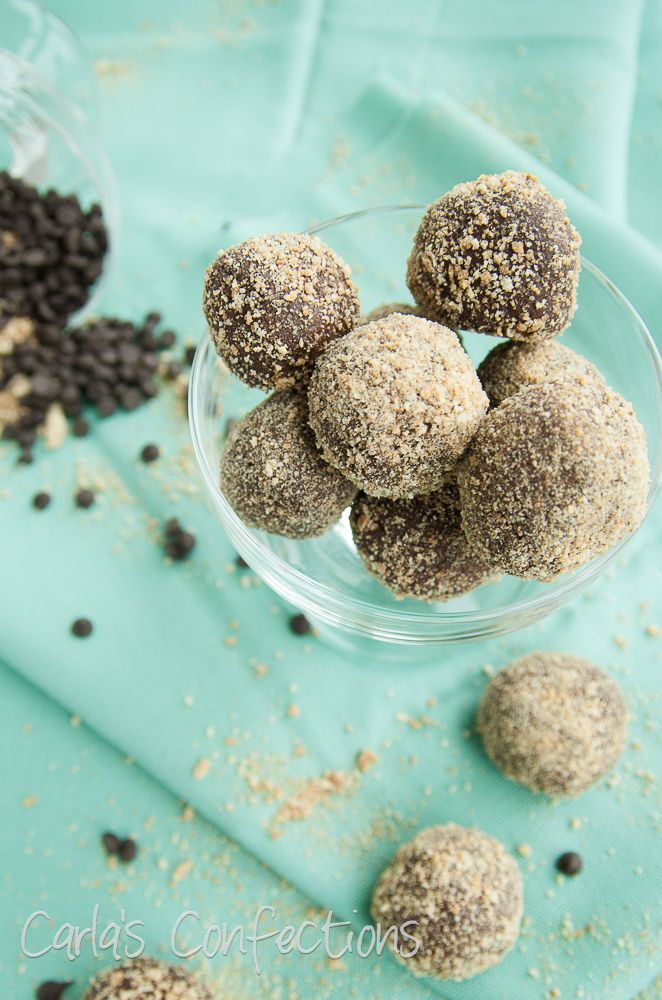 I was sitting around pondering life one day - as I normally do - and I started contemplating what the typical ingredients in a truffle are.
When I realized that softened cream cheese is usually one of the main ingredients, I decided that it must be easy just to replace that with marshmallows, melted of course.
Um... no.
It doesn't work that easily.
I melted marshmallows with butter, scooped it into the stand mixer, and started adding powdered sugar.
Yeah... turns out that when you add powdered sugar to melted marshmallows, it hardens up. Not so much truffle consistency.
Back to the drawing board.
I tried again, this time melting the marshmallows with extra butter, and stirring chocolate directly into the melting marshmallows. I thought for sure it would work this time, but at the last minute, I bailed on the whole experiment (for fear of another failed recipe), and instead turned that into another treat - more on that another time - and gave up for the time being on the whole truffle idea.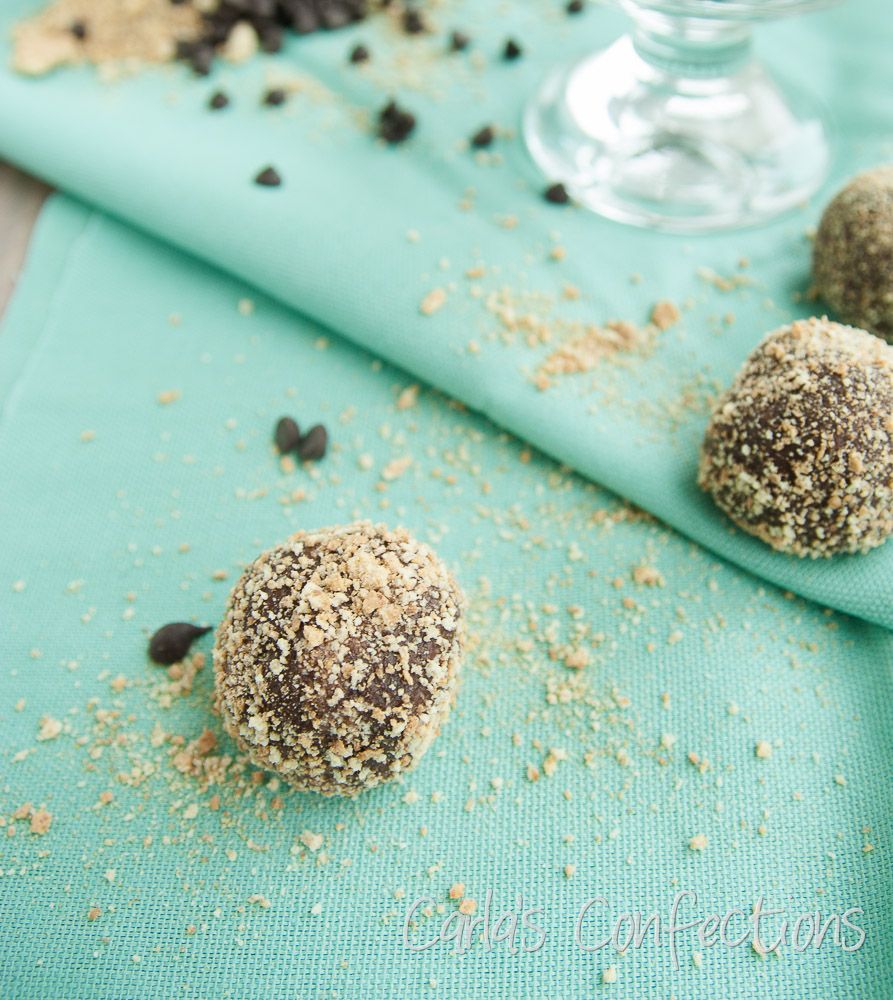 I was seriously determined though to come up with a way to use marshmallows in place of the cream cheese, when finally it occurred to me to use Marshmallow Cream!
Hello Carla!
The marshmallow gods came up with the stuff for a reason!!
For this moment alone.
And of course eating the beautiful white fluff by the spoonful, but we all only do that behind closed doors.
When the heavens opened up and handed me Marshmallow Cream, I knew the world was about to change.
And it did.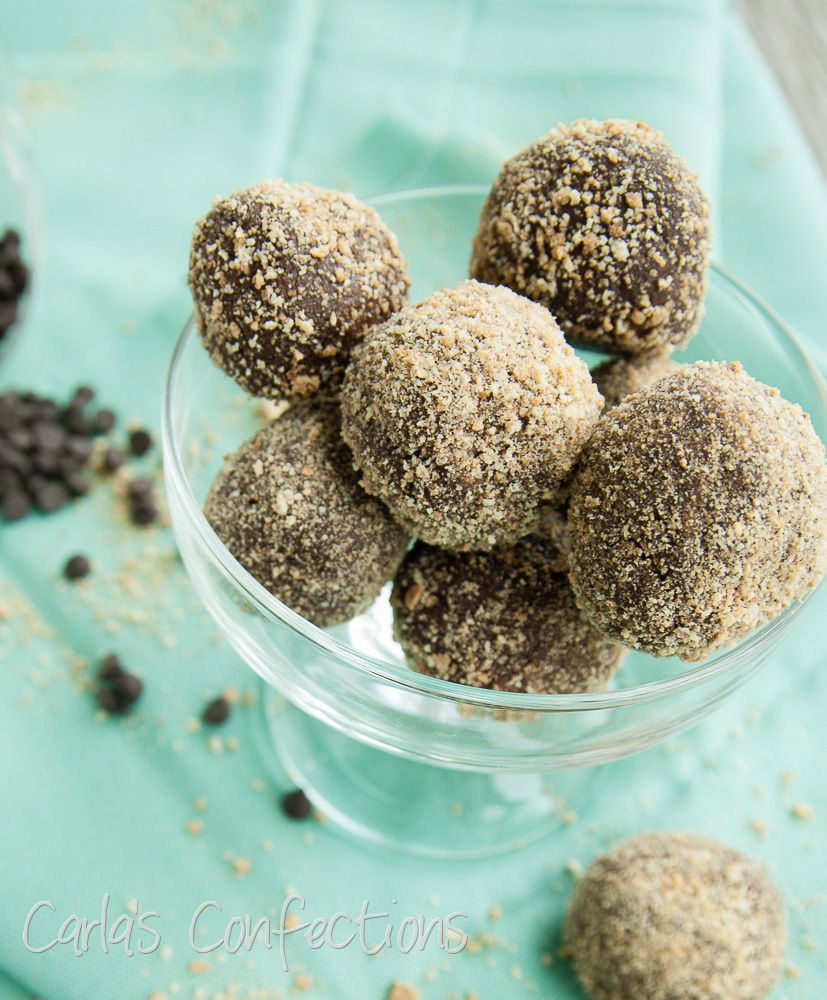 These are basically a fancy way of eating s'mores.
And since this weekend is Mother's Day, it's the perfect way to make everyone happy.
Mom's love fancy things. Truffles = fancy. Mom's love chocolate. Truffles = chocolate. Everyone loves s'mores. S'more truffles = s'mores.
I wish I was around my mom this weekend, so I could make her these.
I would give her a bouquet of s'more truffles if I could. They taste better than flowers after all.
I would become her favorite daughter if I made her these; although
I think
I already am her favorite daughter (at least I hope I am considering I am the only one she has...)
So since I can't make these for my mom, will you at least make them for yours so there is at least one mom who gets these from her child?
I love you Mama Wheeler, and you too Mama Walker!
I hope you both have an amazing Mother's Day and we wish we could be there with you to celebrate. And you can make these truffles and pretend I made them for you.
Ok?
Happy Mother's Day to every mom out there!
No Bake S'more Truffles
|
Printable Recipe
makes roughly 25 (1") circles
ingredients:
200g (7oz) jar Jet Puffed Marshmallow Cream
1 1/4 cup powdered sugar
350g (12oz) bag dark chocolate chips
dash of milk
5 graham crackers, ground in the food processor
directions:
Start by melting your chocolate. You can do this in the microwave in 30 second intervals, until chocolate is fully melted, or over a double boiler.
For double boiler method, place a medium sized pot with water filled half way over medium heat. Place chocolate chips in a glass bowl large enough to sit over the pot and not touch the water. As the water simmers, stir the chocolate chips until they are fully melted. Don't let any water get into the chocolate or it will make the chocolate seize. Also, be careful when taking the chocolate off the simmering water. Watch out for steam burns.
When the chocolate is fully melted, set aside briefly.
In the bowl of a stand mixer, combine marshmallow cream, a dash of milk and the powdered sugar. Beat on high until they are fully incorporated. Scrape down the side of the bowl as needed.
Add in the melted chocolate and beat well until fully mixed together. Scrape as needed.
When the consistency seems right (add more milk IF needed), start grabbing chunks of the mixture, press together in palms (squeeze a bit if it seems like it is falling apart) and form into a ball. Dip into the ground up graham crackers, and place on a baking tray lined with wax or parchment paper. Continue with this until they are all done, and place in the fridge for no more than 30 min to an hour.
Place in an airtight container, store at room temperature and enjoy within a week.
Carla's Confections original
Want more s'more desserts? Look no further!
Toasted S'more Cookie Bars
Rice Krispie S'more Burgers