A perfect summer breakfast of fluffy buttermilk donuts with a simple glaze and sweet grilled berries.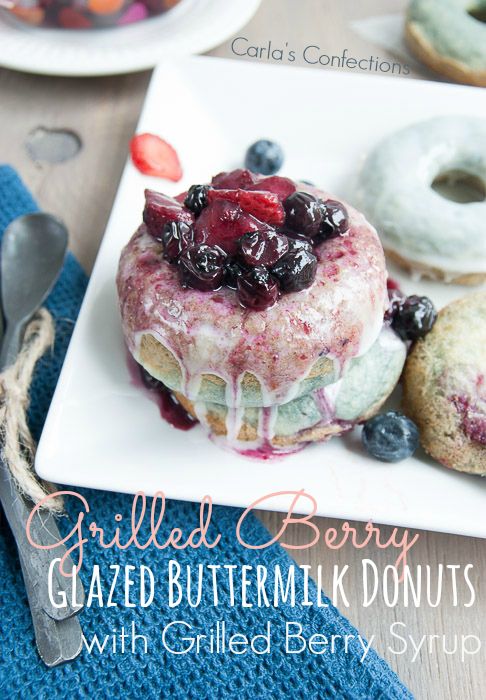 Welcome back to Donut Fridays!
Did you miss it as much as I did?
Just a really quick housekeeping note - Google reader is leaving us all in less than a week! Make sure you transfer your feed over to another site such as
Feedly.
They have a super simple one-click way to transfer your feed. Easy peasy!
You can also subscribe by email to get my new posts straight into your inbox and then you don't have to deal with transferring feeds at all! That is how I keep up with my favorite blogs!
Join me and start by subscribing to mine (click up in the pink bar at the top of the page).
Now let's get to these donuts shall we?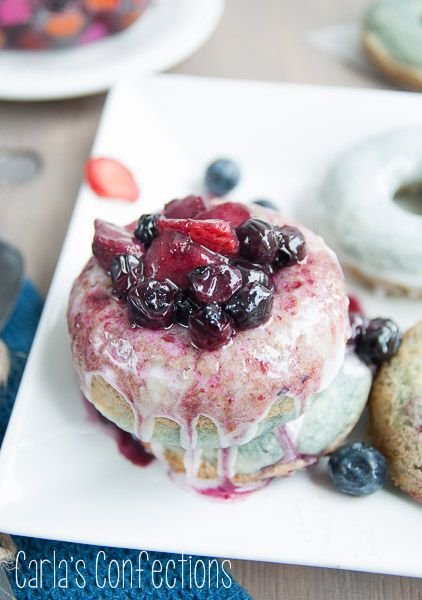 Oh my heavens you are going to want these donuts.
Like right now!
I think I have said this about every recipe in this series, but these truly are my new favorite donut!
It's like a melt-in-your-mouth explosion of pancakes with a deliciously sweet glaze and the fruit syrup just gets completely soaked up into the donut and HOLY COW it. is. heaven!
Not to mention it also just happens to be red white and blue.
So we've got all USA themed holidays covered too.
4th of July, Memorial Day, Flag Day, St. Patrick's Day...
Oh wait... That's not right.
It is THE perfect summer donut, and as always, I am going to argue the point of it being healthy for you.
Fruit = healthy. Always.
The end.
The batter literally takes minutes to mix together and (sing with me) NO MIXER NEEDED! Just a bowl and spoon.
Hallelujah!
The fruit syrup on top is also extremely easy, and takes less than 10 minutes, and then I made a totally optional (but not really) simple glaze with powdered sugar and milk (or you could use cream instead).
All I will say is this... you will need a fork for eating this baby.
And try to stop at one. I dare you.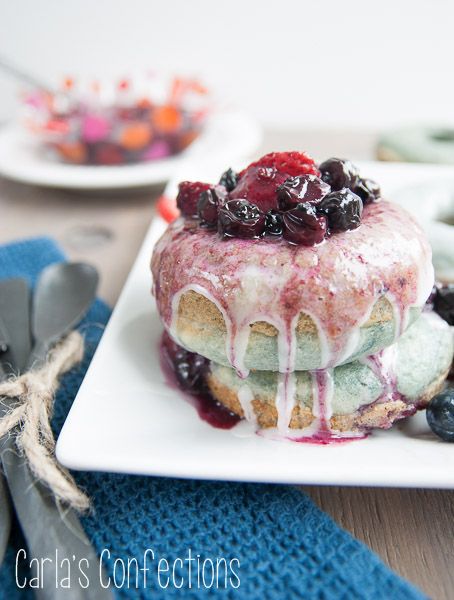 Grilled Berry Glazed Buttermilk Donuts
|
Printable Recipe
makes about 9-12 donuts
ingredients:
for the grilled berries
3 Tbsp butter
2 heaping cups cut up berries (I used strawberries and blueberries)
2 Tbsp brown sugar
for the donut batter
1 cup flour
1/4 tsp kosher salt
1/4 cup white sugar
1 Tbsp baking powder
1/2 cup buttermilk
1/3 cup grilled berry mix, with some juices
1 egg
1 tsp vanilla
for the simple glaze (optional)
3/4 cup powdered sugar
2-3 Tbsp milk or cream
directions:
Preheat oven to 350°F/180°C and grease a donut pan. Start out with the grilled berries, by melting butter in a saucepan over medium-high heat. Once butter is melted, add in the berries and sugar and give it a quick stir. Keep on heat about 5-10 minutes, until the berries are fragrant and starting to soften. Turn the heat to low and keep warm until you need it.
In a medium sized mixing bowl, all all the ingredients for the donut batter, in no particular order and stir together.
Pour into donut pan, filling roughly 1/2 -2/3 full. Bake in preheated oven 10-12 minutes, until starting to golden on the sides. Allow to cool slightly before turning out to a cooling rack.
To make the glaze, in a shallow bowl, combine the powdered sugar and enough milk or cream to get to the consistency you desire. Stir to combine and add more powdered sugar or milk to get your desired consistency.
Once donuts are cooled, dip in the glaze if you are doing the glaze, place on a plate and top with desired amount of grilled berry syrup.
NOTE: if you are not planning on eating right away, save the glaze and grilled berries until you are ready to eat. You can make the berries and store in fridge until ready and then warm up over low to medium heat right before consuming :)
© Carla's Confections 2013
More Donut Friday Posts Here (click on photos):