Deliciously rich chocolate cake donuts with chocolate ganache glaze and salted caramel sauce drizzled over the top!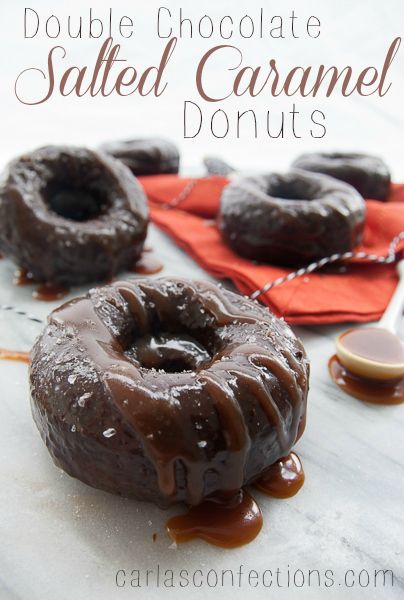 Happy 4th of July weekend!
I hope you are all enjoying the sunshine, beach and BBQin'!
I'm not, but it's all good. Don't go feelin' bad for me.
No really. I'll be fine.
But I will accept camping invites if you're handing them out!
Thanksssssssssss!
I almost didn't post a donut recipe today! I figured y'all would be too busy camping
without me
and watching fireworks
without me
to check out Donut Friday today.
Buuuuuuuuut today is also my mama's birthday! HAPPY BIRTHDAY MAMA!!!! (I'm sure she's
thrilled
I just announced that to everyone)
And she did request Chocolate Salted Caramel Donuts for her birthday, so here they are! I just wish I was with her to make them for her!
She didn't invite me out camping either. Otherwise I would have shared them with her.
I'm eating my sorrows away. One donut at a time.
And just so we're clear, I wont be taking anymore photos of myself once this series is over. I'll be weighing 300 extra pounds.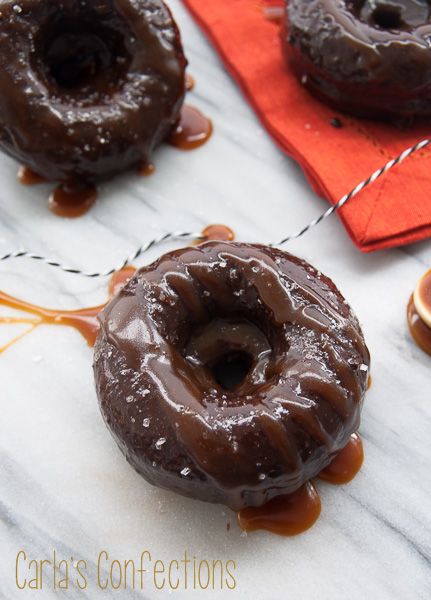 Luckily, donuts are worth it!
So here we have chocolate cake donuts with a sweet chocolate ganache topped with salted caramel sauce drizzled and sprinkled with sea salt.
I mean, have you ever heard such a rich tasting sentence?!
These donuts aren't for the faint of heart!
But if you're confident your heart wont be fainting today, then by golly get to making these right now!
Just be uber careful making the caramel, capeesh?
And don't be like me and be impatient with the caramel setting. Let it cool completely before you drizzle it on top. Otherwise the caramel will just seep into the donut.
Don't get me wrong. It'll still taste deeeeeeeelish; it just might not look as perty.
So once again, be better than me, don't burn your cute fingers on the caramel sauce, and eat the whole batch of these donuts so I can feel better about myself!
Happy Independence Weekend to my USA friends! See you all back here Tuesday! :D
Double Chocolate Salted Caramel Donuts
|
Printable Recipe
makes 9-11 donuts (with leftover ganache and salted caramel sauce)
ingredients:
for the salted caramel sauce:
2 cups white sugar
12 Tbsp butter, softened, and cut into small chunks
1 cup heavy whipping cream
1 Tbsp sea salt
for the ganache
1 cup heavy whipping cream
2/3 cup white sugar
6 oz dark chocolate chips (I suggest weighing it out)
for the donuts:
1 cup flour
1/4 cup cocoa powder
1/2 tsp baking soda
1/2 cup sugar
1/4 cup vegetable oil
1/4 cup milk (I used 1%)
6 Tbsp full fat sour cream
1 egg
1 tsp vanilla
Sea Salt (to garnish donuts)
directions:
Start with the salted caramel sauce. Put a 3 quart saucepan over medium high heat and immediately add the 2 cups sugar. Allow sugar to begin melting and start whisking. Whisk continuously until sugar is fully melted. Sugar will clump up but continue to whisk. Once sugar is fully melted, stop whisking. Sugar should be starting to brown already.
Keep a very close eye on the mixture (DO NOT LET BURN), and once it turns a dark amber in color, very carefully add in butter. DON'T let any hot sugar splash up and burn you! Whisk butter until it is completely melted and then remove sugar-butter mixture from heat. Slowly whisk in the 1 cup heavy whipping cream, until fully combined. Allow to cool completely. You may transfer to the fridge to cool faster, and any remaining can be stored in fridge, in an airtight container, for up to a month.
While the caramel sauce is cooling, make the donuts. Start by preheating oven to 375°F/190°C. In a large bowl, sift together flour, sugar, baking soda and cocoa powder.
In a medium sized measuring cup, combine oil, milk, sour cream, egg and vanilla. Whisk together, and then add wet ingredients to dry ingredients. Stir until just combined.
Spray a donut pan with non-stick spray and spoon donut mixture into pan, filling 2/3 full. Bake in preheated oven 9-11 minutes, until donuts spring back when touched.
Remove from oven, allow to cool slightly in pan, then turn out to cooling rack to cool completely.
While donuts are cooling, make the ganache. Start with a small saucepan and add the remaining 1 cup heavy whipping cream and 2/3 cup sugar. Stir just to combine, and put over medium-high heat. Bring mixture to a simmer, and stir to allow sugar to melt completely.
Place chocolate in a large heat proof bowl, and pour cream mixture over chocolate. Let sit for just a minute, then stir to melt chocolate completely. Allow to cool completely, stirring occasionally.
Once all three things are completely cooled and caramel sauce is slightly hardened, dip donuts into the ganache, place top up on a cooling rack, allow to harden slightly, and drizzle over salted caramel sauce and garnish with sea salt.
Store in an airtight container in the fridge and consume donuts within a few days.
Store remaining caramel sauce and ganache in fridge in airtight containers and use within a month however you desire.
NOTE: Feel free to cut the ganache and caramel sauce in half to have less or none leftover.
Salted Caramel Sauce source:
Two Peas and Their Pod
Ganache Source:
In Jennie's Kitchen
Donut Recipe slightly adapted from
Buns In My Oven
© Carla's Confections 2013
More Donut Friday Recipes HERE: (Click on photos)