A theme park favorite treat of homemade sugary fried churros served with salted caramel sauce and melty chocolate ganache.
You know the smell.
That one that draws you in. Makes you salivate at the mouth. Throw a temper tantrum until you have it in hand.
The smell of churros.
Walking around in a theme park, the smell tickles your nose, and you cant stop thinking about them until the taste touches your tongue.
That's the one I'm talking about.
One summer night, back when we were living in New Zealand, we were at a beer festival, when that same sensation came over me. And all but consumed me.
We went for the beer. Nothing else. Didnt intend on spending any money on food, although not that we were smart enough to eat prior to drinking liters upon liters of delicious brewed beer.
So there we are, a few liters (litres as they would spell it) of beer downed already, when the smell overcomes me. I am utterly consumed by it and I tell Matt we have to find the source.
And buy the entire truck full.
Only half kidding.
We walked up every single isle of the festival (twice), tripping and laughing at our drunk selves, in search of this churros-sellin'-food-truck.
Nada.
We did, however, find - and buy - more beer.
And searched and searched for the churros truck.
Literally spent no less than 20 minutes looking, when we finally gave up the search.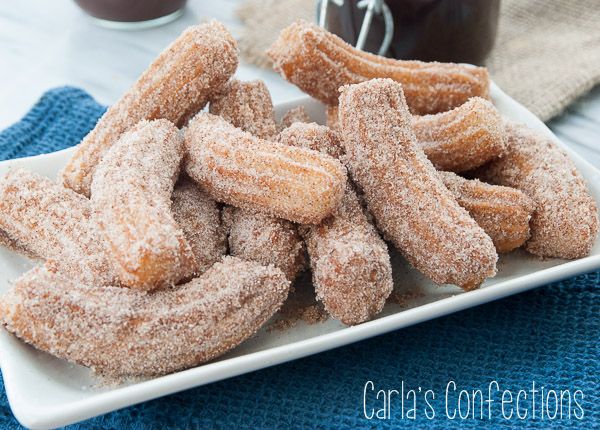 But once that smell enters your nose, as I am sure you know, there is no going back.
So, although I stopped the search for the food truck, I did not stop my churros obsession.
My drunk self decided to make them at home.
My hubs tried to protest, due to said drunkness, but a girl gets what a girl wants.
The girl wanted churros.
The girl got churros.
Homemade. Fried to perfection. Rolled in cinnamon and sugar. Inhaled by two drunkos. Satisfied.
#don'ttrythisathome.
And ps, I swear we don't drink as often as my blog posts make it sound like.
I should stop blogging about these events.
Anywhoooo, I knew that I couldn't let this Donut Friday series go by without including this delectable treat.
Despite the challenge of not having a fryer at home, these churros were completely 100% worth it.
And much better tasting, might I add, than my drunk New Zealand attempt.
Not that I minded. Anything fried tastes good when you're drunk.
I served them with Salted Caramel Sauce and slightly heated Chocolate Ganache. Oh my heavens.
I wish I could eat these everyday.
Churros should be considered healthy. Because I said so.
The end.
Oh, and go make these! Just don't drink before hand.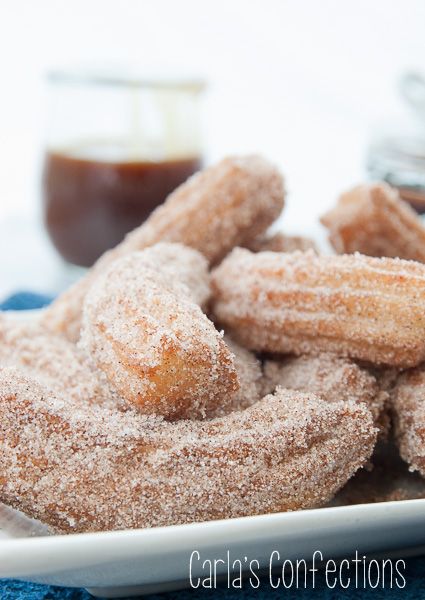 Churros with Salted Caramel Sauce and Chocolate Ganache
|
Printable Recipe
makes roughly 12-15 (3 inch) churros
ingredients:
for the churros
3 cups vegetable oil, for frying
1 cup water
2 Tbsp vegetable oil
2 Tbsp sugar
1/2 tsp kosher salt
1 cup flour
for the cinnamon sugar
1/2 cup sugar
1 1/2 tsp ground cinnamon
for the salted caramel sauce
1 cups white sugar
6 Tbsp butter, softened, and cut into small chunks
1/2 cup heavy whipping cream
1/2 Tbsp sea salt
for the ganache
1/2 cup heavy whipping cream
1/3 cup white sugar
3 oz dark chocolate chips (I suggest weighing it out)
directions:
Start with the salted caramel sauce and ganache. Put a 3 quart saucepan over medium high heat and immediately add the 2 cups sugar. Allow sugar to begin melting and start whisking. Whisk continuously until sugar is fully melted. Sugar will clump up but continue to whisk. Once sugar is fully melted, stop whisking. Sugar should be starting to brown already.
Keep a very close eye on the mixture (DO NOT LET BURN), and once it turns a dark amber in color, very carefully add in butter. DON'T let any hot sugar splash up and burn you! Whisk butter until it is completely melted and then remove sugar-butter mixture from heat. Slowly whisk in the 1 cup heavy whipping cream, until fully combined. Allow to cool completely. You may transfer to the fridge to cool faster, and any remaining can be stored in fridge, in an airtight container, for up to a month.
For the ganache, start with a small saucepan and add the remaining 1 cup heavy whipping cream and 2/3 cup sugar. Stir just to combine, and put over medium-high heat. Bring mixture to a simmer, and stir to allow sugar to melt completely.
Place chocolate in a large heat proof bowl, and pour cream mixture over chocolate. Let sit for just a minute, then stir to melt chocolate completely. Allow to cool completely, stirring occasionally.
Allow both sauces to cool while you make the churros.
To make the churros, get ready two medium saucepans. Pour the 3 cups vegetable oil into one of the saucepans, at least 2 inches thick of oil (pour more if needed). Place in a candy thermometer and set aside. (You could also use a fryer to make things easier). In the other saucepan, heat the water, remaining 2 Tbsp oil, 2 Tbsp sugar and kosher salt. Stir together and place over medium-high heat and bring to a boil. Once it reaches boiling, remove from heat and stir in the flour. Once the dough comes together, allow to cool before transferring to a sturdy piping bag fitted with a large nozzle.
Bring the 3 cups oil with thermometer to 350°F/180°C over medium-high heat. Keep watch over the temp to make sure heat doesnt get too high or too low. Once it reaches temp, pipe in 3 inch long churro sticks into the oil, being very careful not to burn yourself. It helps to have a second pair of hands in the kitchen. Using scissors, cut churros to desired length and let drop into oil. HOLD CLOSE TO OIL so there isnt a big splash. But also far enough away so you dont get burned if it does splash.
Allow to fry for 3-4 minutes, until golden brown.
Remove and allow to drain excess oil onto a plate with paper towel.
Repeat with remaining dough, being careful not to burn yourself or the churros.
While churros are cooling, mix cinnamon and sugar in a shallow dish, and cover churros with mixture.
Enjoy warm, served with either salted caramel sauce or chocolate ganache, or by themselves.
NOTES:
churros are not as good the next day. Consume within a few hours
Deep frying takes a lot of attention. Be careful not to burn yourself.
Salted Caramel also takes a lot of attention. Be careful
Feel free to make sauces a few days (even up to a week) before churros and re-warm in the microwave to enjoy with churros.
Having extra hands in the kitchen helps with making the churros (and both sauces.) Use all the hands you can get, but BE CAREFUL.
© Carla's Confections 2013
Salted Caramel Sauce source:
Two Peas and Their Pod
Ganache Source:
In Jennie's Kitchen
Churros adapted from
Just a Taste
MORE Donut Friday Posts Here: (Click on Photos to get recipes)