A super healthy on-the-go snack for your kids (or you too!) of homemade dried fruit and mixed nut trail mix!
Today, some lovely blogging ladies and I have a special treat for you!
Partnership for a Healthier America
,
All Clad
and a group of bloggers have gotten together to raise awareness of childhood obesity and to bring you some healthy Back to School breakfasts, snacks, lunches and dinners to keep those kiddos of yours healthy and ready for school!
Aaaaaaaaaand we are giving away some special treats for you! See at the bottom what that is!
Childhood obesity is a growing problem across America and has doubled in the past 30 years in children and more than tripled in adolescents in the last 30 years. 1 in 3 children are considered either overweight or obese. Let's change these statistics!
When I was growing up, we didnt have video games. If we wanted to play, we went outside and rode our bikes, ran around the yard or kicked a soccer ball around.
And when it came to eating, we ate what my mom put on the table or we didnt eat at all. She packed our lunches everyday, and every once in a while, we would get the treat of "hot lunch". My parents made us eat healthy and stay active. And we did just that. I am so thankful for that today, and I want to pass those same values onto my children.
One of those values will be eating healthy and having healthy snacks to eat throughout the day. Despite the fact that I am a desserts-mostly food blog, I make sure that my husband and I stay healthy and limit the amount of sweets in our diet to a minimum. I will be doing the same with our children one day.
I dont know about you, but I also like to snack. And when I was a kid, I would get home from school around 3:00pm and the first thing I would do is go straight to the pantry and dig for something to snack on.
Mind you, I walked home from school, so I earned that snack in my book ;)
I want to make sure when my kids get home from school and look for those snacks, all they will find is healthy snacks to munch on. Sweets as treats every now and then, but certainly not everyday.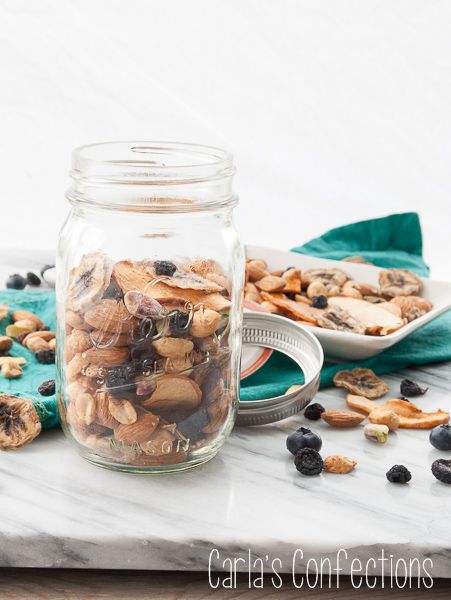 One of my favorite things to snack on, even to this day, is trail mix. I decided to make a homemade version using only the healthiest trail mix ingredients.
I dried the fruit out myself in the oven, low and slow. You could really do any fruit you would like, but I chose to do apples, peaches, bananas and blueberries instead of raisins. Then I just added peanuts (I used unsalted roasted peanuts, but you can choose whatever ones you would like), raw almonds and pistachios (save yourself the man power, and get them with the shells already off).
This would be perfect to stick in your children's "cold lunch" for a great on-the-go snack, or for when they get home from school with those afternoon munchies!!
So join me, the other lovely bloggers, Partnership for a Healthier America and All Clad with raising awareness, starting with you and your kiddos!
Here is what the other gals are cooking up for you today:
And here are some other healthy snacks from Carla's Confections:
To get to the giveaway, scroll past recipe :)
Dried Fruit and Nut Healthy Trail Mix
|
Printable Recipe
makes roughly 5 cups trail mix
ingredients:
1 apple
1 peach
1 banana
2-3 cups blueberries, to preference (try to choose smallest blueberries)
1 1/2 cup peanuts, unsalted if possible
1 1/2 cups raw almonds
3/4 cup pistachios, shells removed (you can buy this way)
directions:
Preheat oven to 170°F/76°C and line 3-4 large baking sheets with parchment paper.
Thinly slice fruit into no larger slices than 1/8" thick. Leave blueberries unsliced.
Lay out sliced fruit and blueberries on trays, leaving room around fruit slices to circulate air.
Place in preheated oven 3-4 hours, until fully dried (between chewy and crunchy stage). Some fruit may take longer, depending on the size of the slice. The thinner the better. Turn fruit over every hour to make sure entire slice is drying out.
You may have to do the fruit in batches and some fruit may take longer. Check on fruit often
Once all fruit is dried and cooled, add all fruit into a large ziplock bag, followed by almonds, peanuts and pistachios.
Seal bag, shake and store in refrigerator to keep fresh. Will last at least a week in fridge.
NOTES: Feel free to use any fruit you desire, but some fruit may take longer to dry out. Choose smallest blueberries possible. You can add any nuts you choose, and any other healthy ingredients you prefer.
© Carla's Confections 2013
Giveaway Details:
CLOSED
You have the chance to win EITHER the Grand Prize of an All Clad 7-piece cooking set OR an 11" All Clad cooking pan!
To enter, use the Rafflecopter giveaway widget below, and in order to be eligable, you MUST leave a comment on this blog post. This will enter you to win either the grand prize OR the 11" All Clad pan.
The giveaway is open from NOW until Monday, August 24th at 12:00pm NOON EST. Winner for both the grand prize and the 11" pan will be drawn after that, contacted and will have 48hours to respond before another winner is chosen.
IMPORTANT: You MUST leave a comment on this blog post answering the question provided in the Rafflecopter widget to be entered in for both prizes. Grand Prize winner will be chosen via Rafflecopter widget and random.org, and 11" pan will be chosen via Random.org based on comments on THIS blog post.
a Rafflecopter giveaway
Disclosure: This giveaway is sponsored by Partnership for a Healthier America and All Clad. I did not receive any compensation for this post.