Delectable chocolate donuts mixed with the classic S'more Ingredients to make S'more Donuts! It is now acceptable to eat S'mores for breakfast!
One week from today we will be back in our hometown. Back in our home country **crosses fingers** for good.
Annnnnd we still don't know what the next step of our journey is.
Such is life when you are married to an animator.
For now, we are done with Canada (not by choice, mind you), but we aren't complaining about getting to go home for a while to spend time with family.
So bring on the 14 hour drive with a moving truck and car in tow!
Or car with moving truck in tow. #justkidding #wearedrivingthemboth
I hope you don't mind hashtags. #apparentlyilovethem
We have also realized we should be professional movers. We are, like, really good at it man.
This will be our third move in less than a year afterall. And I can only imagine there is more to come.
So, to celebrate our last Friday in Vancouver (I really am going to miss this place!!), the ending of summer, and the second to last Donut Friday, I figured why not (second to last) end it with a bang??
Because, I mean, just look at these!
I know its a little hard to tell, because, you know, there's
PILES
of goodness on top of more goodness, but there are mini mallow bits on the inside, marshmallow frosting on top, and then of course, loaded with graham chunks and chocolate drizzle.
The hubs came up with the genius idea to stick the donut on top of another graham square, just for styling sakes, but then we ate one, and left the graham underneath, and for a moment we thought we were eating a real s'more. #notreally
It is pretty s'more-esk though if you think about it.
Let's sit and think about this one.
Graham on bottom - chocolate - mallow - more graham (then drizzle of chocolate because we can right?!)
Therefore, we have TRUE s'mores in donut form here.
You're welcome. Happy Donut Friday. Over and out!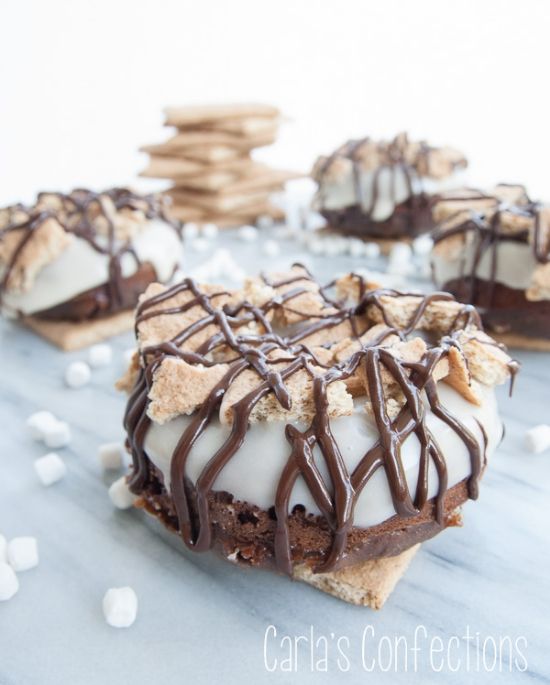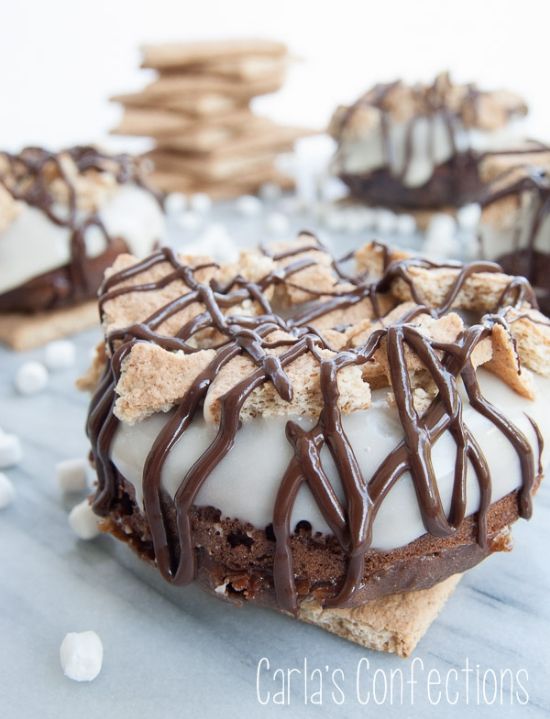 S'mores Donuts
|
Printable Recipe
makes 5 donuts
ingredients:
for the donuts:
1/2 cup flour
1/4 cup sugar
1/8 cup (2 Tbsp) cocoa powder
1/4 tsp baking soda
1/2 tsp vanilla
1 egg
3 Tbsp plain Greek yogurt
1 1/2 Tbsp milk
2 Tbsp vegetable oil
heaping 1/3 cup marshmallow bits (optional)
for the marshmallow frosting:
2 cups powdered sugar
1 tsp vanilla
1/8 tsp kosher salt
3 Tbsp unsalted butter
1/4 cup water
2 cups mini marshmallows
to assemble:
3 graham crackers, crushed, plus more (whole) to place donuts on top if desired
1/4 cup melted chocolate, for drizzling
directions:
Preheat oven to 375°F/190°C and spray a donut pan with non-stick spray (you only need to spray five donut holes).
In a small to medium sized bowl, whisk together flour, cocoa powder, sugar and baking soda. Set aside.
In a small bowl, whisk together the egg, vanilla, Greek yogurt, milk and vegetable oil. Pour wet ingredients into dry ingredients and stir together with a spatula until just combined. Stir in the marshmallow bits, if using.
Spoon into donut pan, filling all the way (you can use less dough and get more donuts if desired).
Bake in preheated oven for 9-11 minutes, until the donut springs back when you touch it.
Remove from oven and let cool completely.
While donuts are cooling, make the marshmallow frosting. Melt butter with water in a small saucepan over medium-high heat. Stir occasionally. Add in marshmallows and stir frequently, until mallows are fully melted, roughly 2-3 minutes.
Whisk together sugar, vanilla and salt in a medium sized bowl. Pour the melted marshmallow mixture into the sugar mixture and whisk well to smooth.
Dip donuts into frosting, and then garnish with broken up graham pieces and drizzle with melted chocolate. If desired, place over a graham cracker square to serve.
Enjoy within a few days, keeping stored in an airtight container (fridge would be best).
Chocolate Donut Recipe adapted from
Buns in My Oven
; Marshmallow frosting slightly adapted from Saveur Magazing, DONUTS edition 154
S'mores Donuts Recipe © Carla's Confections 2013