Hey my friends! Remember me? I dont blame you if you are starting to forget. I think my life couldnt get any crazier right now. That's probably not true, but it feels pretty dang hectic right now, so while I am in the middle of hopping around the country, looking for places to live and allowing my hubby to start a new job (more on that soon), I thought I would ask my friend Jessica to post for me today.

I got to meet Jessica back in May at Food Blog Forum 2013, and it was obvious we were going to be fast friends! She is literally the sweetest person you will ever meet, and I cant get enough of her delectable treats (yeah I know I can rhyme!). I am seriously drooling over these babies she is sharing with you today. Now I wish we lived closer!

Ok, on to Jessica!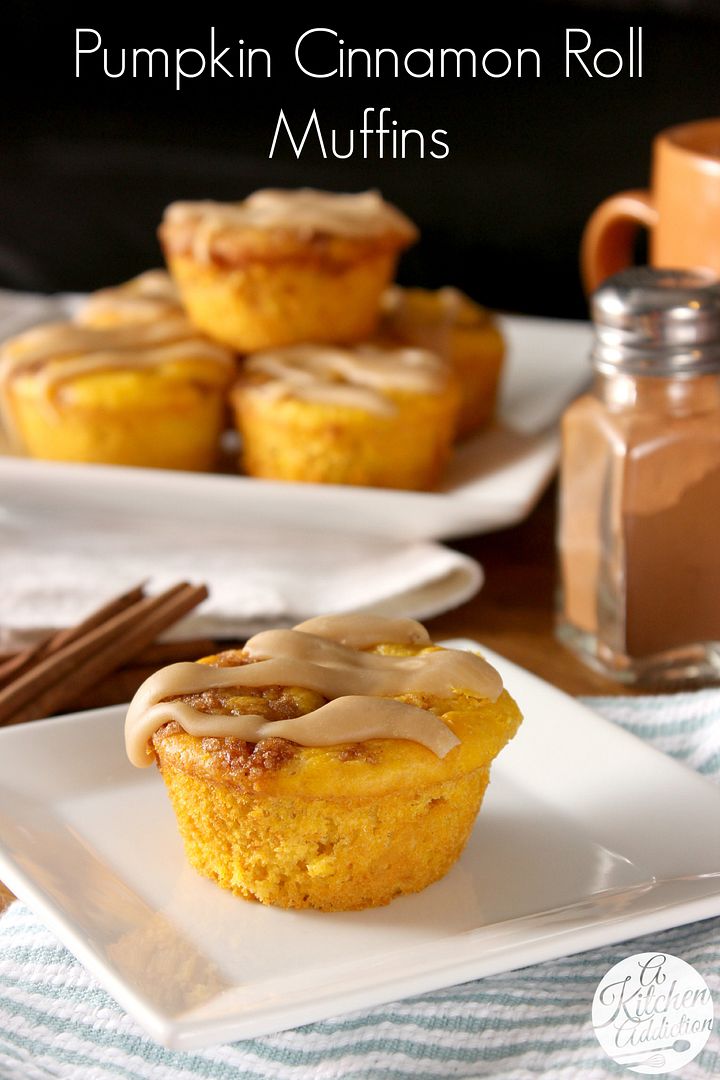 Hi! I'm Jessica, and I blog over at
A Kitchen Addiction
. I'm so excited to be here helping Carla out during this busy time for her. (Did you see the
wedding cake
that she just finished?! It's amazing!) Since she doesn't have to time to make amazing wedding cakes, pack, move, look for housing, etc. and still keep up with her regular blog posts (I have no idea why?! ;) ), I'm happy to be able to help her out in this little way!
If you read my blog at all, you know that fall baking is already in full swing. I love pumpkin and actually bake with it year round, but I figure most people don't want to hear about it! So, as soon as it gets close to fall, my kitchen is in pumpkin over drive! I figured I would welcome fall to Carla's blog by sharing these Pumpkin Cinnamon Roll Muffins with you.
I don't know about you, but sometimes when I want cinnamon rolls, I don't want to go through all of the work of making them. These cinnamon roll muffins solve that problem! You don't have to go through the work of kneading, rolling, or cutting. You don't even have to wait for a long rise.
Simply mix the batter, divide it between the muffin cups and let it rise for 15 minutes. Swirl in the filling and wait another 5 minutes. Perfect for impatient people like myself!
Even with the shortcuts, you don't miss out on the cinnamon roll flavor. The muffin still has the yeasty flavor of a dough that has risen for a long time, and the center is perfectly gooey with lots of cinnamon and pumpkin spices. With the sweet caramel glaze to top them off, these pumpkin cinnamon roll muffins make the perfect pairing to your coffee or tea on a cool fall morning!
Pumpkin Cinnamon Roll Muffins
Yield: 12 muffins
Ingredients
For the Muffins
• 1½ c all-purpose flour
• ⅓ c sugar
• ¼ tsp salt
• 4 tsp instant dry yeast
• 1 egg, lightly beaten
• 3 tbsp olive oil
• ½ tsp vanilla extract
• ⅔ c non-fat milk, (about 110 F)
• ¼ c pumpkin puree
For the Filling
• 2 tbsp butter, room temperature
• ½ c brown sugar
• ¾ tsp cinnamon
• ¼ tsp nutmeg
• ¼ tsp ginger
For the Glaze
• 2 tbsp butter
• ¼ c brown sugar
• ¼ tsp vanilla extract
• 1 tbsp milk
• 1/3 c confectioner's sugar
Directions
1. In a large bowl or the bowl of a stand mixer, combine flour, sugar, salt, and yeast. Add in egg, olive oil, vanilla extract, and milk. Stir or beat until well-combined. Mix in pumpkin and stir/beat until smooth. Batter will have somewhat of a runny consistency.
2. Spray a 12 cup muffin tin with non-stick cooking spray. Evenly divide batter between cups. Allow batter to rest/rise for 15 minutes.
3. While batter is rising, stir together ingredients for filling until mixture is crumbly. Evenly divide filling between the 12 cups. Using a toothpick, swirl the filling into the batter. Allow to rise for another 5 minutes.
4. Preheat oven to 350. Bake for 20 minutes or until edges just start to turn golden brown. Remove to a wire rack and allow to cool for at least 10 minutes.
5. While muffins are cooling, prepare glaze. In a small sauce pan, bring butter and brown sugar to a boil over medium heat. Allow to boil for one minute, stirring constantly to prevent scorching. Remove from heat and stir in vanilla extract, milk, and confectioner's sugar until smooth.
6. Drizzle glaze over the top of warm muffins. Allow glaze to harden and serve.
7. Best eaten warm. Store leftovers in a loosely covered container. Reheat for 15-20 seconds in the microwave.
The muffin base is adapted from Joy the Baker.
© A Kitchen Addiction 2013
Do you think it would be weird to eat the entire batch of these muffins?! Because I really want to! Make sure you follow Jessica on Twitter, Facebook and Pinterest as well as her blog. She is basically amazing. And thank you Jessica so much for keeping me slightly sane during this move! ;)