Creamy mashed red potatoes mixed with sour cream, garlic and deliciously healthy spinach. The perfect mashed potato recipe for Thanksgiving this year!
Can you even believe it is already almost Thanksgiving?! The rest of this month is just going to fly by, I can already tell! I am hosting Thanksgiving with my sister-in-law this year, and I couldn't be more excited!
Good thing we are doing this potluck right now, so I can get tons of ideas of stuff to make!
A few of us bloggers decided to team up and bring you some great ideas of what to make for the big holiday this year in a Thanksgiving Potluck style! A huge thanks to Erin of Dinners, Dishes and Desserts for putting this all together, and to
Feeding America
,
Anolon
and
Wusthof
. But Ill talk about the last three in a minute. But a hint for you - read on to the end and there might just be a bit of a treat for you :)
These are my *hands down* favorite mashed potatoes to make! I first made them when we were living in New Zealand and we were celebrating Easter with some Aussie friends of ours. I always have to do a double take when thinking about making them for Easter. These mashed potatoes make me think of cold weather and Easter so does not make you think of cold weather; but alas! It was cold on Easter in New Zealand, and our meal may as well have been a Thanksgiving dinner. It was that cold!

Anyway, our Aussie friends brought us a similar recipe, and I just knew it was going to be a keeper. I hadn't made it since then, and I now know why. It won't last more than an hour in the house after it is made! It is just absolutely THAT good!

You are getting all sorts of good stuff for you with that spinach, and the sour cream just makes it perfectly fluffy and creamy. It doesn't get any better than this!
This time of year, I really like to reflect all the things that I am thankful for (something we should do all year long, but now is a better time than none). I know that life isn't always perfect for us and this year seems to be one of the hardest yet with my husband being out of a job, being homeless (although not really, since we have amazing families with open arms), trying without success to have children, and the list could really go on! But ultimately I know how blessed we are. We do have families with open arms, allowing us to stay with them while we figure our lives out, we have really good insurance for the next couple weeks, despite the lack of a job, amazing doctors helping us with our health, a God who loves us, and we have food to eat for our next meal and the means to make an amazing Thanksgiving dinner.
So many families don't have these means, and they might not even know where their next meal will come from.
Feeding America
is an organization out there trying to fight the hunger epidemic in America. It is a bigger problem than we even know, and it is through charities like Feeding America that those families might actually get to have a nice meal tonight, and hopefully for Thanksgiving. If you would like more information, or to donate to Feeding America, you can check them out
here
.
Join me today along with some amazing food blogging ladies as we share in this Thanksgiving Feast, and continue on to the bottom to get in on some great prizes! Hop on over to the other blogs, let them know I sent you, and let's all drool over some delicious treats! Maybe we will even get ideas for what to make next week! :)
Spinach Mashed Potatoes
|
Printable Recipe
serves 6-8
ingredients:
-6 medium red potatoes, washed well and cut into smaller chunks
-2 Tbsp butter
-1/2 Tbsp corn starch
-2 medium sized cloves garlic, peeled and chopped
-16 ounce package frozen spinach, thawed and drained well
-1/2 cup sour cream
-1/4 cup whole milk (or cream)
-salt and pepper, to taste
directions:
1. Bring potatoes to a boil in a large saucepan with enough water to cover the potatoes over medium high heat. Boil until potatoes are fork tender, about 5-10 minutes, depending on size of potato chunks. (You do not need to peel potatoes before cutting and boiling)
2. Once potatoes are softened, drain and place in a stand mixer with paddle attachment. Beat lightly for a minute, until mashed well. Do not over mix. This will make the potatoes gummy. NOTE: you can also mash with a potato masher.
3. While you are mashing potatoes in the stand mixer, in a separate pot (or the same pot if you removed the potatoes), melt butter over medium heat. Once melted, add garlic and corn starch and stir until garlic is slightly browned. Add in the thawed and well drained spinach into the pot and stir slightly. Add in the mashed potatoes and stir well.
4. Finish off by adding in all the sour cream, milk and salt and pepper. Stir well. Add any additional milk if desired.
5. Serve warm.
NOTE: You can also make this ahead of time and rewarm when ready to serve over the stove or in an oven proof dish in the oven.
© Carla's Confections 2013
GIVEAWAY DETAILS: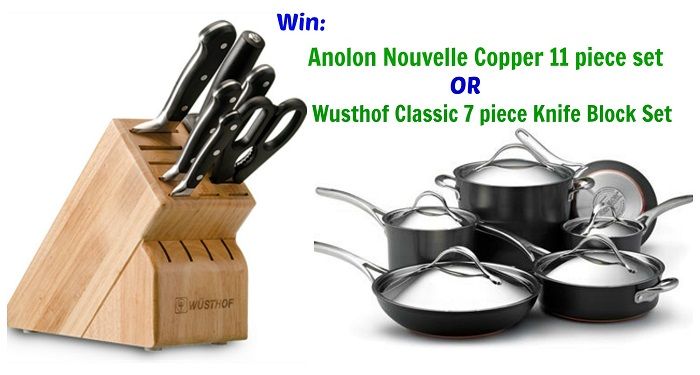 -Anolon and Wustfof are each giving away some awesome prizes! Anolon is generously giving away a Nouvelle Copper 11-Piece Set with retail value of $400 for one winner!

-And Wustof is giving away a Wüsthof knives Classic 7-Piece Block Set with retail value of $300 for a second winner!

-That is TWO winners, ONE giveaway! How awesome is that! Thank you to both of those sponsors!

-Enter using the Promosimple widget below. Answer the question as prompted in the widget as a blog post comment, then you will be prompted to complete additional entry options.

-Giveaway runs until November 25th until midnight(12:00am) EST, USA only.

-Winners will be chosen and notified by email from Erin of Dinners, Dishes and Desserts.
This giveaway is Sponsored by Anolon and Wusthof. I did not receive any compensation for this post.