This twist on the classic Caramel Corn recipe will have your whole family going crazy. Chocolate Toffee Caramel Corn needs to go along with you next time you go to the movies, or better yet, on a picnic once the Polar Vortex is over. And if you like picnics, stay tuned to the end of the post for a really amazing giveaway!
Raise your hand if you are ready for warm weather.

You can't see it, but my hand is high high high in the air, waving madly, wishing hopefully that this act alone will somehow will summer (or even spring) into existence!

And I am on the west coast. I cant even imagine how those of you in the mid-west and the east are feeling.

Doesnt it feel like (unless you live in California of course), that winter is the longest season of all? I do like winter. I really do. But when it last practically half the year, I start to get a little tired of it, to say the least.

I am ready for warm weather and that is all there is to it.
Something else that I am ready for is to see the end of childhood hunger in America (and all over the world for that matter).
I know it seems like we talk about it all the time, but it is truly a huge problem and it breaks my heart to think of how many children go without eating everyday. Even if it doesnt appear from the outside that a child is going hungry, there might be some small signs to look out for. Look at these stats that are coming from
No Kid Hungry
:
-Nearly 1 in 5 children are going hungry everyday, and they might not look any different from other children. We may be missing the signs of hunger in a child.
-Hungry children are more likely to experience severe short and long-term health problems than children who receive proper nutrition.
-Hungry children are less likely to do well in school, get the proper education, and is less likely to be able to feed their own families when they grow up. It has much larger an effect than just the here and now.
But there are solutions to the problem at hand.
Fleischmann's Yeast and Karo Syrup reached out to me and some other bloggers to help spread awareness of the growing problem at hand. They asked us to help by #BakingADifference and creating our own fun twist on
Karo's Classic Caramel Corn Recipe
and sharing it, along with spreading awareness about Childhood Hunger in America and how we can make a difference at home.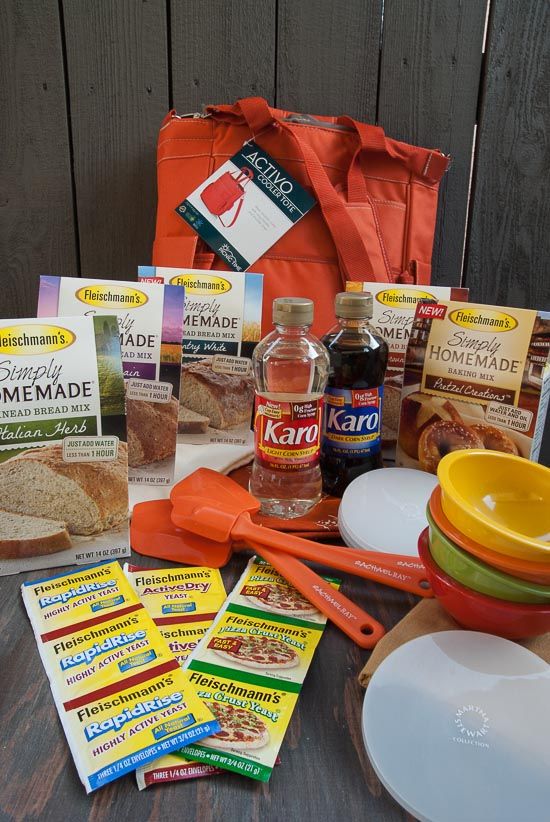 Fleischmann's and Karo Syrup were also kind enough to send me a prize pack consisting of amazing Fleischmann yeast products, Karo Syrup, cute little mixing bowls (with lids that make it perfect to take along somewhere. Did someone say picnic???), Rachael Ray spatulas (you can never have too many of those), and a travel cooler tote to take a picnic along to the park. Pretty amazing pack if you ask me. I think my favorite part of the prize pack is the Fleischmann's Simply Homemade No Knead Bread Mix. They sent 5 different flavors, all of them no knead, and all of them ready in under an hour! We made the Italian Herb flavor the other night, and goodness is it yummy! And so easy to make! I'm telling you, if you are nervous about making bread, you no longer need to be. Fleischmann's takes all the guess work out, and leaves all the fear behind. You'll love it!

And there is great news for you! Fleischmann's and Karo sent me TWO of everything! One to keep for myself and ONE to share with you!! Check out the end of the post to enter the giveaway for the above prize pack! Get excited peeps!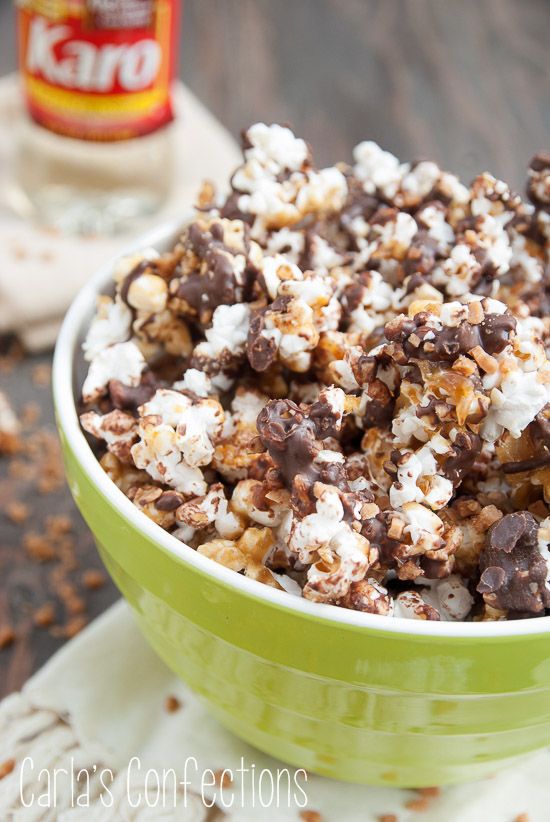 But before we get to the giveaway, let's talk about this amazing Chocolate Toffee Caramel Corn. I mean, you really can't go wrong with the Classic Caramel Corn at any time. Truly, who doesnt love that sweet and salty combo?!

But why not jazz it up a bit with chocolate and toffee???

Who ever complained about adding chocolate to popcorn?! Thank you, that's what I thought.

And then toffee on top of that?

I mean.

When Karo Syrup asked me to create a twist on their Classic Caramel Corn Recipe, I immediately knew it had to have chocolate in it. That was really just a given. But I had no idea that the idea I would come up with would be such a big hit in my family, that 4 quarts of popcorn would be gone in less than two days.

No joke!

I have never had such an amazing response to one of my popcorn recipes! So if that isnt reason enough for you to go make this right now, I don't know what will be.

If you are worried about having 4 quarts of popcorn in your house, then all the more reason to go help out some hungry children in your neighborhood. Make the whole 4 quarts of the recipe, save some for your house, and spread the love to some children in need. And while youre at it, make some Fleischmann's Simply Homemade Bread and pass the love around that way as well. I know there are tons of children who would be so happy to receive such a delicious gift from you.

Chocolate Toffee Caramel Corn Recipe
|
Printable Recipe
Yields: 4 quarts popcorn
Prep time: 15 minutes
Cook time: 45 minutes
ingredients:
-4 quarts unseasoned popped popcorn
-1 cup packed light brown sugar
-1/2 cup Karo Light Corn Syrup
-1/2 cup (1 stick) salted butter
-1/8 teaspoon salt
-1/2 teaspoon baking soda
-1 teaspoon vanilla extract
-1 (12 ounce) package dark chocolate chips
-1 (8 ounce) package toffee chips (found in baking isle)
directions:
1. Preheat oven to 250°F and spray two large jelly roll pans well with non-stick spray. Place popped popcorn on the sheets, evenly dividing between the two pans.
2. In a small saucepan over medium heat on the stove, mix together the light brown sugar, corn syrup, salted butter and salt. Stir constantly, and bring to a boil.
3. Once at a boil, stop stirring and allow to boil for 5 minutes. DO NOT STIR.
4. After the 5 minutes, remove pan from heat, and stir in baking soda and vanilla extract. The mixture will boil, but do not be alarmed. Watch out for steam burns though.
5. Pour half the mixture of caramel over each of the jelly roll pans with popcorn. Stir together slightly, and place in the oven for 45 minutes. Stir every 15 minutes, to ensure even coverage of the caramel.
6. While the popcorn is in the oven, melt the chocolate. Place in a heat-proof dish and place in the microwave. Heat on high in 30 second intervals, stirring between each interval, until fully melted. Set aside until ready for use.
7. Once the popcorn is done in the oven, remove pans, and turn out popcorn onto a foil sheet sprayed with non-stick spray to cool slightly. Once cool to the touch, break up big chunks of popcorn, and place in a large bowl.
8. Drizzle melted chocolate over caramel corn, tossing to get even coverage. Continue until chocolate is gone, and sprinkle over toffee bits. Toss together to get even coverage and allow chocolate to harden before eating.
9. Store in airtight bags or containers at room temperature and consume within a week. Share with loved ones and hungry children.
NOTES:
If you are unable to find toffee bits, feel free to use chocolate covered toffee bits, which should be easier to find. Feel free to use your favorite flavor of chocolate if dark chocolate is not your favorite.
Recipe adapted from
Karo Syrup
-Use the Rafflecopter Widget below to enter giveaway.

-Prize Package includes everything that is pictured in the photo above.

-Fleischmann's and Karo Syrup sent me the same things as the winner will receive.

-Winner will be chosen via the Rafflecopter widget and will be notified by email. Winner will have 48hours to respond to my email, before another winner is chosen

-USA only. Im sorry international friends :(


Disclosure: Fleischmann's Yeast and Karo Syrup sent me the product as pictured above for review and giveaway. I was not monetarily compensated for this post. All opinions are my own.