An updated version of delicious Quinoa and Chia Seed Toasted Granola Bars that will give you a perfect start to the day, AND they are kid-approved!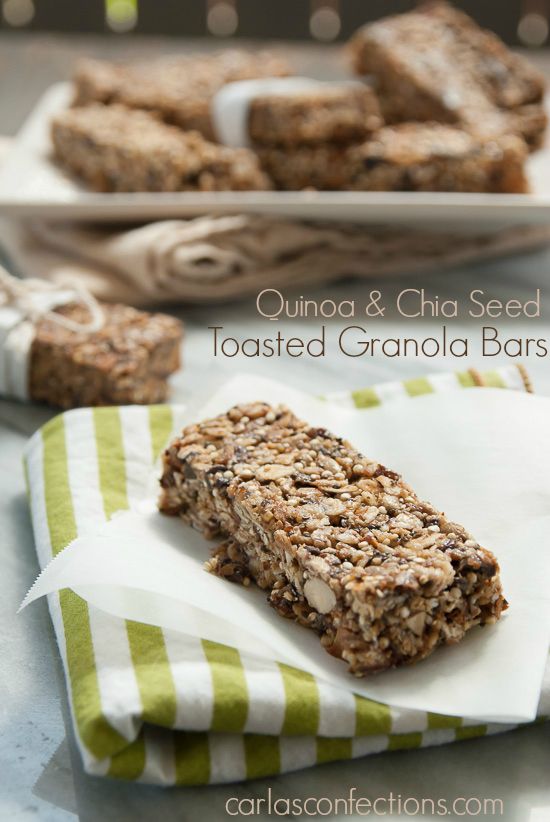 Isn't it funny how fast time seems to go? I mean, how is it already April? It literally feels like time is slipping through our fingers. And although I only work 30 hours a week in my outside job, it seems as though I have NO time on my hands. Between the job, three different bible studies I am a part of, volunteering at church as well as church services in itself, hanging with friends and family and everything else going on, the blog has unfortunately taken a back burner. And I am not sure why either, because the blog is the job that I am passionate about. There seems to be something wrong with that!

I go back and look at some of the photos I have taken and my heart does a little leap. Does that happen to you with your job?

I think that's when you know you are doing what you love. When your heart leaps and you can't wait to get back to doing that very thing!

I finally got the chance this week to make some new recipes and get pictures of them, and it brought me back to how much I love this whole blog thing! As crazy and time consuming as it is, I really do love it! And I hope you love listening to me ramble about it too! ;)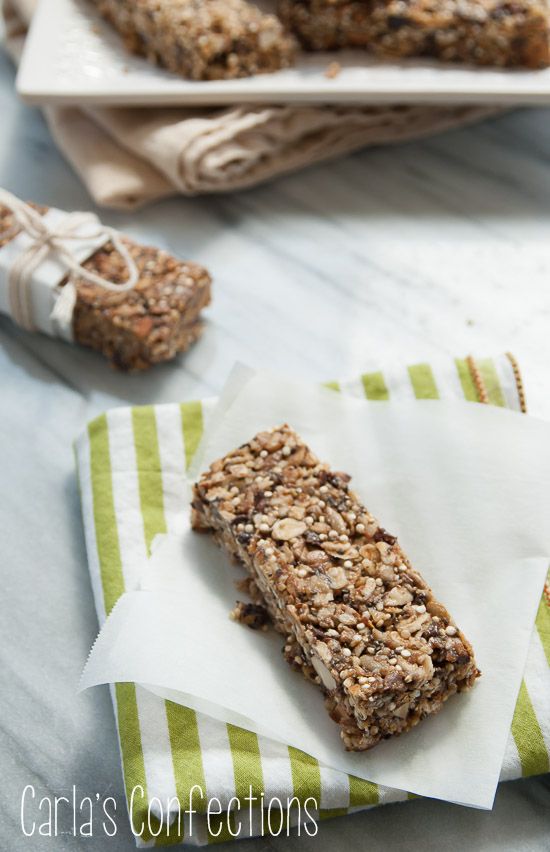 Speaking of new recipes, have you heard of ZipList? It is a pretty awesome tool that is reaching across the blogoshpere, and it makes it super easy for you to save recipes to your very own recipe box and even add the ingredients from any recipe you love to a digital shopping list so you dont have to write it all down and then forget the list at home (yes I am very guilty of this!!).

Now ZipList is a part of Carla's Confections and right at your finger tips to get started on trying your favorite recipes easier than ever! Right under the recipe title on Carla's Confections, you will see a "save recipe" button that you can do just that! As well as on my main navigation, you will find two new buttons: Recipe Box and Shopping List where it will take you straight to your pages where you can add ingredients to your shopping list, and review all the recipes you have saved. You just need to create a free account and youre free to go!

Pretty cool huh? Let's get to cookin!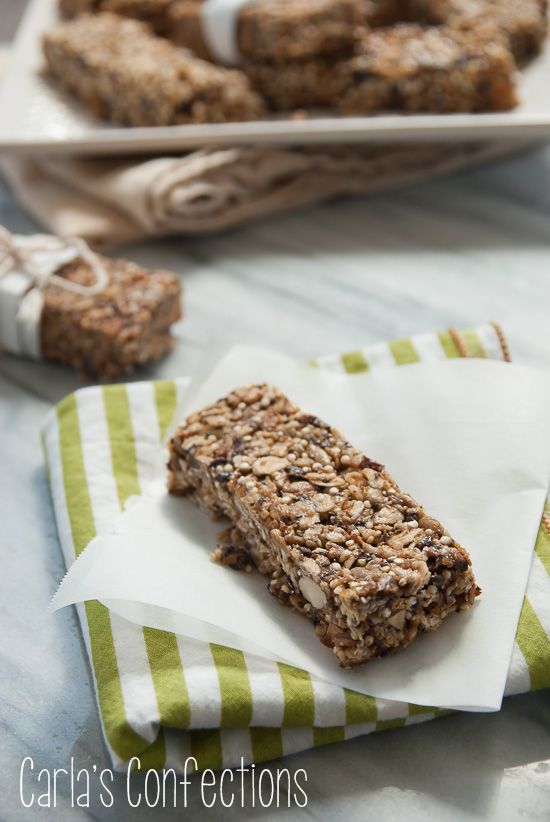 I made this recipe as a guest post for another blog a while back, and while it is well liked, there has been a lot of questions regarding it, so it is high time to answer the questions and show you my updated version.

I tested this recipe four different ways, just to make sure I had it all right, just so YOU can have the best tasting, and best "stuck-together" version of these granola bars.

I made the four different versions all in one day, so you can imagine how many granola bars I had sitting around the house! Thank goodness they are healthy for you, otherwise we'd all be 400 pounds!

One of my favorite things when I make recipes is to see everyone else enjoying them, and even better than that is when kids enjoy them. You know how brutal kids can be with food. They won't hold back if they don't like something, so it is like Christmas seeing kids devouring this stuff.

I was able to watch not one, but TWO kids scarfing these granola bars down, and it literally made my day! And the best part about it is how stinking healthy they are! Packed full of chia seeds, quinoa, flax seed, peanut butter, and tons of other healthy ingredients, you won't have to worry about your kids eating those sugar-filled storebought granola bars. And they will be non the wiser with how delicious these are!

It is spring and the best time to be packing your kids these healthy snacks! And I won't judge if you steal some for yourselves too!

Happy Spring!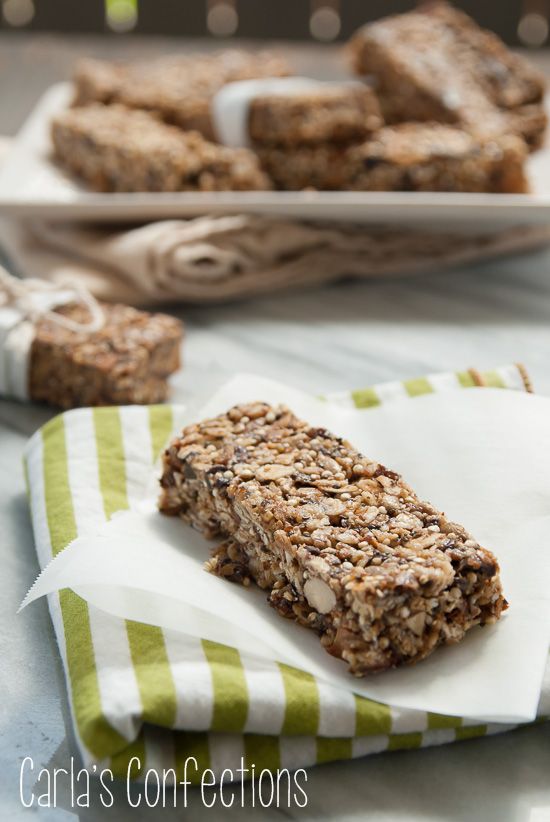 makes roughly 14 bars
ingredients:
-2 cups old fashioned oats
-1/2 cup raw or roasted sunflower seeds
-1/4 cup raw pumpkin seeds
-1/4 cup chia seeds
-1/2 cup ground flaxseed (also called flax meal)
-1/2 cup raw almonds, roughly chopped
-1/2 cup uncooked quinoa, rinsed and drained
-1/2 cup honey
-1/2 cup creamy peanut butter
-pinch of cinnamon and nutmeg (a couple grinds of fresh nutmeg if using)
-1/4 cup raisins
-1/2 cup dark chocolate chips (optional)
directions:
1. Preheat the oven to 375˚F/190˚C. Line a large baking tray with parchment paper, and lay out the oats, sunflower seeds, pumpkin seeds and roughly chopped almonds on the baking sheet and toast in the preheated oven 15-20 minutes, stirring occasionally until golden brown.
2. Meanwhile, combine the peanut butter and honey in a small bowl, stirring with a fork to combine.
3. Once the oats mixture are golden brown, combine those, along with the remaining dry ingredients into a large bowl and stir roughly to combine. Add in the peanut butter/honey mixture and mix well to combine.
4. Line an 8x8 roasting pan with parchment paper and turn out the combined mixture into the pan, pressing down with a spatula to get as even and flat as possible.
5. Place bars in the fridge minimum of a couple hours to firm up. Remove and cut into desired bar sizes and store in the fridge in an airtight container until ready to eat.
RECIPE NOTES:
-This is a soft, chewy granola bar recipe; if they are stored at room temperature, they will not hold together. They need to be stored in cold temperatures to stay together. They will start to fall apart if they are out of the fridge too long.

-Bars should be good to eat for at least a couple weeks when stored in the refrigerator.

-Feel free to substitute craisins for the raisins, different nuts or any chocolate variety you would like.

-Yes the quinoa is uncooked. I promise you will love the added crunch it gives the bars :)
Recipe adapted from
Carla's Confections
, which was inspired by
Two Peas and their Pod
© Carla's Confections 2014