You will not regret trying this amazing twist on the grilled cheese with extra sharp cheddar cheese, parmigiano reggiano, roasted red peppers and prosciutto! Delicious!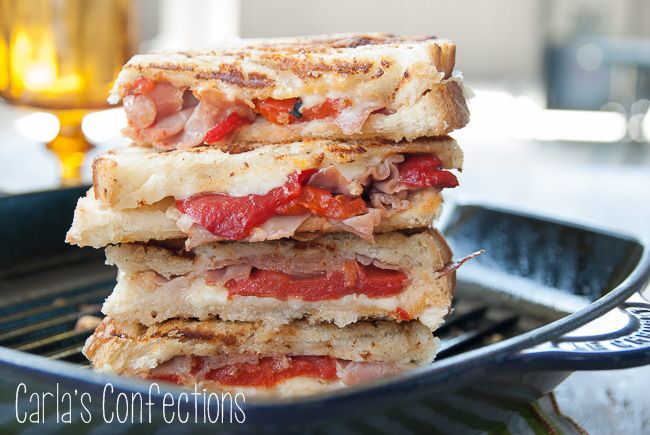 May is National Grilled Cheese Month, and with my love of sandwiches, there was no way I was going to let that pass by without celebrating!
But before we start the grilled cheese party, let me update you on my life, because it seems every time we talk, there is something new to tell.
I am currently writing this post from a third story hotel room in the heart of the Alphabet District in Portland, OR. How is that for something new!
The hubs got a short term (three week) job up here working on a commercial, and the company was generous enough to put us up in a hotel for the duration which means one thing: I get to eat my way around Portland for three weeks!
We are not expecting to be able to make Portland home (been there, done that, didn't work last time), so we are just taking it day by day and enjoying the three week vaca that I get!
Yesterday was the first day in roughly 6 months that I had absolutely nothing to do except enjoy myself.
I was a weird day! But I loved it. And the good thing about this hotel, is it has a full kitchen, which means I can cook if I want to, but lets be real: who wants to cook when they are in the hub of amazing restaurants, food carts and coffee shops?!
I will be recording my adventures, so follow along my three week journey here in Portland, and in the meantime, head over to GoodLife Eats to get the recipe for this
Roasted Red Pepper and Prosciutto Grilled Cheese
!